LOS ANGELES — Uber's board of executives voted Sunday to accept all of former U.S. Attorney General Eric Holder's recommendations in his internal investigation of the company's months-long crisis over allegations of sexual harassment — but it didn't say what they are.
After meeting for more than six hours, the board said it voted for Holder's recommendations unanimously but wouldn't make them public until Tuesday.
Citing unnamed sources, Reuters and The New York Times separately reported that Chief Executive Travis Kalanick may also temporarily leave the company as a result of the meeting on Sunday and Holder's report.
Holder and Arianna Huffington, an Uber board member, declined to comment as they emerged from the meeting.
The vote comes nearly four months after a former engineer, Susan Fowler, published a blog post alleging that a superior propositioned her on her first day. When she provided documentation of the incident, she wrote, the company's human resources department defended the manager as a "high performer."
Other women at Uber made similar claims about the same manager, Fowler wrote.
Kalanick called the allegations "abhorrent" — and in a separate probe, commissioned after Fowler's post, the Perkins Coie law firm examined 215 claims of harassment, bullying and inappropriate behavior.
As of June 6, 20 people had been fired. One hundred cases yielded no action, and 57 were still under review, the company said. Two employees were to be given additional training, and five more were issued final warnings.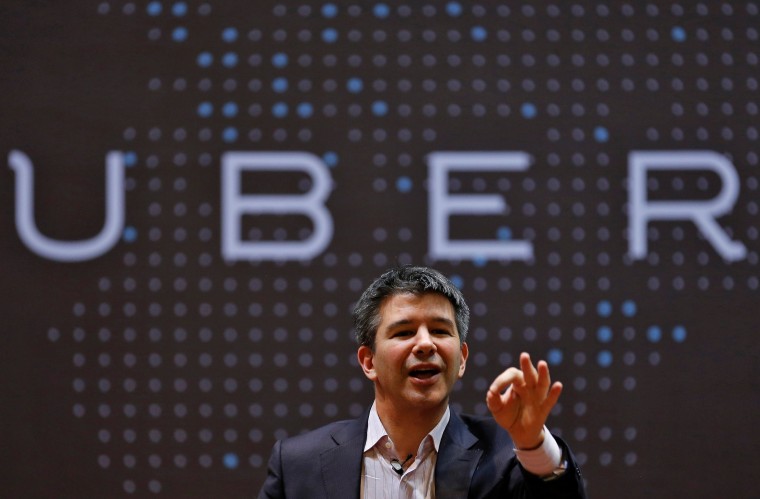 The allegations and investigations marked just one scandal among many at the $70 billion company.
In December, the company's former head of information security compliance alleged in a lawsuit that thousands of employees abused Uber's security systems to secretly track everyone from ex-spouses to celebrities.
In April and May, class action lawsuits filed in New York and California alleged that Uber skimmed millions of dollars from passengers. The latter suit was filed one day after the company admitted that it underpaid drivers in New York City by tens of millions more.
And in February, in an exchange captured on camera, an Uber driver giving Kalanick a ride complained about the company's pricing model, to which Kalanick responded: "Some people don't like to take responsibility for their own s***. They blame everything in their life on somebody else."
"I must fundamentally change as a leader and grow up," Kalanick later said in an email to employees about the exchange. "This is the first time I've been willing to admit that I need leadership help and I intend to get it."
Jo Ling Kent reported from San Francisco. Tim Stelloh reported from New York. Alex Johnson reported from Los Angeles.