U.S. Representative Steve Israel (D-Huntington, N.Y.) plans to propose a ban on creating gun magazines with 3-D printers. The bill is still in the drafting stage, but Israel intends to make sure existing legislation includes consideration for this new kind of homemade firearm.
Last month, Rep. Israel proposed to renew the Undetectable Firearms Act, which was adopted in 1988 and will expire in December of this year. Israel suggested that the act, which requires all guns to be detectable by such devices as X-ray machines and metal detectors, is more relevant than ever.
The 112th Congress ended before the renewal could be considered, and Israel was preparing to resubmit it when some news on the 3-D printing front caused his organization to reconsider the legislation. Defense Distributed, a group attempting to create a fully 3-D printed gun, posted a video on YouTube showing a working printed 30-round magazine for an AR-15 assault rifle.
With the climate around gun legislation trending toward tighter restrictions, Israel's team decided that the Undetectable Firearms Act should be expanded to outlaw 3-D printed magazines of any kind.
Samantha Slater, Israel's communications director, told NBC News that Israel is "supportive of 3-D printing," but that the potential for circumventing the law in this case is too great to ignore.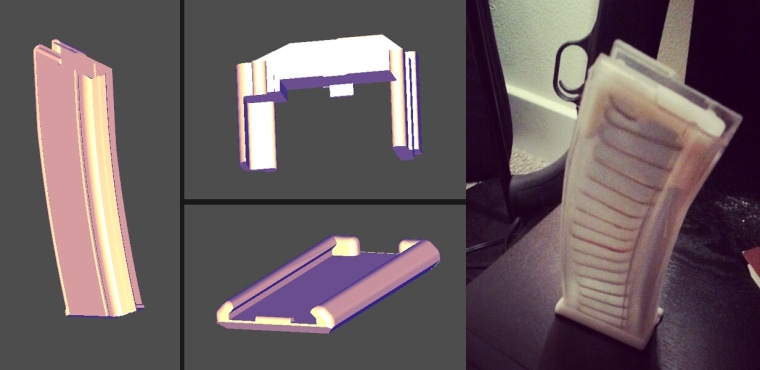 Gun-makers already offer polymer magazines that Slater confirmed would be more or less equivalent to any created in a home printer. She said that Israel is not targeting those companies, but is more "focused on the lone wolf" who might make one at home.
She did not say how legislation could be crafted that would prohibit one but not the other; the proposal is being re-drafted in light of the new requirements, and the language isn't set down yet. They expect to be able to reintroduce the bill within a month or two.
It's worth noting that the law would not ban any of the digital or physical apparatus necessary to create the magazines or firearms. Blueprints, files, printers and tutorials would not be addressed by the law, just the magazines and printed gun parts themselves.
Devin Coldewey is a contributing writer for NBCNews Digital. His personal website is coldewey.cc.