Verizon is admitting that it made a mistake in slowing the wireless data speeds of California firefighters as they battled what has been called the largest fire in state history this month.
The company said the slowdown, which happened because the department's plan allowed for the use of a limited amount of high-speed wireless data, had nothing to do with the rollback of net neutrality rules and was a customer service mistake.
The "throttling" was first reported by technology website Ars Technica.
The data slowdown came to light in a brief filed this week as part of a federal lawsuit brought by New York State's attorney general and others that seeks to block the end of the 2015 Obama-era rules that governed how internet service providers handled data that traveled over their networks.
The brief claimed that firefighters of the Santa Clara County Central Fire Protection District had their data "throttled" by Verizon despite telling the company they were in the midst of an emergency. Throttling is a term used for when companies slow internet service speeds.
"This throttling has had a significant impact on our ability to provide emergency services," the county's fire chief, Anthony Bowden, wrote. "Verizon imposed these limitations despite being informed that throttling was actively impeding County Fire's ability to provide crisis-response and essential emergency services."
Bowden wrote that his department deployed an incident support unit (OES 5262) to help battle a blaze that broke out north of San Francisco on July 27, and that the unit was primarily tasked to coordinate firefighting resources.
"In the midst of our response to the Mendocino Complex Fire, County Fire discovered the data connection for OES 5262 was being throttled by Verizon, and data rates had been reduced to 1/200, or less, than the previous speeds," Bowden wrote in the declaration. "These reduced speeds severely interfered with the OES 5262's ability to function effectively."
Bowden wrote that when contacted about the problem, Verizon representatives "confirmed the throttling" but said that they would have to switch to a new, more expensive data plan. It eventually switched plans, but in the meantime fire personnel were forced to use other agencies' providers on their personal devices, Bowden wrote.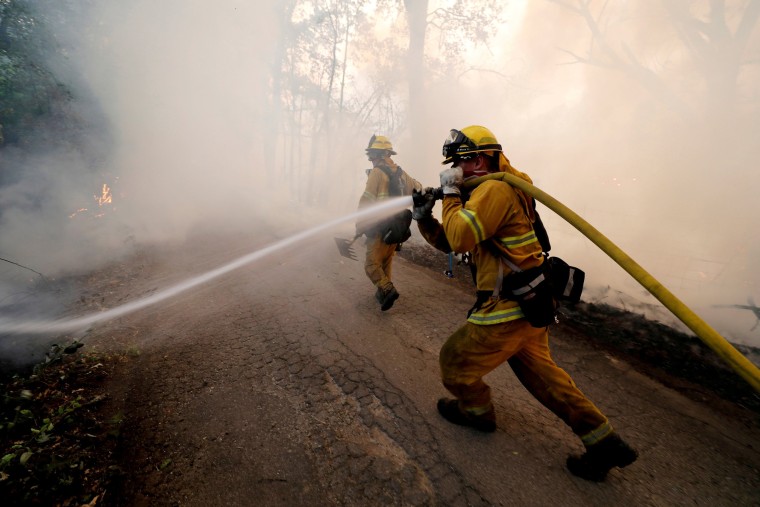 The issue provides a real-world example of what has largely been a hypothetical concern of net neutrality supporters — that allowing companies to manipulate their networks can have adverse consequences, some of which can be unexpected.
Verizon, in a statement to NBC Bay Area, said that it does lift data caps in emergencies and that "this was a customer support mistake." But it also said that "this situation has nothing to do with net neutrality or the current proceeding in court."
"Regardless of the plan emergency responders choose, we have a practice to remove data speed restrictions when contacted in emergency situations. We have done that many times, including for emergency personnel responding to these tragic fires," Verizon said.
"In this situation, we should have lifted the speed restriction when our customer reached out to us," the company said.
The lawsuit, filed by New York Attorney General Barbara D. Underwood, and which has the support of 22 other state attorneys general, argues that the Federal Communications Commission's 3-2 vote in December to scrap the previous net neutrality rules is arbitrary and capricious and puts consumers at risk.
One death has been blamed on the Mendocino Complex Fire. A firefighter from Utah, Draper Battalion Chief Matthew Burchett, died on Aug. 13 when he was struck by a tree while working on an active portion of the fire, the California Department of Forestry and Fire Protection, or Cal Fire, and Draper officials have said.
Bowden's declaration does not blame limited data for any deaths or injuries or any destroyed or damaged homes.
Santa Clara County Counsel James R. Williams disputed Verizon's characterization that the data limitations during the Mendocino Complex Fire had nothing to do with the net neutrality issue.
"Verizon's throttling has everything to do with net neutrality — it shows that the ISPs will act in their economic interests, even at the expense of public safety," Williams said in a statement Wednesday. "That is exactly what the Trump Administration's repeal of Net Neutrality allows and encourages."
Santa Clara County Fire Capt. Bill Murphy, a department public information officer, said that the issue is larger than just firefighters — members of the public depend on the internet during emergencies as well, and first responders depend on it to get information to those affected.
"Our concern is if that same type of throttling happens to the public in a large disaster or emergency," he said.
The Mendocino Complex fires have burned more than 406,000 acres in all and have destroyed 157 homes and 120 other structures, according to Cal Fire, and as of Wednesday they were 74 percent contained. The cause of the wildfire is under investigation.
The second-largest wildfire in California by acreage in modern state history is last year's Thomas Fire, which burned a little more than 280,000 acres in Ventura and Santa Barbara counties, according to Cal Fire. That fire was blamed in two deaths and destroyed more than 1,000 buildings, the agency said. Mudslides that struck in January in the Montecito area following heavy rains in areas burned by the fire killed 21 people.