Google is bolstering the "eyes and ears" in the company's devices to create new experiences to better help users interact with the world around them.
Voice and vision were the two prevailing themes at the start of the company's annual Google I/O Developer Conference in Mountain View, California.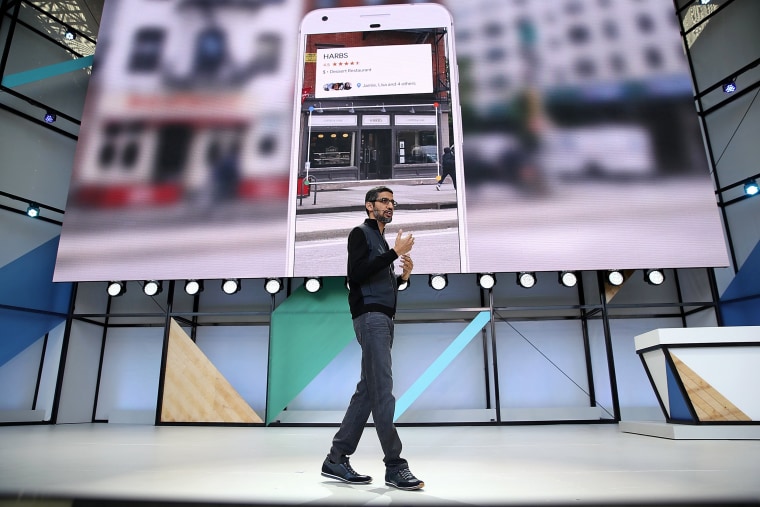 The conference kicked off with CEO Sundar Pichai introducing Google Lens, a new feature that will let you point your smartphone camera at anything to better understand what it is.
Related: Google Home Can Now Recognize Who's Speaking to It
Voice and Vision
It can identify a flower, give you details on a restaurant and — drawing the most applause from the audience — you can point it at a friend's WiFi information and it will automatically connect you, saving you the headache of typing in an alphabet soup of a password.
Google did not specify a release date for Google Lens, but the company tends to use Google I/O as a place to initially announce new products before rolling them out in the fall.
"Google extended its user interfaces to better take advantage of input using voice, photos and videos. It's not that we won't type and touch our devices, it's that we will add new ways to interact with devices and services," Patrick Moorhead, principal analyst at Moor Insights & Strategy, told NBC News. "Microsoft is currently leading in many of these new areas, but Google is close behind."
With Google recently passing 2 billion devices running Android, there's also huge potential for Google Assistant.
The smart assistant, which currently runs on 100 million devices, will soon be available for the iPhone, letting the assistant live alongside Apple's Siri.
"Your assistant should know how to use all of your connected devices for your benefit," Google's Scott Huffman said onstage as he demonstrated new features.
Amazon rolled out its Echo Show — a smart speaker with a screen — last week. Continuing in the smart speaker arms race, Google announced it would add visual support for the Home, but using your existing screens. For instance, if you ask Google Home to see what's on your agenda for Saturday, it can use Chromecast to send your schedule to your television screen.
Google Home is also adding proactive alerts. When its lights come on, you'll be able to ask Google "What's up?" If Google Assistant sees you have a soccer game on your calendar but notices traffic is heavy, it will be smart enough to advise you to leave early.
Like Amazon, Google is also supporting voice calling through its Google Home. Google recently added the ability for a Google Home to recognize up to six different voices.
So, if you say, "OK Google, call mom," it will call your mom. Your roommate can do the same — and rest assured, Google is smart enough to call that mom and not yours.
Android O
At the core of the conference is Android, Google's open source operating system that runs on approximately 80 percent of the world's smart devices, according to some industry estimates.
This one — codenamed O — hasn't yet been bestowed with the traditional sweet moniker Google gives each version. The current version is Android N, known as Nougat.
At the conference, the idea is to give developers time to create new experiences for their apps with the upcoming features before they're pushed to the public.
The focus this year is what Google is calling "vitals," including security. The company said it scans 50 billion apps every day to make sure they're secure.
While this has already been ongoing, Google wants to bring it to the forefront with a feature for new Android devices called "Google Play Protect," letting you see the health of your device in one place.
Advanced battery usage settings will also help make sure you don't have too many apps you don't need running in the background, draining your battery.