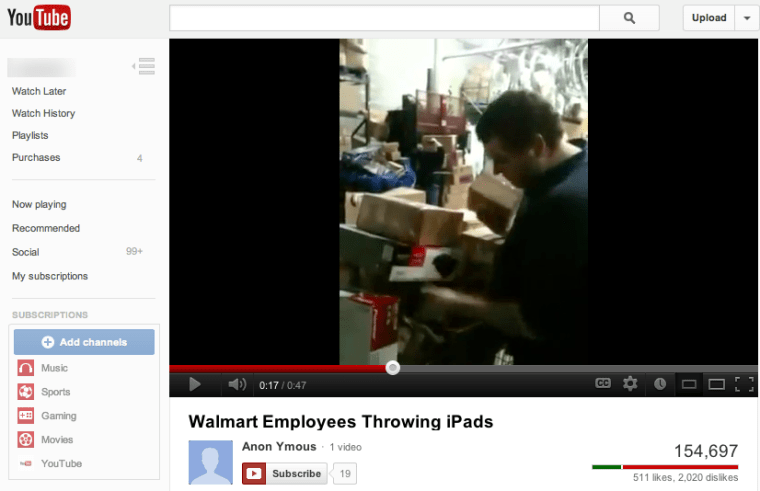 "Hi! This is why you don't buy an iPad from Walmart," a young man explains at the beginning of a YouTube video before turning the camera to his fellow Walmart associates, who are throwing — and occasionally dropping — some boxes.
"See? We like to throw s***," the man clarifies, while standing in the stockroom of a Walmart in Pikeville, Kentucky. "That's iPad number three we've thrown."
Those at Walmart's corporate offices were not amused by the antics. "We've seen the video of several nightshift associates destroying merchandise in the back of one of our stores in August and, as anyone can image, it made us wince," a Walmart spokesperson tells NBC News in response to inquiries about that clip. "We are also embarrassed." She adds that the "associates involved no longer work for Walmart."
At one point in the video, one of the men is seen throwing a box to ground. "Sorry about that, iPad," the person recording the video says. "Hope nobody buys that." 
"[W]e haven't received any returns of this merchandise," the Walmart spokesperson tells NBC News, in regards to the items seen in the video.
The video, which — despite being recorded in August — appears to have been uploaded to YouTube on Thursday, with a caption claiming that "[e]mployees at a Pikeville, KY Walmart filmed themselves purposefully damaging iPads." It caught a great deal of attention after a Reddit user posted a link to it on the popular social sharing site. "[T]his was sent to me by an employee of this store," the user explains in a comment. "[T]hey're fired and prosecuted as well." The employee who sent over the video "confirmed that those are indeed iPads," the user adds.
A representative for the Pikeville Police Department tells NBC News that "nothing has been reported" in regards to such an incident so far, casting some doubt on the claim that legal charges were pursued against the individuals in the video. He suggests that perhaps Walmart handled the issue internally, though.
The Walmart incident doesn't mark the first time we've seen employees document abuse of merchandise, of course. Photos of a Burger King employee standing in bins containing lettuce and a Taco Bell employee seemingly urinating on an order of nachos have previously appeared on the Internet. The individuals involved in those incident were terminated.
The message offered by each company involved had the same feel as the Walmart spokesperson's final words to NBC News: "We stand behind our merchandise and our associates work very hard to take proper care and handling of the products we put on our shelves."
Want more tech news or interesting links? You'll get plenty of both if you keep up with Rosa Golijan, the writer of this post, by following her on Twitter, subscribing to her Facebook posts, or circling her on Google+.