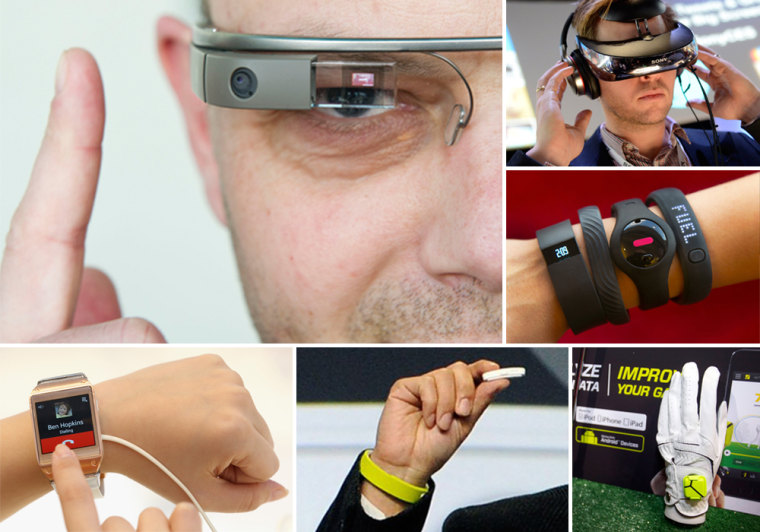 The next generation of personal tech won't fit in a pocket, enthusiasts say. It may eliminate pockets entirely.
The rapidly growing field of wearable tech encompasses everything from smartphone-connected, vibrating underwear to futuristic headgear with built-in cameras and floating micro displays. And while it may sound outlandish now, so did the iPhone, once upon a time.
"For most of my career, computing has been something you hold in your hand, maybe have in your pocket or that sits on your desk," said Brian Krzanich, CEO of Intel, the world's biggest computer chip maker. "That idea is about to be transformed."
There are "smart socks" that promise to help step up the running game of health-aware tech aficionados. Shirts, wrist-bands and waist-braces monitor the wearer's physical activity or sitting posture to guide him or her toward healthier behavior. Glasses-like headsets and smartwatches boast many of the same features as smartphones. And as if that's not enough, there are wearable behavior trackers for toddlers and the family's pet dog alike.
At the 2014 Consumer Electronics Show in Las Vegas, where Krzanich delivered the opening keynote this week, the inescapable buzz from tech companies, investors, and the most eager of early adopters was that gadgets people mix in with their everyday wardrobe are sure to be the next big thing.
Intel-designed wearable gadgets launched at CES include fitness-tracking earbuds and an always-on headset-slash-personal assistant that shares the name of Iron Man's fictional Artificial Intelligence helper, "Jarvis." Krzanich also announced Intel's "Make It Wearable" challenge, a year-long global competition with $1.3 million in prizes. 
With the sheer amount of wired gear offered by both major companies such as Samsung and LG as well as independent startups, the enthusiasm for a Jetsons future can be contagious. The question now is whether that will translate from Silicon Valley to people who don't want to spill coffee on their biometric pants.
Wearable tech could be a multi-billion dollar market
That's not to say that the market for wearable technology isn't expanding. While the product that has received the most chatter, Google Glass, still isn't widely available after being revealed in April 2012, consumer trackers are weighing in with bullish predictions. Credit Suisse valued the wearable tech market at around $3 to $5 billion in May, predicting that number could grow to somewhere between $30 and $50 billion in the next three to five years. IHS Electronics and Media valued the current market at $10 billion in September, meanwhile. 
But Shane Walker, an analyst at IHS, emphasized that these numbers only really mean something depending on where you look.
"You can develop a kind of skewed perspective if you get lost in the world of analysts, entrepreneurs, and early adopters," Walker told NBC News. 
That hasn't stopped tech companies of all shapes and sizes from flocking to this year's convention with a plethora of wearable gadgets, however. Major tech companies like Intel, Qualcomm, Sony, and Samsung all brought smartwatches to the show. As and for personal fitness-focused wristbands, they've been so popular at this year's convention that even Razer — a company best known for making high-end PC gaming equipment — brought one to show off.
"Folks spend around $1 trillion a year globally on consumer electronics," Walker said. "When you take a fraction of that compared to a trillion, we're still just scratching the surface of that market. But people have to become more accustomed to it, there has to be a lot more value built into a device before they decide to buy it."

The boss is calling from his eyeglass cam
Bill Bartow, vice president of global product management at the workforce management software company Kronos, agrees with Walker that the short-term applications of wearable technology won't see their biggest hits in the consumer space. Instead, they'll catch on at work.

"There's a really big opportunity for wearables to have a faster adoption in the workplace than in the consumer world," Bartow told NBC News. There already are wearable tech applications for many jobs, he said, and it's easier to get people to start wearing something when you pay them to and can demonstrate a clear return on investment for making employees do so.
Don Norman, co-founder of the Norman-Nielsen Group and author of the legendary book "The Design of Everyday Things," told NBC News that modern day tech developers are therefore facing the same challenge that watch and glasses-makers have wrestled with for centuries: making devices that are not only useful and functional, but attractive enough that you're comfortable wearing it both intimately and in public. And while there are certain gadgets like Pebble's new sleek metal smartwatch or Google's near-future headset that are attractive in their own right, this is really just the beginning of a transition from design to fashion.
"This is just one of a stage in the evolution of products," Norman said. "It really has to be well accepted enough, reliable enough, that eventually it becomes a symbol of who you are!"
Yannick LeJacq is a contributing writer for NBC News who has also covered technology and games for Kill Screen, The Wall Street Journal and The Atlantic. You can follow him on Twitter at @YannickLeJacq and reach him by email at: Yannick.LeJacq@nbcuni.com.