Malaysian police investigated a flight simulator found in the home of Capt. Zaharie Ahmad Shah, the pilot of the missing Malaysia Airlines jetliner -- but there likely wasn't much the experienced pilot could learn from the equipment, an expert said.
The Boeing 777 disappeared on March 8 with 239 people aboard while en route from Kuala Lumpur to Beijing.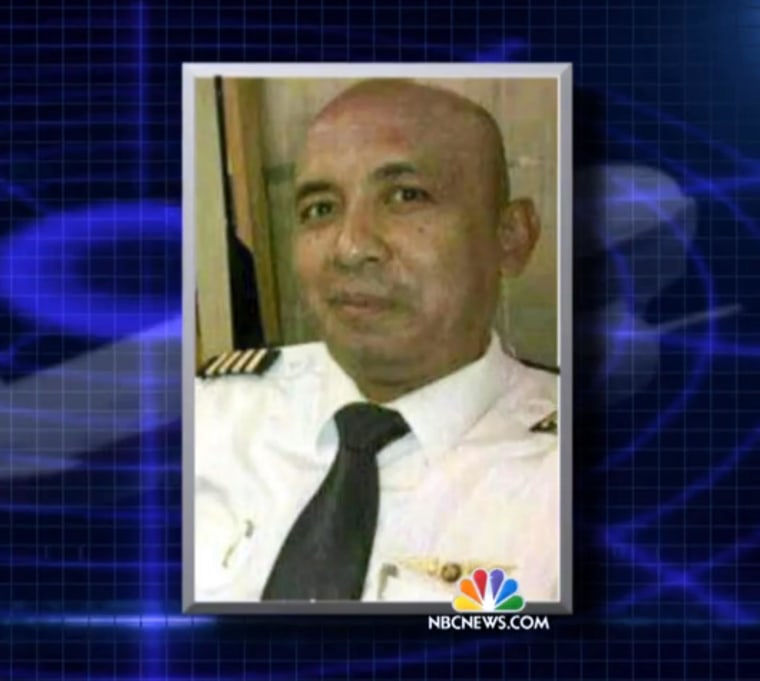 Investigators claim that evidence points to Malaysia Airlines Flight 370 being flown off-course by someone with knowledge of how to fly a Boeing 777.
It is unknown whether Zaharie, 53, or co-pilot Fariq Abdul Hamid, 27, had control of the plane when it disappeared.
Zaharie posted photos on Facebook showing a flight simulator outfitted with three monitors, and a pilot who had flown with him before described him as an "aviation tech geek" to NBC News.
Investigators took the flight simulator from Zaharie's house on Sunday to examine it.
"For people who don't fly or for private pilots, it's normal to have these kinds of things. For professional pilots, it's unusual," Captain John Cox, a retired pilot and founder of aviation consulting firm Safety Operating Systems, told NBC News.
The reason? A pilot like Zaharie –- who has more than 18,000 career hours in the air -– has enough experience not to need flight simulator training.
The software needed to realistically simulate flying a Boeing 777 is readily available. Microsoft Flight Simulator, a self-described "ideal complement to formal flight training and real-world flying," lets people adjust complicated controls to fly a jetliner through different weather and landing conditions.
Jumping straight from software to successfully landing an airplane, however, would be extremely difficult because mastering the feel of a jetliner takes a lot of hands-on training, said NBC News aviation expert Bob Hager in a conversation with NBC News' Lester Holt.
The big difference between software you can buy on Amazon and what pilots use to train is the hardware. During training, pilots use expensive simulators that recreate everything from the physical flight controls to the motion of the plane, Cox said.
Building something that advanced at home is not easy – at least without significant resources.
With little information to go on, theories have abounded as to the plane's whereabouts, from it being at the bottom of the ocean to if it could have been landed in a remote location. Could a pilot could have used a flight simulator like Zaharie's to prepare for such a landing?
"Theoretically, yeah, I guess you could," Cox said. "But a highly experienced pilot would have the skill set to do that even without training with a simulator."