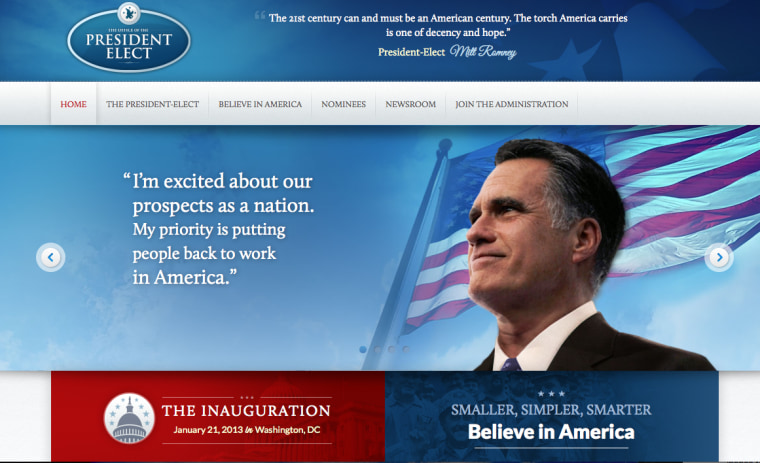 Before the election, Mitt Romney's staff prepared a transition website, in case the former Republican nominee was elected president of the United States. And even though Romney didn't win the election, the site saw the light of day — for a few moments anyway.
Taegan Goddard, author and former policy advisor, caught the slip up and captured screenshots of the now removed pages. He posted them on his blog, Political Wire.
"I'm excited about our prospects as a nation," a quote, attributed to Romney, declared on the site's main page. "My priority is putting people back to work in America." There were details for prospective applicants, who wanted a position with the administration, as well as a rundown of the inauguration process.
Some are jumping to make jokes about the fact that Romney's staff had this transition website ready, but let's be realistic: This kind of preparation is far from unusual. Accidentally making the site live, even for a few minutes, though — that's the mistake.
Want more tech news or interesting links? You'll get plenty of both if you keep up with Rosa Golijan, the writer of this post, by following her on Twitter, subscribing to her Facebook posts, or circling her on Google+.