Google was slapped with a record $2.7 billion fine on Tuesday by European regulators over charges the company unfairly elevated its Google shopping business over competitors' advertisements.
The European Union's ruling gives Google 90 days to make changes or risk paying fines as steep as 5 percent of Alphabet's average daily turnover. The ruling does not impact the company's operation in the United States.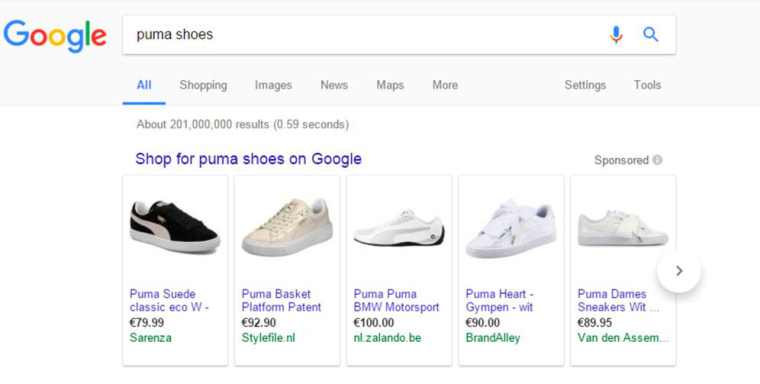 Related: Google Hit With Record $2.72 Billion Fine by EU for Online Shopping Service
"Google abused its market dominance as a search engine by promoting its own comparison shopping service in its search results, and demoting those of competitors," Margarethe Vestager of the European Commission said in a statement.
"What Google has done is illegal under EU antitrust rules. It denied other companies the chance to compete on the merits and to innovate. And most importantly, it denied European consumers a genuine choice of services and the full benefits of innovation," she said.
The fine is more than double the previous record of $1.2 billion levied against chipmaker Intel in 2009. It's also significant since it's approximately 3 percent of parent company Alphabet's turnover.
Google's team said the company is just trying to package results in a way that makes it quick and easy for people to find what they're looking to buy.
"We respectfully disagree with the conclusions announced today. We will review the Commission's decision in detail as we consider an appeal, and we look forward to continuing to make our case," Kent Walker, Google's general counsel, said in a statement.
"When you shop online, you want to find the products you're looking for quickly and easily. And advertisers want to promote those same products. That's why Google shows shopping ads, connecting our users with thousands of advertisers, large and small, in ways that are useful for both," he said.
European regulators have been aggressively going after American technology companies over allegations of unfair business practices.
Two other Google cases are still under scrutiny by the European Commission and could spell more trouble for the company.
Google's AdSense software, which is used to place advertisements on Google and third party websites, is being investigated over concerns the company placed unfair restrictions "on the ability of certain third party websites to display search advertisements from Google's competitors," according to the European Commission.
A second case alleges Google abused its Android market dominance by placing restrictions on Android manufacturers and mobile network operators. At issue is the bundle of Google apps the company requires to be loaded on new devices and one swipe away at most from the home screen.
Google isn't alone in dealing with fines.
In May, the European Commission fined Facebook $122 million - paltry compared to Google's bill - over allegedly misleading regulators when the company announced its plan to acquire WhatsApp.
Facebook has said they acted "in good faith" but would not appeal the ruling.
Last year, the European Union served Apple with a $14.5 billion tax bill following a three-year investigation, which ruled Ireland's tax dealings with Apple breached rules on state aid. Apple and the Irish government said they would appeal the decision.
A similar probe looking at Amazon's tax dealings in Luxembourg was announced by the European Commission in 2014.
In Amazon's case, which dates back to 2003, the commission is probing whether Amazon paid appropriate taxes in Luxembourg on "most" of its European profits, which were routed through a subsidiary called Amazon EU Sàrl, according to a news release.
Amazon included the ongoing case in its 2015 annual report, telling shareholders it believes its tax estimates are reasonable, however if the case is "adversely resolved," the company may be slapped with a sizable bill.