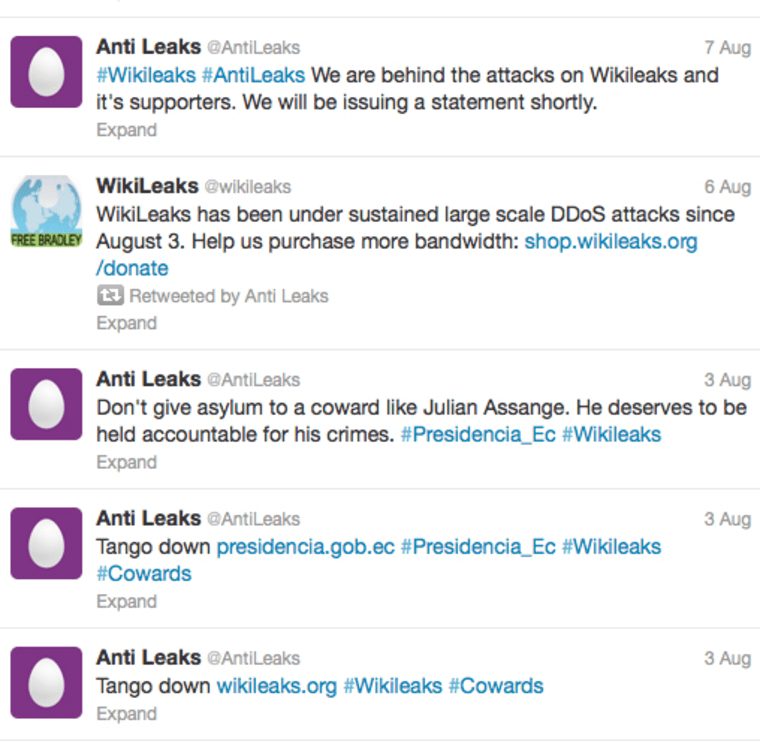 WikiLeaks' website has been down for days because of a massive Distributed Denial of Service (DDoS) attack. It's believed the attack was motivated by those who oppose WikiLeaks' tactics.
On Twitter, an individual or group identifying itself as "Anti Leaks" is taking credit for the WikiLeaks attack, which has brought down not only the main website, but mirror sites as well. 
An expanded tweet, shared here, said, with some spelling errors:
You can call me DietPepsi. I am the leader of AntiLeaks. We are not doing this to call attention to ourselves. We are young adults, citizens of the United States of Americ (sic) and are deeply concerned about the recent developments with Julian Assange and his attempt at aslyum (sic) in Ecuador.Assange is the head of a new breed of terrorist. We are doing this as a protest against his attempt to escape justice into Ecuador. This would be a catalyst for many more like him to rise up in his place. We will not stop and they will not stop us.       
The DDoS attack commenced just as WikiLeaks started to post a collection of emails obtained by hacking group Anonymous from U.S. intelligence firm Stratfor about a secret surveillance program.  WikiLeaks referred to the surveillance system, known as TrapWire, and said, "Yes, WikiLeaks revealed a whole bunch of documents on #Trapwire, no, you can't read them easily, because of the current DDOS attack."
On Aug. 6, WikiLeaks said on Twitter that that its site was under "sustained" DDoS attacks since Aug. 3, and asked supporters to "Help us purchase more bandwidth" by going to a related site shared on Twitter. That site, too, was not accessible at the time of this post. 
Ars Technica writer Dan Goodin noted "a torrent of junk traffic ... makes it impossible for supporters to access" Wikileaks' site. "It's no modest achievement, since the outage extends to most of WikiLeaks's mirror sites and at times to Defense Fund Net Neutrality, the French non-profit agency that serves as one of the sole ways for supporters to fund the whistleblower site."

Anti Leaks was anything but apologetic in an expanded tweet on Thursday: "WikiLeaks survives through donations that pay for their cyber terrorism and Assange's legal defense. We will continue to enforce a blockade on Wikileaks and it's (sic) supporters whom attempt to raise donations on it's behalf."     
Check out Technolog, Gadgetbox, Digital Life and In-Game on Facebook, and on Twitter, follow Suzanne Choney.