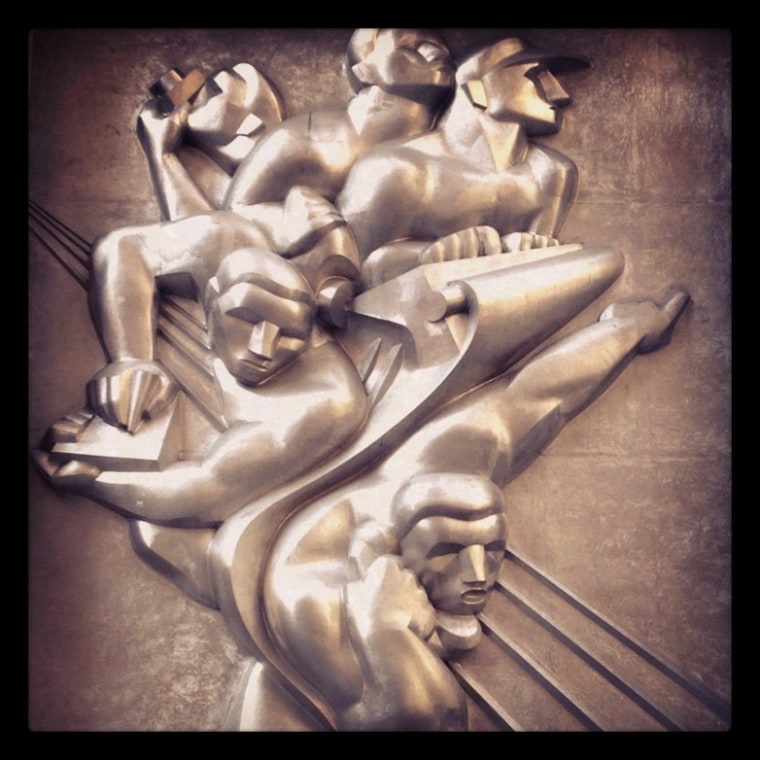 People are so steamed up about Facebook's $1 billion purchase of Instagram that they are vowing to purge their smartphones of the old-timey photo sharing app.

"Facebook," "Instagram," and "uninstall" were the three words littering Twitter -- the place where everyone posts their Instagram images -- soon after news of the deal broke on Monday. 

Why, Twitter hasn't seen this much whining about Instagram since … um … last week, when iPhone users were rending garments over news that it is now available to Android users.

Unlike Apple fanboys bemoaning the no-longer-exclusive photo filters, however, those concerned over the Facebook purchase may have something valid to worry about: Privacy. 

"Must delete Instagram from my phone; don't want any sneaking doorways into Facebook privacy grabs," tweeted @Sinabhfuil , echoing the concerns of many. 

Even now, guides on how to download and remove your photos from Instagram are littering the Internet. 

In his post announcing the purchase, Facebook CEO Mark Zuckerberg said that Facebook will be "mindful about keeping and building on Instagram's strengths and features rather than just trying to integrate everything into Facebook." But Zuck didn't say a whole lot about privacy, and Facebook has declined to comment for now. 

So here's a look at the user terms for both Instagram and Facebook -- turns out they're not that different. 

Instagram claims no ownership rights to user-submitted content, and it is refreshingly clear about that. On the other hand, users do grant Instagram the right to reproduce, publicly display and even add to all images, royalty-free:

Instagram does NOT claim ANY ownership rights in the text, files, images, photos, video, sounds, musical works, works of authorship, applications, or any other materials (collectively, "Content") that you post on or through the Instagram Services. By displaying or publishing ("posting") any Content on or through the Instagram Services, you hereby grant to Instagram a non-exclusive, fully paid and royalty-free, worldwide, limited license to use, modify, delete from, add to, publicly perform, publicly display, reproduce and translate such Content, including without limitation distributing part or all of the Site in any media formats through any media channels, except Content not shared publicly ("private") will not be distributed outside the Instagram Services.
Facebook's image rights are a little less clear, but very similar:

You own all of the content and information you post on Facebook, and you can control how it is shared through your privacy and application settings. In addition:

For content that is covered by intellectual property rights, like photos and videos (IP content), you specifically give us the following permission, subject to your privacy and application settings: you grant us a non-exclusive, transferable, sub-licensable, royalty-free, worldwide license to use any IP content that you post on or in connection with Facebook (IP License). This IP License ends when you delete your IP content or your account unless your content has been shared with others, and they have not deleted it.
One big difference between Instagram and Facebook is location, location, location.

Instagram photographers seem very willing to include the location where their photos are taken, notes Parker Higgins, an activist with the Electronic Frontier Foundation. "Location is a very big part of Instagram, and even though Facebook offers a location service, it's not essential to Facebook and it's never really taken off," he told msnbc.com. "Whether Instagram users will be willing to share their locations on Facebook remains to be seen."

Like Facebook, the EFF doesn't want to comment on the privacy implications until the ink is dry and any policy changes take place. Higgins does understand what's making Instagram users uncomfortable, however. "In any situation like this, privacy is a lot about context," he said. "Instagram and Facebook are used in different contexts, and anytime you mash these things together, you end up making people uncomfortable." 

Then there are some things you should just assume going in. 

"Any time you decide to store your information online, you must assume that it will be used for marketing purposes and that it is publicly available," Chet Wisniewski, Senior Security Advisor at Sophos Canada, told msnbc.com. "The acquisition of Instagram is a perfect example of how data shared online may have an uncertain future. As the policies state, they are 'subject to change without notice' and users should be sure they are comfortable with their information being used in any way they can imagine."

Wisniewski said that dumping Instagram for another photo app service may not solve any privacy issues. "I have seen folks clamoring to download all their information and move to another service," he said. "I am not sure what they think they are accomplishing.  Any service may choose to follow similar practices as Facebook or be purchased by them tomorrow. If you want full control of your information, keep it on your own site and only make it available to who you want."

While there are no numbers to reveal how many users are actually deleting Instagram from their cellular devices, one might speculate it's roughly equivalent to the same amount of people who claim they're quitting Facebook after each design change or privacy outrage from a government representative. That is, hardly any at all. But the thing to remember is, not all Instagram users are on Facebook, and if those photo filter enthusiasts aren't on the world's largest social network by now, they probably never want to be on it ... ever. 

For Facebook users pondering Instagram deletion -- what are you going to do? Go to Google+?

-- Bob Sullivan of Red Tape Chronicles contributed to this report. 





















Helen A.S. Popkin goes blah blah blah about online privacy, then asks you to join her on Twitter and/or Facebook. Also, Google+. Because that's how she rolls.