One of the most obsessed over features of Windows is its boot time, according to Windows chief Steven Sinofsky. As such, he says in a blog post, Windows 8 will boot so fast it will make the relatively spry Windows 7 seem Vista sluggish.
According to Sinofsky's post in the Building Windows 8 blog, the way Windows 8 achieves such super-fast booting is that it doesn't quite shut down in the traditional sense. Instead, it uses a fast boot that's a hybrid of "cold" booting and hibernating. Green minds should rest assured that there's "effectively zero watt power draw when off," while those who like the clean start of a real boot up can look forward to a "fresh session after boot."
In addition to rethinking the software process itself, the Windows team was able to speed up boot time by making better use of multi-core processors found in most of today's computers.
Here's the Windows Team's visual comparison between a cold boot and a new hybrid fast start:

There's a more thorough explanation on the Sinofsky post, if you're curious about each step.
The results are vivid, as you can see in Microsoft's chart. For many machines, Windows 8 boots are under 20 seconds, while the Windows 7 equivalent machines take significantly longer: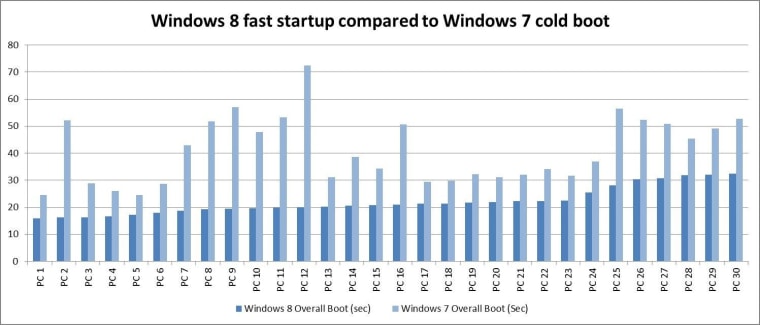 The need for fast boot times is crucial, because so many people still regularly boot and restart their machines. According to the Building Windows 8 blog post, 57 percent of desktop PC users and 45 percent of laptop users still shut down their machines instead of putting them to sleep.
But Sinofsky is also quick to point out that in the new era, booting and restarting ought to be performed less and less frequently:
We designed Windows 8 so that you shouldn't have to boot all that often (and we are always going to work on reducing the number of required restarts due to patching running code). But when you do boot we want it to be as fast as possible.
Now that's what we want to hear. Stay tuned for more Windows news to roll out over the course of the next week, as Microsoft runs its BUILD developers conference.
More on Windows 8 from msnbc.com's Technolog:
Catch up with Wilson on Twitter at @wjrothman, or on Google+. And join our conversation on Facebook.