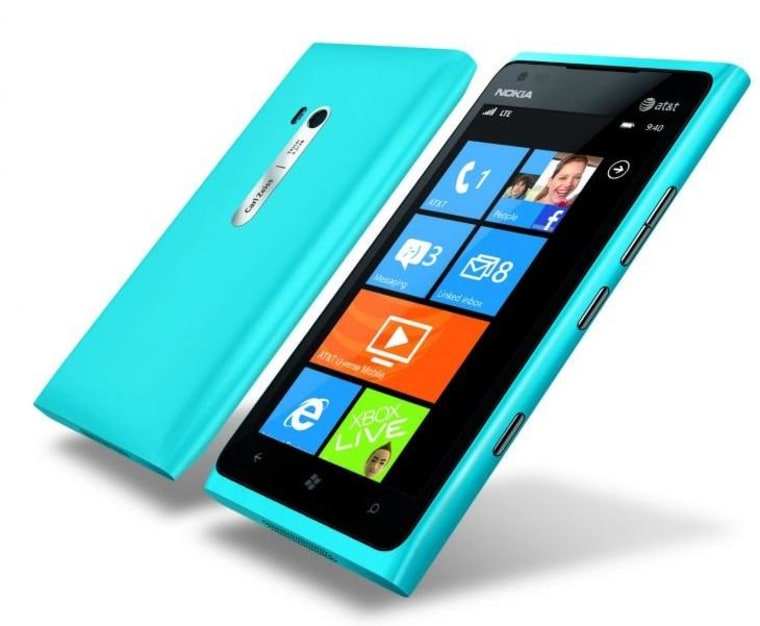 Nokia is not only pinning its hopes for renewed relevancy with its first 4G LTE Windows Phone, the Lumia 900, it could also break the smartphone operating system deadlock and propel Windows Phone ahead of iOS.
Market researchers at IHS have published a report that predicts the usurping of Apple's iOS by Windows Phone in 2015 by a slight margin, leaving Android with a more-than-comfortable lead at No.1.
(This, despite a recent Nielsen survey that shows Apple closing in on Android, with more smartphone buyers choosing iOS in recent purchases.) 
IHS reports that in three years, "Windows Phone will account for 16.7 percent of the smartphones shipped, up from less than 2 percent in 2011."
(Msnbc.com is a joint venture of Microsoft and NBC Universal.)
Here's a table illustrating their analysis:

Wayne Lam, who wrote the IHS release, is a fan of the new phone, and sees it as the key toward turning things around for Nokia.
"This hot product represents Nokia's first step to reclaim its market share. Combined with Nokia's efforts to drive the development of the Windows Phone ecosystem, the Lumia 900 and its successors will help Microsoft to reclaim its No. 2 ranking in smartphone operating system market share in 2015."
It's an attractive device that Nokia debuted at the recent Consumer Electronics Show in Las Vegas. In a diminutive frame, the phone has a 4.3-inch AMOLED touch screen, a 12-megapixel camera with Carl Zeiss optics (an F2.2 aperture lens with a 28mm focal length) and front-facing camera for video chats and a long-lasting 1830 mAH battery.
As with other Windows Phones, it features the "People Hub," which connects the phone's owner with friends in real-time updates with "Live Tiles." Nokia has partnered with major carriers in North America, including Rogers and Telus; and in the U.S., AT&T.
Lam sees the Lumia 900 as an almost messianic device to trigger Nokia's dominance within the Windows Phone arena, too:
Although Nokia is not the only seller of Windows Phone smartphones, the company is expected to dominate the market, accounting for 50 percent of all Microsoft OS-based handsets sold in 2012, IHS predicts. The company's share then is set to rise to 62 percent in 2013. Nokia's portion of the market will begin to decline in 2014, as other companies increase their sales of Windows Phone products.
Nokia is also hoping to make inroads with the new-to-the-smartphone crowd through T-Mobile and its Lumia 710 — which I'm not yet convinced is right for first-timers like my dad, who have never touched a touch screen before, much less a smartphone, but I am willing to spend more time with it (so you'll read about that in due time, Windows Phone fanboys). That phone has been priced to sell to the masses, costing nothing at Walmart (with a two-year contract) and only a penny at Costco.
More stories:
Check out Technolog on Facebook, and on Twitter, follow Athima Chansanchai, who is also trying to keep her head above water in the Google+ stream.