The world's first microchip, handmade in 1958 by Jack Kilby at Texas Instruments, went up for auction this week, but bids failed to meet the reserve. This piece of history won Kilby a Nobel Prize and represents one of the first steps leading to the modern computing era.
A germanium wafer with gold wiring, mounted on a glass plate and embedded in a block of clear plastic, the first integrated circuit looks more than a little primitive, like a prehistoric insect preserved in amber.
Kilby, the creator of this electronic fossil, died in 2005 — but not before seeing the technology he pioneered become ubiquitous and indispensable worldwide. The integrated circuit on a chip, later called a microchip, combined several functions and components of early computing machines, making smaller and more efficient constructions possible.
Sign up for top Technology news delivered direct to your inbox
The invention was lauded as a major advance, and quickly advanced on by others. It wasn't until 2000, however, that Kilby's work won him the Nobel Prize in physics.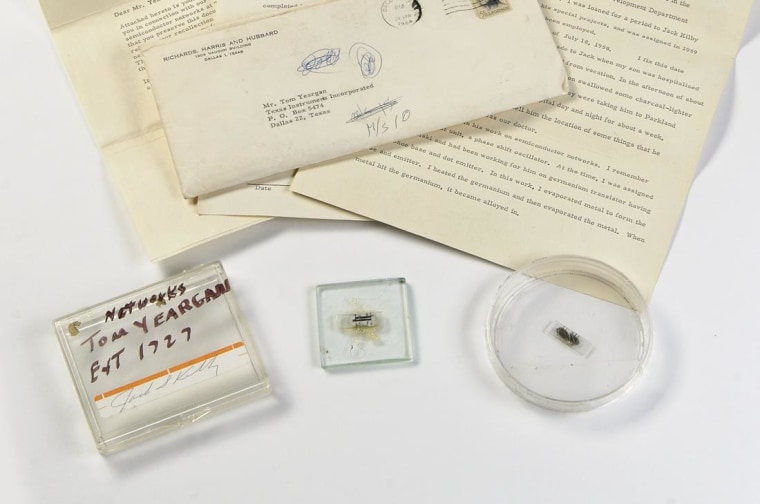 For auction at Christie's was not just the historic chip, but a second prototype built on a more stable silicon substrate, plus a 1964 written statement from Kilby describing the process of the invention.
Bids reached as high as $850,000, but did not meet the reserve; Christie's estimated the lot would bring between $1 million and $2 million. What happens next is not clear — a spokesperson for the auction house did not indicate when or if it will be up on the block again.
— Devin Coldewey, NBC News