Wilmer Erazo Escobar knew something was wrong when he saw broken glass where his black Honda Accord was supposed to be in a parking lot in northern Virginia.
Escobar had listed his car on Getaround, an online marketplace where car and truck owners can offer their vehicles for rent to nearly anyone with a smartphone and a credit card. The app gives precise locations of cars, even for people just browsing without reservations — and the keys are always left inside.
The Accord wasn't due to be rented on that Sunday morning last month, and it took Escobar a few hours to find out where it was: abandoned on a street in Washington. Police told him it had been used in connection with a homicide.
A 19-year-old was shot to death, and Escobar's car was being held by police as evidence, indefinitely.
It wasn't what he signed up for with Getaround, a tech startup based in San Francisco that's part of the sharing-economy boom — and that has told owners in one video, since made private on YouTube, that its cars will be safe "at all times."
"This is not just breaking into a car and going for a joyride. This is breaking into a car for the purpose of committing another crime," Escobar said. "Now, the cars are becoming weapons."
Escobar and his wife started on Getaround with their personal cars and now run a small business off the app, renting 100 cars and building expertise in how Getaround operates. Three cars have been stolen in the past month, he said. He blames the company and said he believes thieves are targeting Getaround-listed cars.
J.D. Goodwin, who started a small business in the Atlanta area putting cars on Getaround and a competing app, Turo, said he's had six cars stolen in less than a year — all on Getaround.
"Until they rectify their car theft situation, they're going to be in trouble," he said. "I email them, call them, and it's a big runaround with no one to talk to."
Getaround and Turo are known as peer-to-peer car rental startups, a smaller entry into the larger peer-to-peer market, which includes companies like Airbnb and TaskRabbit.
Many tech companies are trying to help people make money off things they already own by using technology to pair them with other people who might want to use those things, from homes, cars, bikes and clothing to warehouse space, parking spots and physical labor. The companies often try to grow quickly, believing that whoever moves first will end up with a monopoly.
But these kinds of startups have sometimes run into a problem: They are easily used by people who may have nefarious reasons for wanting to use something for only a short period of time. The consequences often end up falling on people who are ill-equipped to deal with them — in contrast, potentially, to a traditional car rental company or hotel.
Airbnb has had some of the most high-profile problems with its peer-to-peer platform. The company recently introduced a series of rules to limit house parties after five people died and several others were injured in a shooting at a Halloween night celebration last year at a California house rented through Airbnb.
Car theft, however, is a relatively new problem — and one that is getting worse, according to interviews with eight vehicle owners who list on Getaround. They said they believe in Getaround as a business and want it to succeed, but they also said the company isn't doing enough to prevent thefts or respond to their concerns.
On Thursday night, following questions from NBC News about Getaround's safety practices, the company published a blog post saying it would make changes, such as obscuring a car's exact location on the app. The company said it plans to improve its GPS devices and tracking software and help owners in certain areas get lockboxes for their keys.
Recent safety problems were in "isolated areas," the post said, adding that the company was cooperating with law enforcement to keep cars and owners safe.
Getaround declined to comment on the thefts that Escobar and Goodwin described, citing a privacy policy against talking about individual users.
'Super slick'
Apps like Getaround and Turo are surging in popularity among both car owners and people without cars. Owners get money when their vehicles would otherwise sit idle, while renters get a way to take a weekend trip or run errands.
In December, Getaround's U.S. sales were up 103 percent from a year earlier, while Turo, which is larger by revenue, grew 41 percent from a year earlier, according to Second Measure, a research firm.
Putting cars on the platform can be lucrative. Goodwin said he earned $3,000 a month renting out a luxury SUV.
Turo rentals last a minimum of one day, and, in most cities, renters need to meet the owners in person to get the keys, which Turo says improves safety. It markets luxury rentals heavily. Getaround offers rentals by the hour, and renters on its app generally don't need to meet the owners because the keys are usually left in the vehicles.
But Getaround last month was planning layoffs that would mostly hit employees handling day-to-day interactions between car owners and renters, according to The Information, a tech industry publication. The company's backers include the Japanese holding company SoftBank, which has been pushing its investments to cut costs. Getaround confirmed the layoffs in a blog post, saying it wanted to "scale gracefully," but it declined to answer a question about their possible impact on relationships with owners.
Thieves are targeting Getaround-listed cars for a simple reason, owners said: The keys are kept in the cars so renters can conveniently reserve them and drive away with a few taps on their phones.
Getaround installs a GPS-enabled security device in each vehicle that, in theory, can prevent the ignition from working even with a key if there's not an active rental, but three owners said thieves had found a way to disable it in their cars, sometimes tossing the wallet-size device onto the side of the road.
"They take out the GPS and they throw it off on the highway," Goodwin said. "They're super slick. I give them points for that."
Goodwin said the thefts of his cars have generally occurred overnight and appeared at first to be valid rentals through the Getaround app. But then the cars don't come back. For a few days, at least, Getaround can charge late fees to the credit card on file, but Goodwin said he believes thieves use stolen credit cards and fake IDs and look for base-model cars that don't have built-in GPS tracking.
Getaround has advertised the security of its system. A marketing video posted on YouTube said devices installed in each car can detect tampering and disable a car's starter between rentals, helping to "keep your car safe at all times." The video was made private on YouTube after NBC News asked Getaround about it Friday. The video, from 2016, was intended as a general overview, and now the company is reviewing it to ensure it meets its standards, Getaround said.
It's not clear how thieves are able to remove the devices, known as Getaround Connect, without setting off the tampering warnings or raising other red flags.
A former Getaround employee said the company has known since at least 2017 that the GPS tracking devices weren't tamper proof.
The company is now facing increased scrutiny, including from authorities in Washington, D.C., who are responsible for enforcing laws against false advertising.
"Regardless of whether you're a new technology company or an established rental car company, you have to make true representations," said Ben Wiseman, director of the D.C. attorney general's Office of Consumer Protection.
"When you put a product or service on the market and represent that it is, in fact, safe, those representations have to be true," Wiseman said.
He declined to comment on whether his office had launched an investigation of Getaround, but the office last week issued a consumer alert warning car owners to use Getaround "with caution" because vehicles listed on it "could be at increased risk of theft." Wiseman said the office is soliciting more information from consumers.
D.C. Attorney General Karl Racine has aggressively pursued other tech companies, suing Facebook over data protection in 2018 and DoorDash over its tipping policy in November. Both cases are pending.
Download the NBC News app for breaking news
Police have noticed a pattern with peer-to-peer car rentals. According to D.C. police, about 49 reports of motor vehicle thefts involved cars rented from Getaround or Turo from Oct. 1 through Tuesday. That represented 6 percent of all stolen vehicles in the district during that time.
D.C. police declined to comment on the case involving Escobar's car.
Neither Getaround nor Turo would give statistics about the prevalence of car theft.
"We are aware of the incidents in D.C. and are taking actions to mitigate them, both operationally and through product updates," Getaround spokeswoman Meg Murray said in an email.
She said no one from Getaround was available for an interview, and she declined to answer specific questions, including about the company's GPS trackers, its decisions on loss claims or whether Getaround has been making true representations in its marketing about safety.
Getaround says it screens owners and renters, but it didn't provide details on the process. The company says it has a safety team available 24 hours a day that works exclusively on preventing and addressing safety incidents.
Turo spokesman Steve Webb said that fewer than 0.1 percent of trips on Turo resulted in serious claims and that thefts were "extremely rare." When car owners have a claim, they are generally satisfied, he said. Owners "who go through our claims process are even more likely to list additional vehicles afterwards," he said. The Turo app also doesn't give the precise location of a vehicle without a reservation, he said.
Out of pocket
Getaround's attempts to limit costs extend to damage and theft claims, owners said. Owners can file claims with the company for losses, but several said Getaround had declined their claims related to stolen cars, responding that the company was responsible only for losses that occur during valid rentals — even if Getaround's safety features fail or a car is targeted through the app.
"Their position basically is: This damage happened outside of a rental, so it's on you to cover the damages," said Nathan Chaney, 29, of Alexandria, Virginia.
Chaney said he's had windows broken and other damage from thefts and attempted thefts of the five cars he rents out on Getaround.
One of his vehicles, a white Honda CR-V, was used as a getaway car last month after someone swiped a cellphone off the street in the Georgetown neighborhood of Washington, he and police said. Chaney said he learned of the incident only after D.C. police tweeted out an alert about the phone-snatching with his car's license plate number.
"It gives you a real sense of unease when people are out doing potentially violent crimes with your car," he said.
Getaround declined to comment on Chaney's vehicles, citing privacy.
Car owners can face problems even if they take precautions like meeting all renters in person. Owners of cars listed on Turo, for example, said their thefts generally begin as seemingly legitimate rentals in which the renter never brings the car back.
Zachary Owens of Grand Junction, Colorado, said that two days after he rented out his Mercedes-Benz C 300 on Turo, he got a call from police in Nevada telling him that they had impounded the car after finding heroin and methamphetamine during a search. Two men in the car, neither of whom was the renter he had met in person, were charged with drug trafficking, he said.
Turo arranged for his car to be returned to Colorado, paying impound and towing fees, but Owens said there was black grime and other permanent damage to the interior — as well as a bag of methamphetamine under a seat, apparently unnoticed by police. He said he got a $250 cleaning fee from Turo, as well as rental fees, not enough to make up for lasting damage.
"Just an all-around bad experience, and I would not recommend anyone renting out their car," Owens said.
In Atlanta, a man rented his black Mercedes-Benz S 550 to a woman in September on Turo, and she then turned it over to a man who was planning to use it to make a music video, according to an incident report filed with Atlanta police in one of several Turo-related theft reports there. The owner told police that he saw his car on the man's Instagram account but that the man never returned it, and police haven't been able to recover it.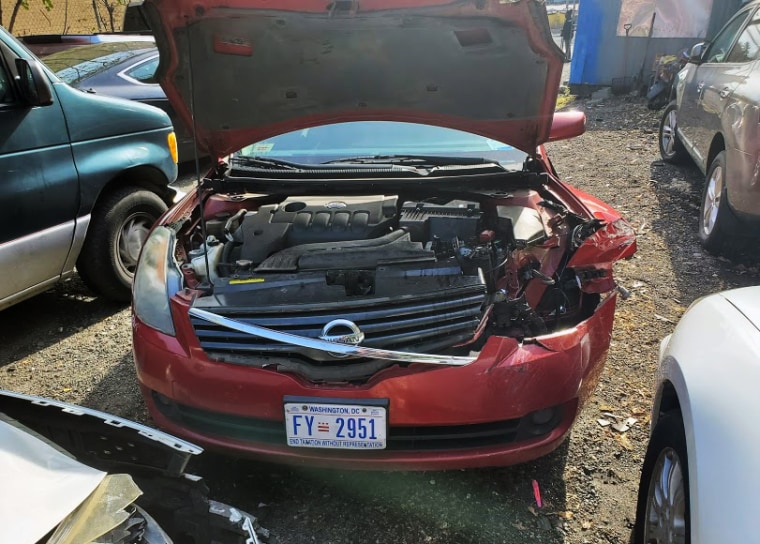 The owner, Terry Walker, said in an interview that Turo reimbursed him for the estimated value of the car, but only after he persuaded more than 100 of his own Instagram followers to pressure the company on social media. And the payment didn't cover the balance of his car loan, leaving him to pay about $7,000, he said.
Webb, the Turo spokesman, said the company is clear with car owners that its insurance covers the fair market value of a car and no more, similar to personal auto insurance. He also said it's difficult for the company to screen for people who are likely to give away vehicles to others, as happened with Owens and Walker.
Car owners who list on Getaround said their latest step has been to get organized: meeting one another in person to share tips, frustrations and ways to get the company's attention.
"It feels a lot like we're being abandoned by a partner," said Dan Chapman, 42. He described Getaround as a great company to work with until recently, and he said Getaround cars had become an important part of his Washington, D.C., neighborhood, where some people rented so often that they would program their favorite stations into a car's radio.
But he described the company's response as a failure. One of his cars, a red Nissan Altima, was stolen in the fall and totaled in a wreck, he said. Getaround wouldn't pay for the loss or accept responsibility, he said.
Getaround declined to comment on Chapman's case, citing privacy.
"They're not communicative with the owners at all, in a timely fashion or in a substantive way," Chapman said. "And they're dealing with a security problem that they apparently didn't anticipate, and I'm not sure they know how to fix it."