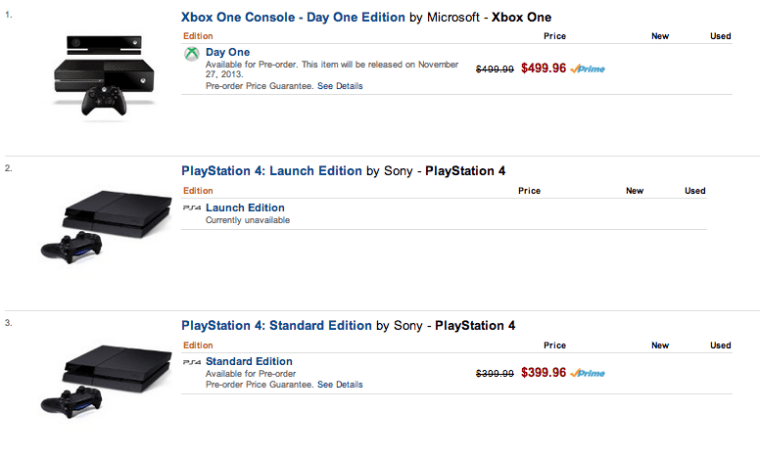 If there was any doubt about the commercial prospects of Sony and Microsoft's new consoles, Amazon has shattered it. The e-commerce giant announced Friday that pre-orders for the two next-generation video game consoles broke previous records held both for consoles orders made during the week of the Electronic Entertainment Expo (E3) and Black Friday, (the day after Thanksgiving, when the holiday shopping season officially begins).
Console pre-orders made during the week of E3 2013 jumped 4,000 percent compared to E3 2012, Amazon said in a press statement. Day-one pre-orders for the PlayStation 4 and Xbox One, meanwhile, were "nearly two times that of all video game sales on Black Friday last year."
"At the peak of demand last week" during E3, the company continued in its statement, "Amazon customers were pre-ordering more than 2,500 Xbox One and PlayStation 4 consoles per minute." The company didn't say how long that "peak" period lasted, however.
These are big and important-sounding numbers, no doubt. But what do they mean, exactly? Console orders increasing 4,000-times over last is probably due to the fact that last year, there weren't any new (or at least next-generation) video game consoles on the market, yet save the Wii U. And even Nintendo's own CEO has now admitted that the company's new home entertainment console was marketed poorly and sold poorly as a result.
The same goes for Black Friday sales. Even during that annual commercial feeding frenzy, the Wii U suffered from supply shortages that hampered the console's sales compared to rival products like Sony and Microsoft's current-generation Xbox 360 and PlayStation 3.
Supply shortages are almost always a problem for video game consoles during launch periods, so a better question to ask might be: are Sony, Microsoft, and Amazon all better prepared to meet consumer demand than they were the last time around? Pre-orders may have jumped astronomically compared to last year, but what about the pre-orders made back in 2005 and 2006, when the Xbox 360 and PlayStation 3 were respectively launched?
But Wedbush Securities analyst Michael Pachter told NBC News in an email Friday that "It's idiotic to try to compare preorders now" to this time in 2005 or 2006 since "we're still six months out" from the actual launch of the new products.
"The numbers are probably 1000 ordered 8 years ago and 40,000 ordered now," he wrote.

Pachter added that "there is no data to form a real opinion" about the status of console pre-orders.
"Microsoft and Sony will sell around 6 million consoles globally this year, and Amazon might have 10 percent share, so 600,000 through year-end," Pachter said. "There is no way they will get more than 20 percent of those, so probably 100,000 consoles at launch.
A report from the video game website Polygon this week indicated the brick-and-mortar retailers like GameStop have already reached their carrying capacity for pre-ordered units provided by Sony and Microsoft. This problem of scarcity might seem like something that an online-only retailer like Amazon could easily avoid, but the fact that it sold out of "launch edition" PlayStation 4 units just two days into E3 last week didn't help make gamers feel any more confident that they were going to get their hands on the new consoles anytime soon.
When asked for clarification on its order numbers as well as its plans to meet the impressive demand for next-generation consoles, a representative from Amazon said the company had no comment.
This story was updated at 2:45 p.m. ET.
Yannick LeJacq is a contributing writer for NBC News who has also covered technology and games for Kill Screen, The Wall Street Journal and The Atlantic. You can follow him on Twitter at @YannickLeJacq and reach him by email at: ylejacq@gmail.com.