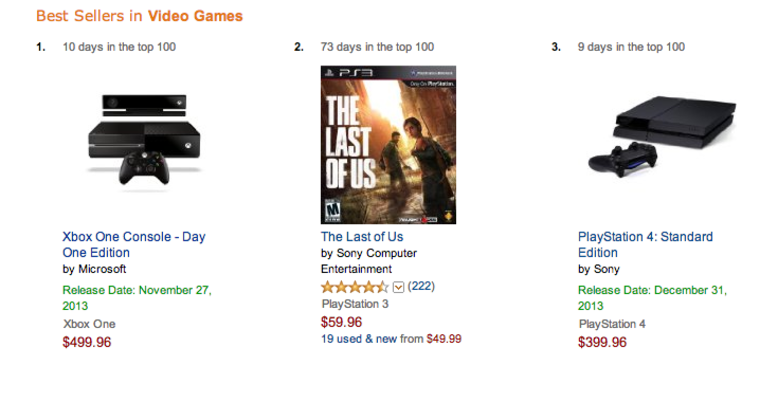 The last few weeks haven't been kind to the Xbox One console. But Microsoft's embattled gaming console may have found its footing once again thanks to the company's stunning reversal Wednesday of its controversial always-online and used game restrictions.
Gaming outlets like MCV noticed that less than 24 hours after Microsoft had removed the Xbox One's used games and always-online policies, the Xbox One had returned to the No. 1 spot on Amazon's list of best-selling video game products (at least in the UK, where MCV is based). Sony's PlayStation 4 console had risen to the top of Amazon's rankings following the company's triumphant E3 press conference on June 10, but the "launch edition" of the console had already sold out by June 13. Now the "standard edition" PS4 sits at the No. 3 spot behind Sony's acclaimed zombie adventure game "The Last of Us," which was also released last week.

While this shows a recovery on Microsoft's part, it might not be fair to read too much about its competition with Sony into these rankings, however. Since the "launch edition" PS4 sold out, Amazon has filled out the console's pre-order offerings with several other launch day bundles that come packaged with a particular game. Three of these bundles — the "Battlefield 4," "Watch_dogs," and "Killzone" versions — are still in Amazon's Top 10 best-sellers, and the company hasn't revealed whether or not the sum of all these different versions tops the single version of the Xbox One that's currently available on the site.
Meanwhile, a report from the gaming site Polygon noted the Xbox One also maxed out its pre-orders at the video game retail chain GameStop by Wednesday, the same day Microsoft announced it was reversing its DRM policies.
But given how the Xbox One was leading in Amazon pre-orders before E3 got under way, it's hard to ignore the timing of Microsoft's announcement. The company's executives sounded almost flippant when addressing the Xbox One's DRM issues last week — Don Mattrick memorably told one interviewer "we already have a product for people who aren't able to get some form of connectivity. It's called (the) Xbox 360." And even Pete Dodd, the NeoGAF forum user who spearheaded the (apparently successful) #PS4NoDRM social media campaign, told to me Wednesday on Twitter that the parallel #XboxOneNoDRM campaign didn't really get off the ground in the same way.
So was it a sudden drop in pre-orders that gave gamers a loud enough voice for Microsoft to hear them? When asked what brought about the sudden change of heart, Microsoft provided NBC News with the following statement:
We built Xbox One for our fans. Their feedback has been loud and clear that they want the same flexibility with game discs that they enjoyed with Xbox 360. They spoke and we listened. So we're giving consumers a choice with discs and digital content, and we will continue to evolve our digital platform over time.
Either way, many Xbox fans were no doubt pleasantly surprised to learn that Microsoft had finally listened.
Yannick LeJacq is a contributing writer for NBC News who has also covered technology and games for Kill Screen, The Wall Street Journal and The Atlantic. You can follow him on Twitter at @YannickLeJacq and reach him by email at: ylejacq@gmail.com.