Sony has officially OFFICIALLY revealed its well-leaked gaming smart phone — the Xperia Play. It will be the first smart phone to merge phone capabilities with a Sony game controller and gaming platform.
Sony unveiled the details on the new phone at the Mobile World Congress taking place in Barcelona this week. Due to launch on the Verizon network some time in March, the Xperia Play extends Sony Ericsson's existing line of Xperia Android phones and becomes the first "PlayStation Certified" smart phone.
The game-playing smart phone comes with a 5-megapixel camera, a 4-inch multi-touch screen and — most importantly — a slide-out game pad that includes a digital D-pad, two analog touch pads, two shoulder buttons and the four PlayStation buttons.
Xperia Play will run on the newest Android platform — Gingerbread, version 2.3. Its Snapdragon processor has a 1Ghz CPU and embedded Adreno GPU graphics processor for 60-frame-per-second video, gaming and Web browsing.
As the first "PlayStation Certified" device, the Xperia Play will have access to PlayStation game content provided through the PlayStation Suite initiative (which Sony announced last month). PlayStation Suite is in the works and is due to launch later this year.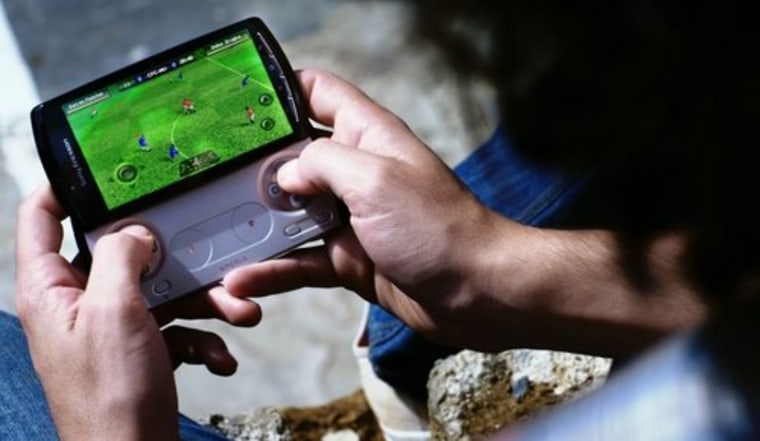 Right out of the box, Xperia Play will come preloaded with a number of games — "Asphalt Adrenaline 6," "Bruce Lee," "Star Battalion," "The Sims 3," and "Tetris." And Sony says more than 50 additional titles will be available for purchase at the launch. A multiplayer version of "FIFA 10" is in the works, GLU Mobile/Activision plans to bring "Guitar Hero" to the phone and Gameloft will be delivering "Assassin's Creed" and "Splinter Cell."
How will players access and download games? According to the press release, a pre-loaded application will enable users to discover and download titles optimized for Xperia Play, access recently played games and see information about the games they've downloaded."
The phone appears to be part of a multi-pronged attack by Sony on the mobile/handheld gaming market.
Two weeks ago, Sony officially unveiled the successor to its struggling PlayStation Portable game machine at a press conference in Japan. It's called the Next Generation Portable and it will feature 3G and Wi-Fi connectivity, a 5-inch OLED touch-screen, a touch pad on the backof the device as well as two analog sticks for in-depth game control. (Check out the video below for a look at the NGP.)
During that same press conference, Sony also announced that it will be releasing the PlayStation Suite framework and will open a PlayStation Store to bring downloadable PlayStation games to Android smart phones and tablets.
With the NGP, the Xperia Play phone and this push to bring games to Android phones in general, Sony will be tackling competition not only from Nintendo's forthcoming handheld gaming gadget — the Nintendo 3DS — but competition from Apple's iPhone and iPad, both of which have become powerful gaming contenders.
Certainly Sony's Xperia Play seems like a good idea initially. Gaming on smart phones has exploded in popularity in recent years thanks in large part to the iPhone. But these devices — with their touch-screen-only controls — don't always make for the most comfortable gaming experience. The Xperia Play appears to address this very issue with its dedicated game controller. We'll have to see once we get our hands on the device itself. In the meantime, I'm trying to erase all memory of the gaming phone that came before: the failed Nokia N-Gage.
For more on this topic, check out:
Winda Benedetti writes about games  for msnbc.com. You can follow her tweets about games and other things right here on Twitter.