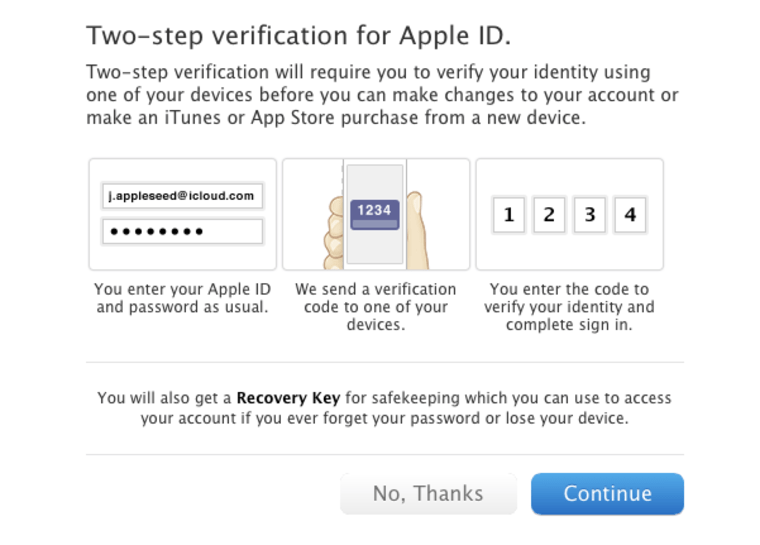 Two-factor (or two-step) verification means that logging into an account requires two proofs of identity — typically a password and a temporary code sent to a cellphone or generated by an app. You can now finally use this process to better lock down your Apple ID.
To turn on two-factor authentication, you need to head to the Apple ID website — which can be found at appleid.apple.com — and click "Manage your Apple ID." You'll be asked to login and then have the option to click on "Password and Security." After verifying your identity by answering some security questions, you'll be able to toggle on two-factor verification. You will set up one (or more) devices to receive 4-digit verification codes either through Find My iPhone push notifications or via SMS.
You may not immediately be able to complete the setup process though. Some users are forced to wait for several days before making any major account changes. "This waiting period helps Apple ensure that you are the only person accessing or modifying your account," a support page explains. "Apple will send an email to all the addresses you have on file notifying you of the waiting period and encouraging you to contact Apple Support if you think that someone else has unauthorized access to your account. You will be able to return to set up two-step verification after the date listed on your Apple ID account page and in the email that you receive."
The whole two-factor verification process will keep your account safer even if your password is somehow compromised (or if the device which receives the temporary codes is misplaced). Without both items, it will not be possible to log into the account. It is possible to use a "recovery key" which is generated when you set up two-factor verification to reset a password or to setup a new authorized device though. (Basically you always need to have two out of the following three: The authorized device, your password, and your recovery key.)
Since we recommend that everyone take advantage of two-factor authentication, not just for your Apple ID but also for your Facebook and Google accounts, by all means head over and set this up as soon as you can.
Want more tech news or interesting links? You'll get plenty of both if you keep up with Rosa Golijan, the writer of this post, by following her on Twitter, subscribing to her Facebook posts, or circling her on Google+.