After a miserable past week of bad news piling atop more bad news, Zynga -- the giant of Facebook gaming companies -- has been hit with a lawsuit.
A New York law firm has accused the company of insider trading and filed suit against the maker of games such as "FarmVille," "CityVille," and "Mafia Wars."

The lawsuit, filed in federal court by the firm Newman Ferrara, accuses Zynga CEO Mark Pincus and other top brass of violating federal securities laws. The lawsuit was filed on behalf of only one particular person -- shareholder Mark Destefano -- but names "all others similarly situated" which means it's headed toward becoming a class-action lawsuit. (You can read the lawsuit in full here.)
And more legal action may soon follow. Over the last week, several law firms vowed to investigate Zynga after it was discovered that Pincus and other company insiders sold off a big chunk of stock shortly before it crashed.
That is, back in December 2011, Zynga went public, selling at $10 a share. As the lawsuit points out, employees and other early investors were "locked up" -- that is, prohibited from selling their shares until May of this year.
However, a group of insiders -- Pincus and other executives -- got that restriction waived, which enabled them to sell stock in April at $12 a share. They sold over 43 million personally held shares for proceeds of about $516 million. But by the time May rolled around and regular employees and other investors were able to sell, the company's share price had dropped to $6. Last week, as Zynga reported poor second quarter financial results, it plummeted to around $3 a share.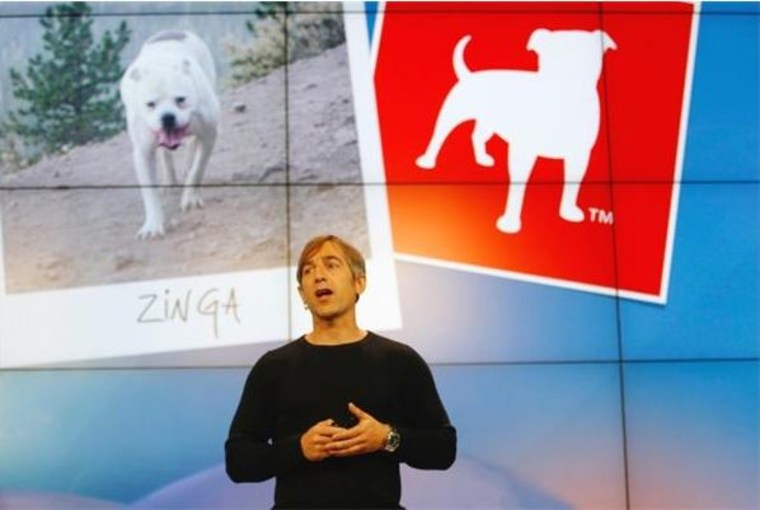 It certainly looks bad. Zynga's top brass were able to sell off shares at precisely the perfect time. But was it simply good luck, or something more sinister? The lawyers will need to prove that the executives sold their shares while knowing Zynga wasn't doing as well as they had suggested it was.
"While Zynga insiders were able to sell their holdings at $12 per share before Zynga's second quarter financial results were announced, Zynga's non-executive employees and other public shareholders suffered colossal losses on their investments," reads the lawsuit, adding "... Zynga had misrepresented and/or failed to fully disclose the true extent to which it had been experiencing a sharp drop-off in users of its most profitable web games and delays in developing new games to launch on social media platforms."
As of Tuesday morning, Zynga had not responded to the accusations. Meanwhile, Zynga's stock has continued its miserable turn, sitting at $2.92 as of 1 p.m. ET.
According to The Verge, there are a total of five law firms that have announced that they are investigating Zynga for insider trading. Ultimately, however, all suits would be consolidated into one class-action case. 

Welcome to LawsuitVille, Zynga. 
Via The Verge
Winda Benedetti writes about video games for NBC News. You can follow her tweets about games and other things on Twitter here @WindaBenedetti and you follow her on Google+. Meanwhile, be sure to check out the IN-GAME FACEBOOK PAGE to discuss the day's gaming news and reviews.