For Amy Okuda, not being able to spend time with her mother, who lives just five miles down the road, has been one of the most difficult parts of being in quarantine.
Disenchanted with FaceTime and Zoom, Okuda and her mother found another way to connect — by making trips to tropical islands to fish, catch bugs and pick fruit together.
"I know a lot of people are doing Zoom dates, but most of my hangout sessions are via 'Animal Crossing,'" Okuda, 31, of Los Angeles, said.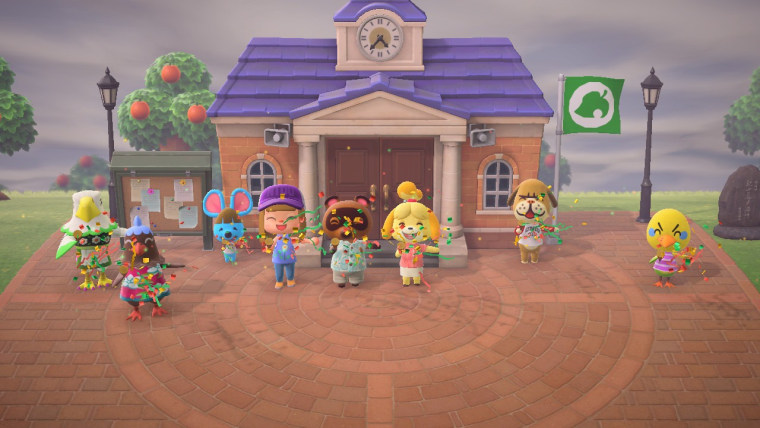 She is one of thousands of people who have picked up Nintendo's "Animal Crossing: New Horizons" since it was released on the company's Switch console in March, right as the coronavirus quarantine was going into full effect for most of the nation.
The game is set on an island with colorful animal creatures where players can roam a freeform world in which they complete simple tasks at their own pace.
After falling in love with the whimsical game, she and her mother, who have abided by social distancing guidelines by remaining in their respective homes, will often visit each other via in the game.
"We FaceTime, too, but I feel like we spend more time together when we're playing the game than when we're just FaceTiming," Okuda said.
Animal Crossing belongs to what for many years was a niche genre in gaming known as "life simulators." There's usually no hallmarks of classic video games such as scores or competition. Instead, players act out daily tasks or activities through controllable characters. The genre includes games like "The Sims" and "Stardew Valley," which, in addition to "Animal Crossing," were wildly popular in their own right pre-quarantine.
"It's also like a return to childhood because the art is so old school," Elena Nicolaou, 25, of New Jersey, said of "Stardew Valley."
For millennial gamers, the newest versions of "The Sims" and "Animal Crossing" tap into some of the nostalgia of the much-loved games first released decades ago. Even "Stardew Valley," a newer but retro-looking game that has a fervent online community similar to "Animal Crossing," offers a modern take on a classic style of game.
Mundane? To some. But the games have built up loyal and sometimes fervent followings thanks to the dollhouse-style environments. The fun comes from the control — and curiosity — of playing in a world where the gamer, rather than the game, is in control. Will my character die if I lock them in this room? Will they pay off their debt if I sell this item? Will they fall in love if they speak to this character? It's all up to the player.
It's the kind of gaming that could not come at a better time, with much of the United States headed into its ninth week of social distancing.
That has made the launch of "Animal Crossing" particularly well timed.
Nintendo declined to comment on sales of "Animal Crossing: New Horizons," but market researchers at NPD Group, which tracks video games, said it was the best-selling game for the month of March and is now "the best-selling Animal Crossing game in U.S. history."
A mental escape from quarantine
A dozen players who spoke to NBC News said that "Animal Crossing," "The Sims," and "Stardew Valley" have helped them cope with the isolation of quarantine.
Whether they're visiting a tropical island with friends, starting a farm or acting out an entirely new life, the games have become windows to a world in which the coronavirus is completely absent.
"I'm not fooling myself. I know that I'm pretending to live a life on my phone because my world has gotten a lot smaller, and I find it very soothing and very satisfying," Nicolaou said.
The gamers said these "life simulators" have not only given them a mental escape from being in quarantine, but have also given them something to do that is both meditative and cathartic, in addition to offering them an avenue to continue socializing.
One group of friends threw a surprise birthday party for their friend, Deere, a drag queen based in the San Francisco Bay area, in the same way they might have in real life — by congregating at her boyfriend's house in Animal Crossing and then inviting her over.
"I was crying because it was so nice," Deere said. "Under those circumstances, that's exactly what I needed because I couldn't see anyone that day."
Staying social with video games
However, players aren't meeting up in the game exclusively as a way to celebrate major events. Most of the time, "Animal Crossing" players will simply visit one another's island to complete tasks, pick fruit and exchange items to further enhance the scope of their respective games.
Jake Faris, 26, of Brooklyn, New York, has played "Animal Crossing" since its first incarnation was released on the Nintendo GameCube in North America in 2002.
With the majority of the nation in lockdown, Faris said "Animal Crossing: New Horizons" couldn't have come at a better time.
"A part that I really appreciated that has come with this generation and technology advancing is the social aspect," Faris said. "You can go visit friends' islands and hang out in a common space, which is not really something I can do in real life."
Andrew Young, 22, of Nashville, Tennessee, said he's played the game nearly every day since its release.
"Now, does it replace the real thing? No. And am I dying to leave the house? Yes. But it really has helped," he said.
Although "Animal Crossing: New Horizons" is one of the rare life simulators that allows for online play, many other games in the genre give players the illusion that they're interacting with real people or allow them to live vicariously through their characters.
Tori Deal, 27, who lives in California, downloaded "The Sims 4," one of the most historically prolific life simulators, as a way to feel like she was getting out of the house. "The Sims" is known as a "sandbox game" where players can build, modify or destroy environments or characters.
"I was like, you know, we can't dress up and get cute, and I know in the new 'Sims' they have bars, so like, let me make a really hot girl and let her live my fantasies,'" Deal said. "As an extrovert, it's kind of been a way to enjoy [quarantine]."
Improving quality of life in quarantine
Another popular life simulator is "Stardew Valley," in which your character inherits their grandfather's farm, which the player has to revamp.
For Nicolaou, the game isn't just a way to feel social, it's also a way for her to feel like she's had a mental break from the quarantine.
"It's entirely therapeutic," she said. "It feels like a place where I can make choices when I can't make those choices any more in the real world."
While life simulators vary in nature, the players all agreed that whether they're tending to crops on a virtual farm, living on a virtual island or taking care of a virtual family, the games have given them a way to cope with the stress of the quarantine and the fear of the coronavirus.
And it's maybe even helping some people keep a grip on reality.
Download the NBC News app for full coverage of the coronavirus outbreak
Because of "Animal Crossing," Faris, of Brooklyn, said he's able to keep track of the days of the week.
On Sundays, Faris wakes up early to check the game's turnip prices — an aspect of the game known as the "stalk market," which fluctuates.
"Even though it's this game that has no structure, it's given me more structure in my day-to-day," Faris said.