When 11th grader Jeremy Murray joined the esports team at Francis Howell Central High School in St. Charles, Missouri, his father had a natural reaction for a parent: What about homework?
Then, this past spring, six of Jeremy's teammates were offered nearly $400,000 in scholarships to play esports in college.
"That changed my mind," said Stan Murray, Jeremy's father.
A year ago, Murray wouldn't have dreamed that his son could get money for college by playing Overwatch, a kind of digital Dungeons & Dragons with laser battles. He didn't know colleges had competitive gaming teams and certainly never heard of them in high schools.
And then, before he knew it, he was calling video gaming a sport.
"Every now and then, I actually make Jeremy play for a couple of hours so he doesn't lose his abilities," Murray said. "I guess I'm just a typical sports dad."
Parents and educators across the country have been trying to make the same adjustment — and quickly. In the 2018-19 school year, some 200 colleges in the U.S. offered $16 million in esports scholarships, more than a threefold increase since 2015, according to the National Association of College Esports. Looking to boost enrollment and keep up with the latest tech-industry trend, colleges are plucking recruits from online gaming platforms as teams continue to spring up in high schools everywhere.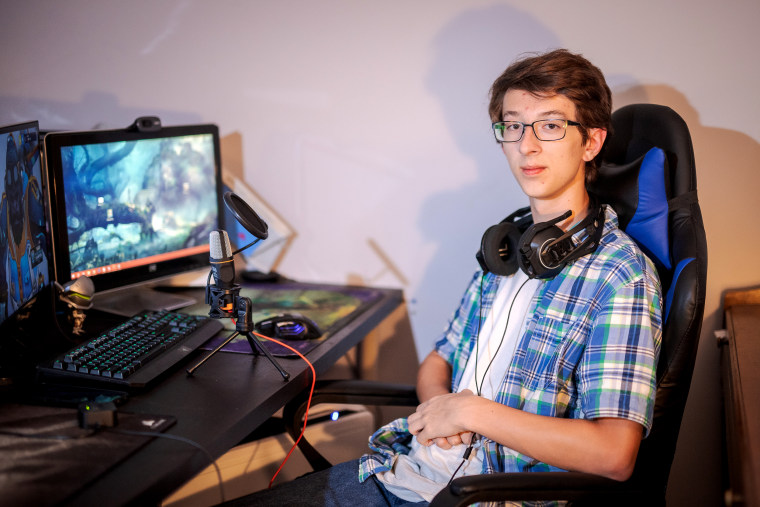 The demand for high school gaming has spread so quickly that state activities and athletics associations, the overseers of high school sports, are scrambling to keep up. They're asking if video gaming is a safe and worthwhile activity for students — and if they should treat it as a sport.
But esports companies aren't waiting. A number of them are already helping schools set up computer labs, organize tournaments and connect students with college recruiters. These companies are building the ground-level support for the expanding college and professional scenes, supplying not only gamers, but potential managers, marketers, data analysts and game designers.
Esports is projected to be a $1.5 billion industry in 2020, according to the research firm Newzoo.
"Esports is here to stay and should be embraced," said Chris Heintz, head publisher of High School Esports League, the oldest and biggest of the esports companies.
Heintz's company estimates that most of the $16 million offered in scholarships went to gamers participating in its online tournaments, which have drawn some 65,000 players across 1,700 high schools.
"Esports has a lot of the same benefits for students as traditional sports," Heintz said. "And eventually, as awareness grows, as we work up the chain, through teachers, through administrators, the 'aha' moment will happen for more people."
Following the money
The success of theFrancis Howell High School esports team was as sudden as the rise of high school esports itself. The team formed a little over a year ago, and now six seniors are going on to play for college teams this fall with tuition money in their pockets.
The "aha" moment came for guidance counselor Kris Miller in the spring of 2018, when he was touring Columbia College of Missouri with a group of students. One of the stops was the Game Hut, a small black building with atmospheric blue lighting inside, wall-mounted flat screens and illuminated keyboards. It was the college's esports facility.
"My brain started whirring," Miller recalled. "'What is this all about?'"
Miller knew there were avid gamers among his students. What he didn't know, until that moment, was that several Missouri colleges were looking for recruits.
"I thought we'd be negligent if we didn't start an esports team at the high school," Miller said. "If colleges are offering scholarships, our kids should be competing for them."
School district rules said Miller needed 10 kids to start a club. In just a week, he got 20 — 14 boys and six girls.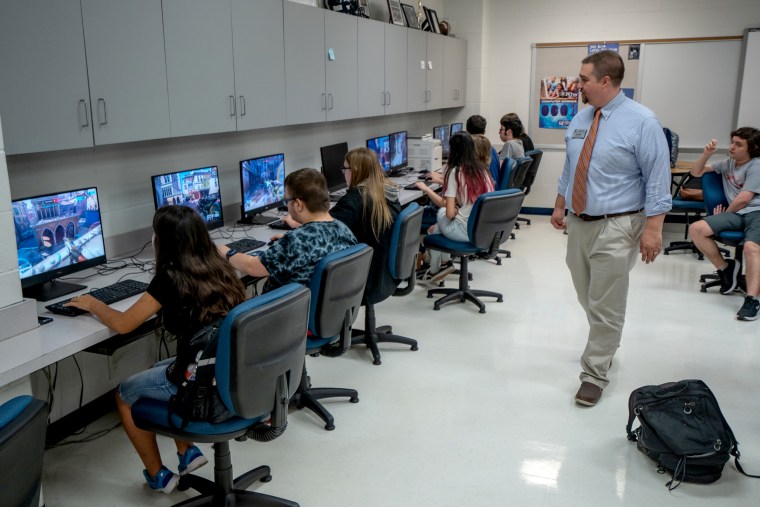 Miller didn't wait around for his kids to get discovered. He invited college coaches to the school to meet the team. Central Methodist University took him up on the invite, then had two of the seniors visit its campus to play in an Overwatch tournament. Eventually, the university offered the students $100,000 in scholarships.
"I knew that if they knew who we were, they'd come looking for me when they needed players," Miller said.
The scholarships helped to give esports credibility at Francis Howell. And it helps that Miller runs the program like a sports team. Players must show up to practices and keep up their grades. They even take a few laps around the school before manning the keyboards.
Parents are getting on board. Le'Anne Schlotzhauer thought the time her boys spent online watching livestreams of professional video games was wasted. But when she found out her son, George, was joining an esports team for a chance to win money for college, her question was, "Are you good enough?"
Seeing how many colleges were offering money put gaming in a whole new light.
"There is actual communication, team play," Schlotzhauer said. "They analyze the game, watch it afterwards and look for what they can do better. There's a lot that goes into it that people don't realize."
This past spring, George was offered a total of $16,000 in scholarships.
But is it a sport?
Even as the list of colleges and state universities recruiting high school gamers grows, state athletics and activities associations have been slow to move on esports.
For one thing, activities boards aren't concerned with scholarships.
"The priority is what the kids are getting out of an activity, learning the life skills to become good citizens, not getting to college," said Stacy Schroeder, associate executive director of Missouri's sports and activities association.
Then there's the apparent absence of physical exertion. It gets athletics boards wondering if esports falls within their authority.
"There's no doubt in my mind that what kids get out of esports looks like more traditional teams," said Andy Frushour, director of brand management for the Michigan athletics association. "They're wearing uniforms. They're representing their school. They're practicing every day. But some people get caught up on, 'Is this athletics?'"
The biggest resistance is from phys ed teachers.
"They've been preaching, 'Get out and run around,'" Frushour said. "And then they see these games that don't look like the ones they grew up playing. With something so new, for an association like ours to move forward takes time."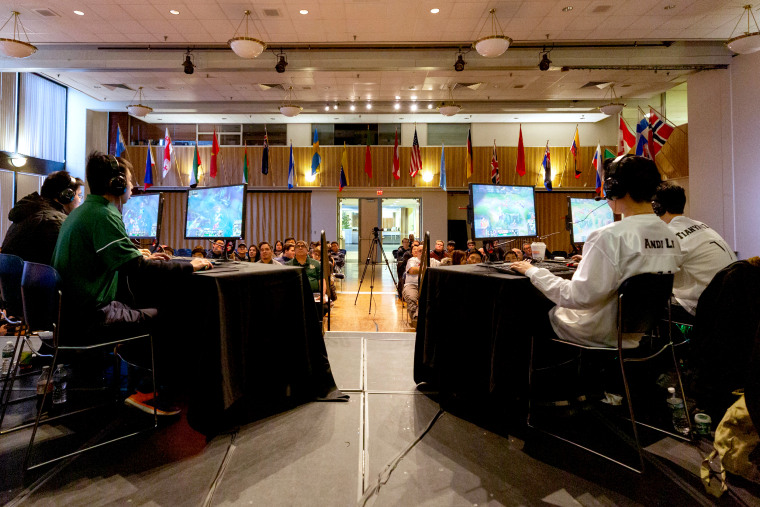 Without official sanction, there's no organization. Any mishap — a doctor's appointment, a last-minute make-up test, a mix-up in timing — can derail a scheduled match.
This is why the National Federation of State High School Associations has stepped in. Mark Koski, the chief executive of the NFHS Network, which livestreams high school events, said that over the past 18 months, more and more member states have been looking for guidance in running esports leagues.
And they need their options sorted out. Besides High School Esports League, there are a few companies positioning themselves as the go-to esports organizer, all of them working with schools to fund equipment, set up clubs and organize matches.
"We had a number of state associations and schools saying, 'Hey, we need some kind of solution,'" Koski said.
The Federation decided it would bring its 19,500 high schools under a single esports provider. Koski interviewed the key companies, looking for a good fit.
Federation board members wanted assurance, first of all, that they wouldn't be endorsing violence. No gory, realistic first-person shooter games. (Esports companies stick to cartoonish, multiplayer strategy games like Overwatch, League of Legends, Rocket League and Smite.)
And simplicity was key. No travel events, no financial strain on the school. Teams should be able to compete just by signing onto the company's site from the school computer lab.
Though some of the more generic concerns about the effects of video games have been debunked, other more legitimate issues remain. Gaming addiction, which was recently designated a disease by the World Health Organization, regularly comes up at state board meetings.
"That's where I stress the importance of the teacher-coach," Koski said. "I would much rather students were monitored within a school setting under the direction of a teacher-coach than playing at home by themselves."
Koski has focused on keeping esports within the realm of school activities. Still, the expanding possibilities within the industry aren't lost on him.
"I visited a couple of game publishers," he said. "They had 650 employees, and they were paying an average of $75,000 salaries. That's unbelievable money for kids fresh out of high school."
The field of competition
When it came time to choose a company to organize tournaments for the nation's high schools, the Federation went with a relative newcomer, Los Angeles start-up PlayVS (pronounced "Play Versus"), which had a clear vision of where esports was going and how to get it there.
Under an exclusive five-year contract signed in January 2018, PlayVS has license to operate leagues in any state that wants to sign on. This past school year, it ran its first two seasons in eight states. The cost for schools was $64 per student, per season. The company hopes to build itself into a 100-million-user subscription business.
The deal was a coup for PlayVs, which only a year and a half ago was a one-person company run by founder Delane Parnell. It was also more evidence that the booming esports industry's entry into college and high schools had cracked open a new and lucrative market.
Since signing with the Federation, Parnell, with backing from a tech investment firm, has secured tens of millions of dollars in venture capital to build his company.
That puts him in a unique position to direct the course of high school esports.
"At some point soon, every gamer will reference PlayVs as they work through the experience of esports, whether they're in high school or college," he says.
PlayVS organizes interscholastic competition into seasons, the way it would be for other varsity sports. The company's software enables coaches to monitor real-time statistics, manage rosters and communicate with one another like varsity coaches. But one of the bigger selling points for the Federation was PlayVS's relationship with game publishers. It's the only company with explicit rights to use the games on its platform. Without that consent, Parnell says, other companies may be charging participation fees illegally.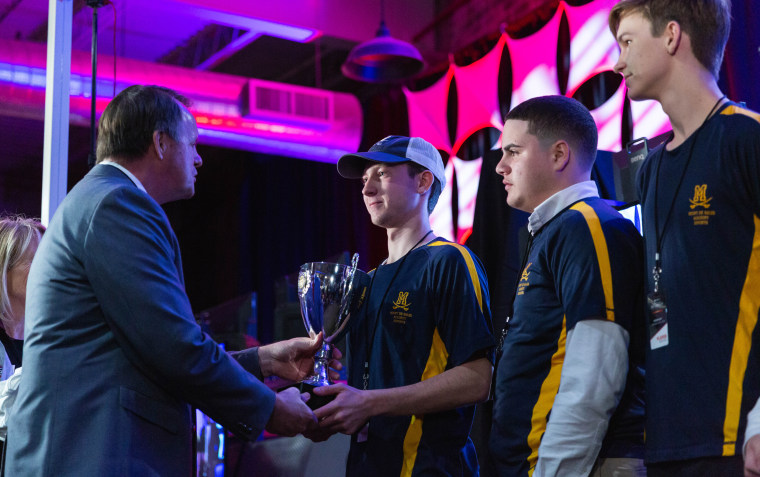 PlayVS's rise has caught its competitors off-guard. Tyler Schrodt is founder of the New York-based Electronic Gaming Federation, which in 2018 helped organize the first state-sanctioned esports leagues in Connecticut and Alaska.
Schrodt said the "West Coast-oriented" approach of raising millions in venture capitalism is premature in the high school esports industry. The focus should be on educating schools on competitive gaming's social and educational benefits.
"Esports is trying to catch up to the traditional sports world, in terms of infrastructure and knowledge base. There's still a pretty big knowledge gap about what you're buying into," he said.
As for the High School Esports League, it would like to see the industry continue to grow in the organic, haphazard way it largely helped to establish.
"Esports have always been grassroots, community-driven, player-focused," said co-founder Mason Mullenioux. "Students find a teacher. The teacher sponsors a club. Then the teacher sees the awesome benefits the kids are getting and tells their teacher-friends. And it just kind of spreads like wildfire."
Without centralized organization, the league's growth depends on school teams here and there signing up to compete in tournaments, which, the company reports, has seen participation in all 50 states, as well as Puerto Rico and Canada. Since February 2018, member schools of the National Association of Collegiate Esports, the NCAA of college gaming, have mined the company's rosters for recruits.
Mullenioux and friend Charles Reilly started the league after graduating from college in 2012. It was the kind of thing they had needed in high school. "We both wanted something in school we could belong to," Mullenioux says. "We were thinking, 'We can't be the only ones like this,' and it turns out there are a ton of people like us, across the country and around the world, who long for something they can belong to."
The company still sees its mission as mainly social and educational. "We're not interested in getting $50 million and having to appease some venture capitalists who want to make the process skyrocket," Heintz said. "We're trying to find a balance between serving students and teachers, and bridging the gap between competitive gaming and education."
That gap may take some time to close, Mullenioux said, given how slow state associations are moving. For now, it will have to be the kids and enterprising coaches out there who will drive the growth of the sport.
That's the energy guidance counselor Miller hopes to bring to state board meetings in Missouri this fall. If he can drum up enough support, he'd forgo the esports companies altogether and start up a regional league that could serve as a conduit to local colleges.
As for his students, whether they take up careers in the esports industry or in some other technology field, esports is a win-win.
"It's good for a lot of people, and it's only going to grow from here," said George Schlotzhauer, who's now a freshman at Central Methodist University in Fayette, Missouri, and weighing professional gaming against computer science as a possible career. He's got his own page on the school's sports website.
"It's going to be something big," Schlotzhauer said. "And people who made fun of it are going to look a little bit silly now."
CORRECTION (Sept 20, 2019, 4:32 ET p.m.): An earlier version of this article incorrectly attributed a comment about the professionalization of a casual activity to Delane Parnell. The comment has been removed.
CORRECTION (Sept, 23, 2019, 3:04 ET p.m.): An earlier version of this article misstated the liability risk of charging fees in relation to esports leagues. The risk is with companies that organize the tournaments, not the schools.