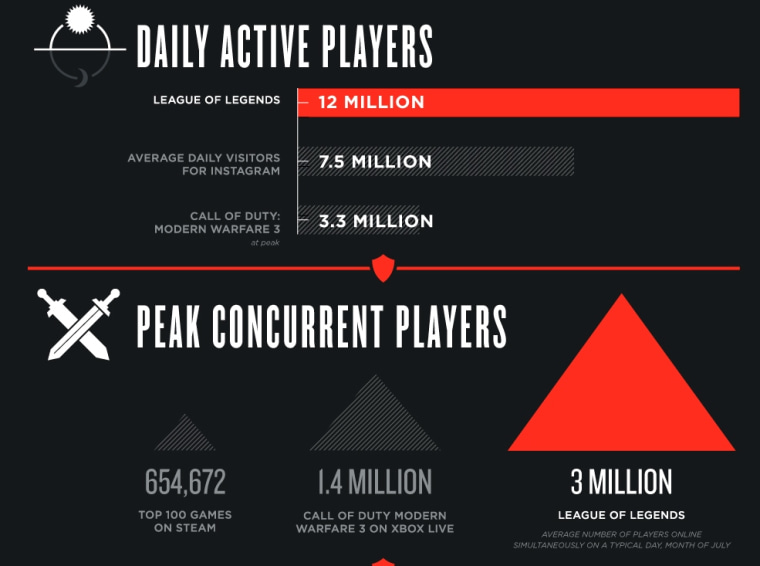 At this very minute, 3 million people are probably playing "League of Legends."
In fact, on average, 12 million people worldwide play the game every day.
As if those numbers aren't mind-blowing enough, Riot Games -- the company that makes the enormously popular online battle arena game -- says that "League of Legends" players log more than 1 billion hours with the game per month.
Those are just a few of the awe inspiring factoids you'll find in the below infographic released by Riot Games Thursday. (For an up-close view, follow this link and click on the image.)

"League of Legends" now has 70 million Summoner names registered (think gamer tags) with 32 million active players participating in the highly competitive multiplayer online strategy game. The stats arrive as Riot is in the midst of preparing for the "League of Legends" Season 2 World Championships, which will get underway at USC's Galen Center on Saturday in front of a crowd of 10,000 people (myself included) with as many as 3 million people watching all over the world from home.
The top two teams -- Azubu Frost from Korea and the Taipei Assassins from Taiwan -- will battle it out for a $1 million prize when the finals get underway at 6:30 p.m.

Until that excitement begins, enjoy the below infographic. For a close-up look, follow this link (be sure to click on the image).
And stay tuned to InGame. We will be reporting from the World Finals this Saturday, which you can watch live on Riot's own "League of Legends" site as well as on  Twitch.tv and Own3D.
You can follow Todd Kenreck on Facebook and on Twitter.