Hours after her son returned to school, April McElrath of Smyrna, Delaware, posted to a Facebook group she'd joined for help and support.
"He tried to start a game before school!!!" McElrath wrote, posting a picture of her sheepishly smiling son Marcus, 11, to the group for parents of children obsessed with the video game "Fortnite."
Dozens of "Fortnite" support groups — where parents with kids who play the colorful survival game connect and vent — have sprung up on social media since the game was released last year. They have also given adults an outlet to discuss how to handle the new school year.
"I am kind of worried that when school starts, 'Fortnite' might be a distraction," McElrath said before the start of school in Smyrna. "I'm hoping I don't get a call about it."
Marcus would prefer his mother didn't concern herself too much with his gaming habit.
"I'm socializing. I'm playing with my friends," he interjected. "Stop roasting me!"
"Fortnite" is the wildly popular online multiplayer video game that had 125 million players as of June, according to North Carolina-based studio Epic Games.
The game was released by the company in mid-2017 and is what's known as an open-world survival game, in which players collect resources, make tools and weapons, and try to stay alive as long as possible.
Like fidget spinners and Pokémon Go before it, "Fortnite" has become a sensation with kids as young as 7, although the game is rated "teen" by the Entertainment Software Rating Board. But with the new school year in full swing, parents are attempting to balance their children's love of their game with their academics.
McElrath said Marcus knew at the start of the school year his bedtime would be 9:30 p.m. — no more late summer nights on the Playstation until 1 a.m., she said.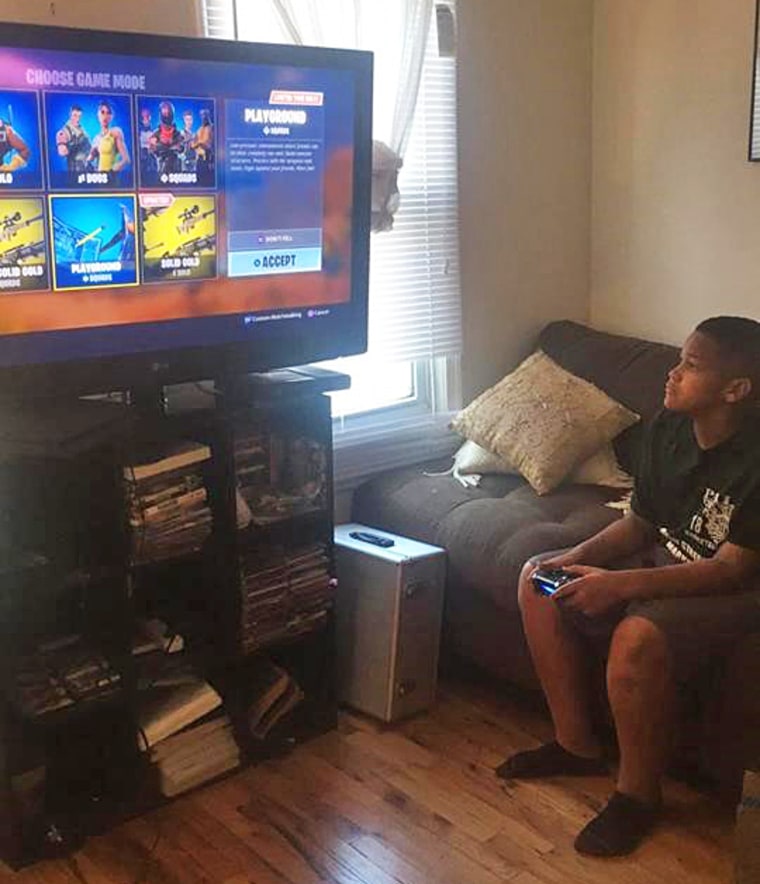 She's also used "Fortnite" as a way to bargain with her son, rewarding good behavior with in-game currency "V-Bucks" — which allow players to buy things like character skins and cost real-world money to buy.
"My new thing will be using V-Bucks as allowance for chores and behaving at school," she said.
Suzanne Kosmerl, of Avondale Estates, Georgia, where school started on Aug. 6, said that while the game sometimes tests her patience with her son, Wyatt, 14, it isn't all bad. It's also helped her son learn teamwork, strategizing and communication skills and it has given her an avenue to connect with him.
"We were going through time where Wyatt wasn't talking a lot and out of the blue one night, I said, 'Tell me about 'Fortnite.' I don't understand why you love it,' and he talked for an hour and the next morning made a PowerPoint," she said.
Some teachers are also using "Fortnite" to engage with their students.
Chris Aviles, who works in the Fair Haven school district in New Jersey teaching computer science and digital art, runs the blog Teched Up Teacher. He said he uses "Fortnite" as a tool to capture his students' attention.
"What I would encourage is the idea that we need to love what our kids love, and the idea we can teach through what they love is really valuable," Aviles said. "I have kids that are obsessed with 'Fortnite' and you can teach math through 'Fortnite' or teach English through 'Fortnite.'"
He said since Christmas, his students haven't stopped talking about the game. Aviles said he thinks the game's popularity is tied to its ability to hone in on "internet and meme culture" that kids often see online. But he said regardless of the obsession, teachers can use those passions to make sure students are not only paying attention in school but excel.
"What the reality is is we're either dismissive or don't embrace what our kids care about. I could teach reading and writing through 'Fortnite,' through fidget spinners, through Woodstock, through Elvis — anything you care about. A teacher needs to love what their kids love," he said.
Parents like Kosmerl have also learned to use "Fortnite" as a reward. Wyatt, for instance, isn't allowed to play the game during the school week.
"I gave him a little more time last night because he got 97 percent on test," Kosmerl said on a weekend in late August.
But like most teens, Wyatt pushes the envelope with her restrictions. He once abandoned his responsibilities at home on a school night to get a controller from a friend.
For that, he was "majorly grounded." She also said Wyatt can turn into "a little lawyer," litigating why he should get more time on the game when she tells him it's time to stop.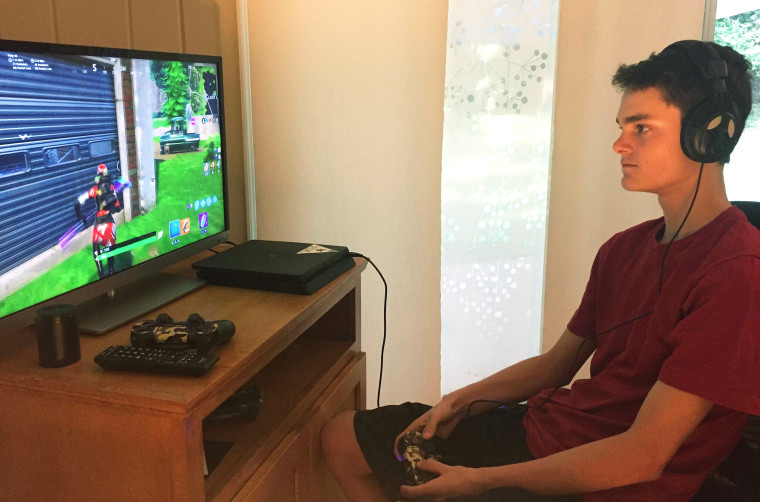 "There are times when it would be easier to give in, and I'm not perfect. I do give in, but I find that's when the problem starts," Kosmerl said.
And when things get really tough, the support groups are always a click away.
Adam Pletter, a child psychologist and the parent of a 10-year-old "Fortnite" player, is the creator of a Facebook support group, of which Kosmerl and McElrath are both members. He said when he's offline and working at his practice, he hears about the game nearly every day.
His website iParent101 is a way for adults who are less digitally savvy to connect with their technologically immersed children, and "Fortnite" is the latest craze he's tried to help parents understand.
"I've played several times, and I'm awful at it. I feel like I'm 140 years old when I play, but my son is there laughing at me and he's teaching me how to play," Pletter said.
He said understanding the game allows him to bond with his son and that children are more likely to follow parents' rules during the school year if the rules seem reasonable.
For example, time limits don't work in "Fortnite's" Battle Royale mode. Those games begin with 100 players and end with the last man standing. These games aren't timed so there's no limit to how long they can last. Pletter said parents who want to set boundaries on their children's "Fortnite" time this school year should know what guidelines work with the game's format.
"I'd rather parents understand the game on a basic level so it doesn't sound like Charlie Brown's teacher noise and kids ignoring them until parents get really mad," Pletter said.
But Pletter said it takes a village to make boundaries enforceable. He said if parents are restricting their child's "Fortnite" time, but other parents aren't, it makes the challenge that much greater.
"If we set a limit and now he's done, well, if he were to go outside all his friends are still online," Pletter said of his son. "Especially after school, parents should to try and plan a little more, instead of just being reactive."
But McElrath said, in her mind, because her son is an only child with friends across the country, "Fortnite" is the modern way to keep him connected.
"I think it's the 2018 way of kids going outside and playing in the street," she said. "It's 2018. Our kids play video games."
CORRECTION (Sept. 3, 2018, 11:40): An earlier version of this article misstated the name of a town in Delaware. It's Smyrna, not Smryna.