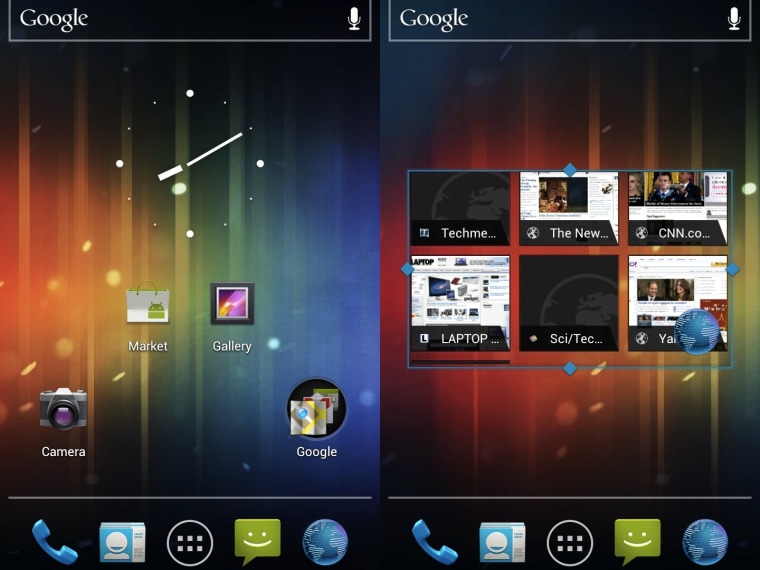 With Ice Cream Sandwich, Google is hoping to make its Android operating system more polished and approachable without sacrificing the power or versatility that gave the OS its geek cred. Yes, the new Roboto font is slick, but there are some pretty major upgrades under the hood. Multitasking has improved; there's a new-and-improved People app; and you can even unlock your phone with your face. To give you a taste of Ice Cream Sandwich's most important new features, we took the software for a test drive on the brand new Samsung Galaxy Nexus.
1. Front buttons go bye-bye
Ice Cream Sandwich forgoes the need for physical Back, Home, Menu and Search buttons by integrating a new System Bar at the bottom of the screen. There's three persistent virtual buttons here (Back, Home and Recent Apps), while ICS exposes more menu options within a separate Action Bar. Its location varies on the app and includes a search button. We appreciate that the OS provides increased real estate for content, but miss being able to press and hold the search button from any screen to launch Google Voice Actions.
2. Multitasking better than iOS
That Recent Apps button really comes in handy, displaying thumbnails of open apps in a vertical stack that you can easily scroll through. Even better, you can just swipe an app off the screen to close it. This approach is more straightforward than the iPhone, which forces you to double tap the home button and then press and hold an app icon before closing it.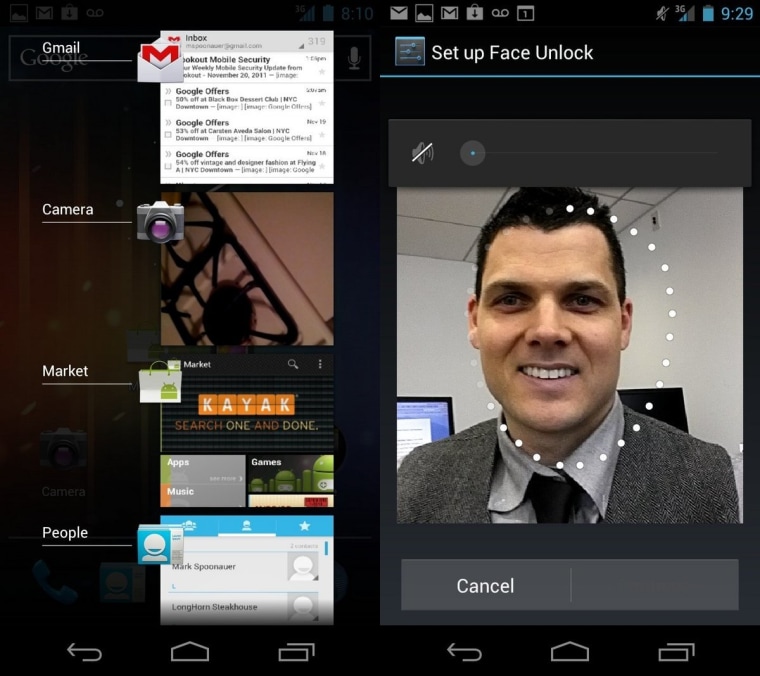 3. Face unlock
There's probably no easier way to unlock a phone than staring at it, and that's exactly what Ice Cream Sandwich lets you do. Setting up Face Unlock under settings was a cinch, and it worked well most of the time. Just make sure you have enough ambient light for the front-facing camera; we had to enter a pin as a backup a few times when our Galaxy Nexus couldn't recognize our mug. Also keep in mind that you can fool the OS by holding up a picture of yourself. Face Unlock is more of a convenience feature than a security feature.
4. Resizable widgets
Ice Cream Sandwich wants to put widgets more front and center, which is why you see a Widgets tab when you open the Apps menu. And just like on Honeycomb tablets, you can use widgets scroll through content — like your calendar or inbox. Plus, you can resize widgets just by pressing and holding on them and then dragging any one of the corners.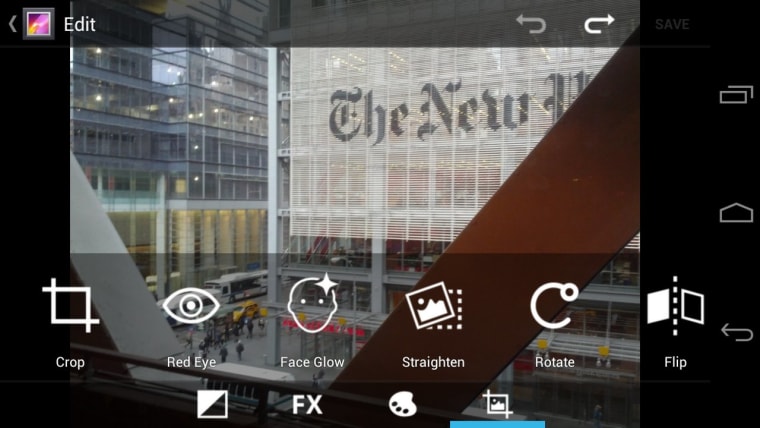 5. Killer camera app
Other Android phones offer this feature, but we're glad to see that Ice Cream Sandwich makes a Panorama mode standard with its camera app. You just swivel your phone to left to right and the software takes care of the rest. The OS also includes robust editing capabilities, from auto-fix and cropping to a wide range of special effects.
6. Notifications clean up their act
While we like that Android phones let you see notifications with a swipe down from the screen — Apple copied it for a reason — Ice Cream Sandwich makes it easier to manage them. You can dismiss individual notifications by just swiping them off the screen, as opposed to needing to clear them all at once. You can also dive into settings from this menu with a tap.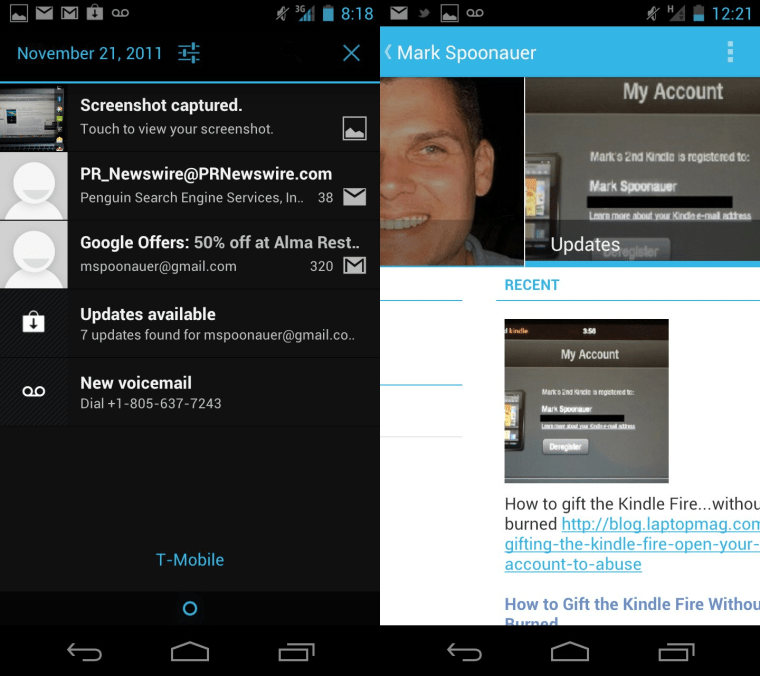 7.  People app gives contacts a makeover
A new People app in Ice Cream Sandwich is more inviting than your typical address book, providing a large profile along with social networking integration. We liked being able to swipe to the right while viewing a contact to see Google+ updates and Twitter updates from that person in a single stream. Too bad Google hasn't added Facebook yet.
8. Respond to calls with a text
Android Ice Cream Sandwich makes it easy to ignore incoming calls without being rude. If you're too busy to answer, just swipe up and you'll see a list of canned text messages you can tap. Choices include "Can't talk right now. What's up?" and "I'll call you right back." You can also create a custom message on the fly. Pretty convenient.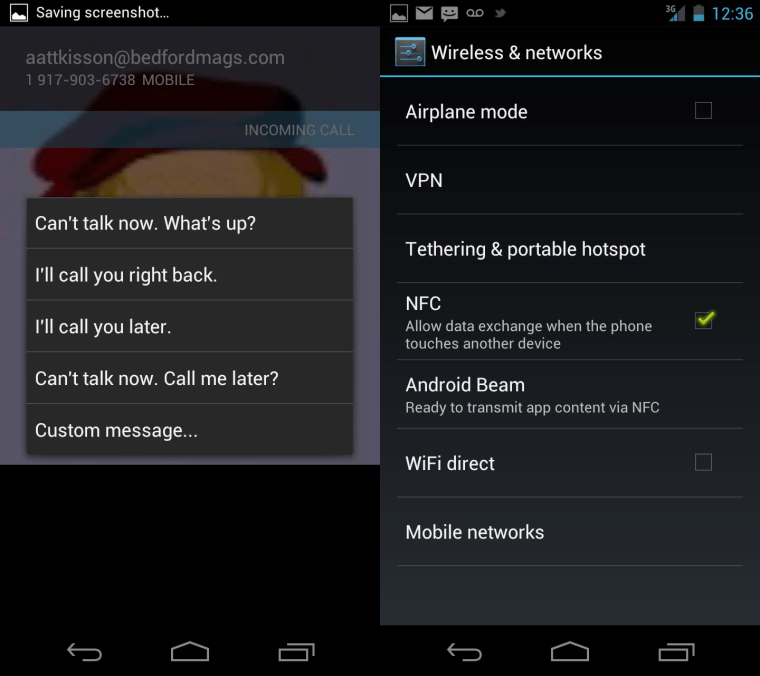 9. Just beam it
This feature will take a while to take off, but we love the idea. Provided your Ice Cream Sandwich phone has an NFC (near field communications) chip inside, you can transmit info to other phones running the latest Android OS just by touching the two together. With Android Beam you can share anything from contacts and Web pages to apps and YouTube videos. Beam will get even better once developers get their hands on Google's code.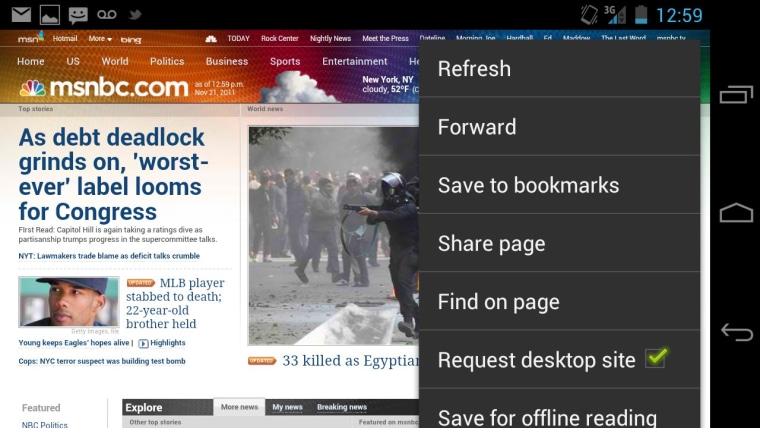 10. Better Web browsing
The new browser in Ice Cream Sandwich is not only faster than its predecessor, it lets you open up to 16 browser tabs at once. You can also sync bookmarks from your Google Chrome account. Tired of getting served mobile versions of your favorite sites? Just check the Request desktop site option. Offline reading lets users save specific Web pages for reading without a connection. Unfortunately, Flash support isn't coming until later this year.
More Android stories from Laptop: