Amazon's Kindle MatchBook service launched Tuesday, offering e-book versions of dead-tree books you bought from the online retailer anytime between 1995 and now, with prices ranging from $2.99 to free. So what's the catch? There's always a catch. The book must be one of the more than 70,000 titles offered in the Kindle MatchBook library, which sounds like a whole lot of books until you start looking for those you probably own. 
Top titles heralded by Amazon's Kindle MatchBook announcement include "The Bonfire of the Vanities, the 2013 biography "Johnny Carson," the Boing Boing-beloved "WOOL," and "Life of Pi," the book version of the movie you just watched on pay-per-view. Absent however, are a lot of books most people actually re-read — as opposed to books most of us aspire to read once and/or claim to have read already. 
We were unable to find any of the "Fifty Shades of Grey" trilogy among the Kindle MatchBook's virtual stacks. "The Unofficial Harry Potter Spellbook: The Wand Chooses the Wizard" by Duncan Levy is the closest we came to Harry Potter. Forget about anything written by J.K. Rowling, including her recent books for grownups, "A Casual Vacancy" and "The Cuckoo's Calling," which she wrote under the pseudonym Robert Galbraith.
E-book versions of the epic "Game of Thrones" series would be a boon to any George R.R. Martin fan with a bad back (the corporeal versions of those books are huge), but the only thing with Martin's name attached is "The Hedge Knight: The Graphic Novel."  

"Hunger Games"? Nope. Anything by Stephen King? Nope. How about Dan Brown of "The DaVinci Code" fame? Nada. And just forget about finding anything from the Sookie Stackhouse mystery series, which spawned HBO's "True Blood," or any other books by New York Times bestselling-author Charlaine Harris. 
Why the dearth? Publishers have to agree to participate in the program, and with the e-book versions priced at $2.99, $1.99, $.99, with a few for free, it could be difficult to get these bestsellers on the bandwagon. 
For those who purchased classics from Amazon — rather than just accumulating required reading over the years — the MatchBook library does offer "Moby Dick," "The Scarlet Letter," "The Complete Little Women Series," "Jane Eyre," and plenty of Charles Dickens. But if you're looking for the guy credited with inventing American fiction — Mark Twain — forget him, too.  
Contemporary classics, such as "The Unbearable Lightness of Being," "I Know Why the Caged Bird Sings," and "The Color Purple," are also missing. Though for $2.99, you can get the e-book version of "The Color Purple" study guide — in case the book version you bought from Amazon is all marked up.  
In the area of non-fiction, Kindle MatchBook program doesn't offer anything by popular theorist Malcolm Gladwell, but let's be honest, Gladwell books are for creating the illusion of intelligence, not for reading. But if you do feel the need to duplicate your nerd accessories in e-book form, you can get "Freakonomics" (the revised edition).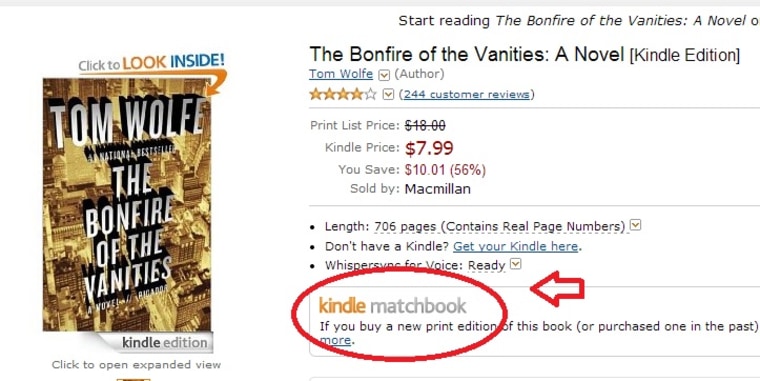 Amazon announced the program in September and says it will continue to expand its Kindle MatchBook offerings. "It's been great to see the positive response to MatchBook from both readers and publishers," said Russ Grandinetti, vice president, Kindle content, said in a press statement. "MatchBook enrollment has grown from 10,000 to 70,000 titles in just a few weeks and we expect it will keep expanding rapidly in the months ahead."
Shelling out a couple of bucks for an e-book version of the print product you previously purchased does have its benefits. As with other Kindle purchases, MatchBook buys come with Whispersync, Popular Highlights and X-Ray. You can access your e-books via Kindle, or download the free Kindle reading app for iPhone, iPad, Android tablets and phones, PC or Mac. 
It's easy to find out whether any of your Amazon book purchases qualify for the Kindle MatchBook program. Just log on to your Amazon account, go to the Kindle MatchBook landing page, and click "Find your Kindle MatchBook titles." Amazon gremlins search your shopping history and present a list of eligible books ... if you're lucky.
Of the tens of books purchased over the years, we qualified for only one: "Sex at Dawn: How We Mate, Why We Stray, and What It Means for Modern Relationships" for the Kindle MatchBook price of $2.99. It's a good book, the kind that gets lent out and never comes back. And since the cheapest you can get a used version from an Amazon market is $6.99, not a bad deal. 
Helen A.S. Popkin goes blah blah blah abut the Internet. Tell her to get a real job on Twitter and/or Facebook.