The gaming news Friday was dominated by all things Xbox One, but Nintendo fans have something much more significant to celebrate than a new console. No, I'm not even talking about the new "Super Mario 3D World" — though that will certainly make some gamers happy as well. Friday marked the first time that the "Legend of Zelda: A Link to the Past" got a proper sequel with the new 3DS game "A Link Between Worlds."
First released in 1991 for the Super Nintendo Entertainment System (SNES), "A Link to the Past" is remembered as one of the best video games ever made. Nintendo therefore faced a herculean task when it decided to finally bring Link and Princess Zelda back to their roots in a top-down, isometric game that looks decidedly old-fashioned compared to the lush third-person games in the series, like 2002's "Wind Waker" or 2011's "Skyward Sword."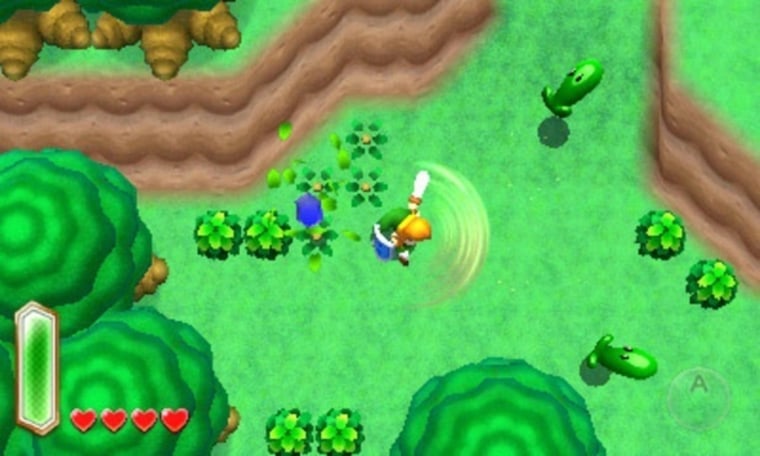 Luckily for Nintendo, it seems like they picked the right man for the job. Eiji Aonuma, who served as a producer overseeing "Link Between Worlds," was just beginning his career as an artist at Nintendo when "Link to the Past" was released. He told NBC News in a recent interview at Nintendo of America's New York offices that playing the original SNES game changed his conception of what video games could be.
"Up until then I always thought of games as competitive-based things," Aonuma said. "But when I played Link to the Past, it opened up my eyes to what was possible with games."
Not only that, the game helped him work his way into a new job at Nintendo.
"That influenced me a lot in making my next game, 'Marvelous,' which I don't think actually came out in North America," Aonuma added. "It was very Zelda-like, so afterward Mr. Miyamota [the creator of "The Legend of Zelda," along with many other acclaimed Nintendo franchises including "Super Mario"] said: 'If you want to make a Zelda game so much, why don't you actually come and make one?'"
A link to the past and a bridge to the future
Playing "A Link Between Worlds," you can tell that a lot of love went into making the game. It pays many obvious debts to "Link to the Past," from the adorably animated version of Hyrule that recasts the magical kingdom in a new but familiar light to the comfortable gestures that Link makes every time he slashes his sword at an enemy. But thankfully, Nintendo didn't settle for a simple reskinning of a classic with "Link Between Worlds" — though I'm sure that would have made plenty of Zelda fans perfectly happy. 
The biggest addition from previous top-down Zelda games is a wall-melding mechanic. Like most games in the Zelda universe, "Link Between Worlds" tells a story about archvillain and token evil wizard Ganandorf trying to pull off some dastardly scheme that only brave little Link can stop. This time, the scheme involves turning people into paintings, and Link just happens to be lucky enough to be wearing a magic bracelet when it's his turn to meet the wall.
Instead of just becoming a painting like all the other unlucky souls of Hyrule, therefore, Link gains the ability to merge with flat surfaces — something that quickly emerges as a nifty way to get to hard-to-reach areas and solve puzzles.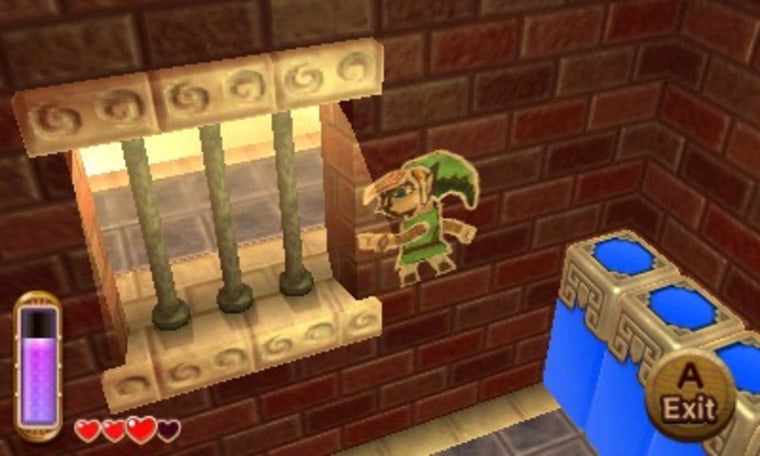 The wall-merging is the most immediately apparent example of what makes "Link Between Worlds" feel so special: For a game that seems aesthetically rooted in the past, it's surprisingly forward-thinking. Each of the game's meticulously constructed dungeons has a depth to it that makes exploration an intriguing challenge. And for a company known for making incredibly linear gameplay experiences (even "Super Mario 3D World," for all its beauty, usually gives players a single line they must walk along), this version of Hyrule is welcomingly open-ended. After a brief introduction, players are allowed to explore through the entire kingdom at their own pace, finding and preparing for challenges as they see fit.
Other, more stagnant parts of Nintendo's creative facilities would do well to learn from the trust that this game places in its own players to experiment as they see fit. It might not be the new Zelda game that fans have been waiting to see for the Wii U, but "Link Between Worlds" is a masterpiece in its own right.
Yannick LeJacq is a contributing writer for NBC News who has also covered technology and games for Kill Screen, The Wall Street Journal and The Atlantic. You can follow him on Twitter at @YannickLeJacq and reach him by email at: Yannick.LeJacq@nbcuni.com.