Google has revealed the features contained within the latest version of Android operating system, 4.4 or KitKat, which it first announced in September. There's nothing mind-blowing, but the features are helpful — and hint at devices to come.
KitKat relies more than ever on behind-the-scenes Google services to enhance everyday tasks. For instance, a new caller ID will check business listings for an unknown number so you know it's the vet or hardware store and not a telemarketer. And searching contacts will bring up nearby places, not just people on your phone.
A new "immersive" mode lets apps and games take over the whole screen — no buttons or status bar to be seen. And an improved file-finding tool minimizes switching between apps when you're looking to attach or modify a recently used or downloaded image or document.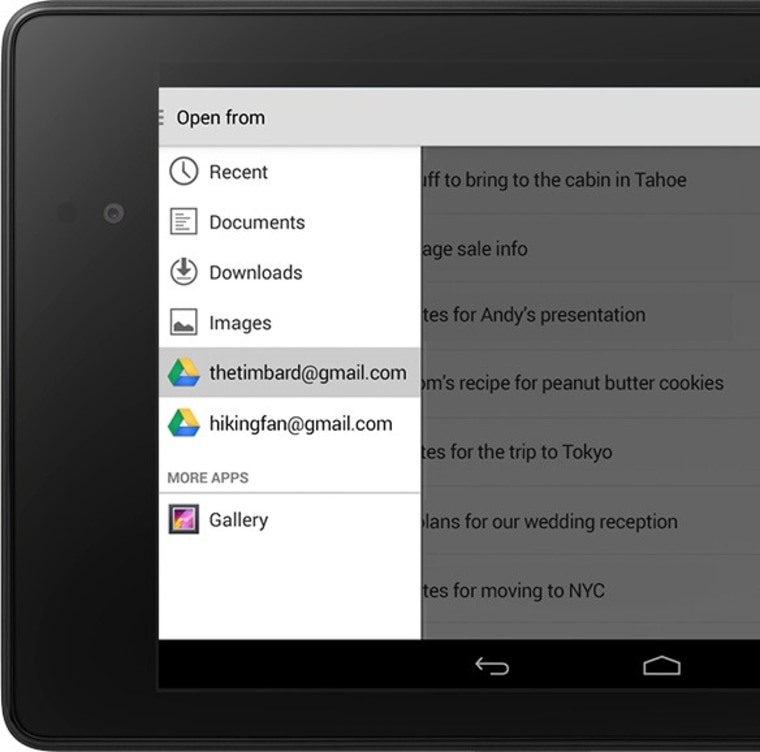 There are also invisible improvements, like lower battery consumption for things like music playback, more efficient memory use, and built-in security features like app sandboxing and remote device wipe. Google suggests these will help make KitKat effective even on budget phones.
Budget phones, yes, but what about smartwatches? Google has been rumored to be working on one for a while, and the inclusion of a step tracker in KitKat is highly suggestive. For now, you'll be able to use it with existing fitness-tracker apps, but it wouldn't be surprising if Google has its own solution waiting in the wings.
The rest of the features, from cloud printing to Chromecast support, can be found at the official KitKat webpage. 
And when can you expect to see the these features? Unless you order a Nexus 5, it'll probably be a while, but it looks like 4.4 is a version Google wants to push out to as many phones as possible — although carriers and manufacturers will probably take their sweet time tweaking it and adding extra software, as usual. Nexus and "Google Play Edition" devices, however, will get it over the next couple weeks.
Devin Coldewey is a contributing writer for NBC News Digital. His personal website is coldewey.cc.