Apple CEO Tim Cook took the stage in San Francisco Tuesday to talk about "a lot": New iPads, new Macs and the latest version of OS X — plus a lot of premium apps that are now free.
New iPads
After a lengthy tribute to the vast number of the iPads sold to date — over 170 million and counting — Apple's senior vice president of worldwide marketing, Phil Schiller, showed off the iPad Air, 20 percent thinner overall, and a bezel that's 43 percent thinner.
It's styled much like the iPad Mini, but with a 9.7-inch screen. It's got the same 10-hour battery life, 5 megapixel camera and 1080p video. But it has improved backside illumination (for better visibility outside?) and dual microphones, for FaceTime as well as Siri voice-recognition. At its core is the new A7 64-bit chip, which can run next-generation software, and the M7 motion co-processor, which allows for more motion activity without draining the battery.
The 7.9-inch iPad Mini, which now costs $399, gets a Retina display that's the same resolution as the larger 9.7-inch iPad Air — 2048 x 1536 — so you can expect very invisible pixels and very smooth text. It also gets the A7 chip and most of the under-the-hood improvements of its big brother. Because it's priced higher than the original, Apple is keeping the original iPad Mini, and reducing its price from $329 to $299.
Both new iPads are available in silver and white or space-gray and black, and there will be new leather and polyurethane covers matching the new iPhone color scheme. The new iPad Air ships Nov. 1, while the iPad Mini with Retina display will appear later that month.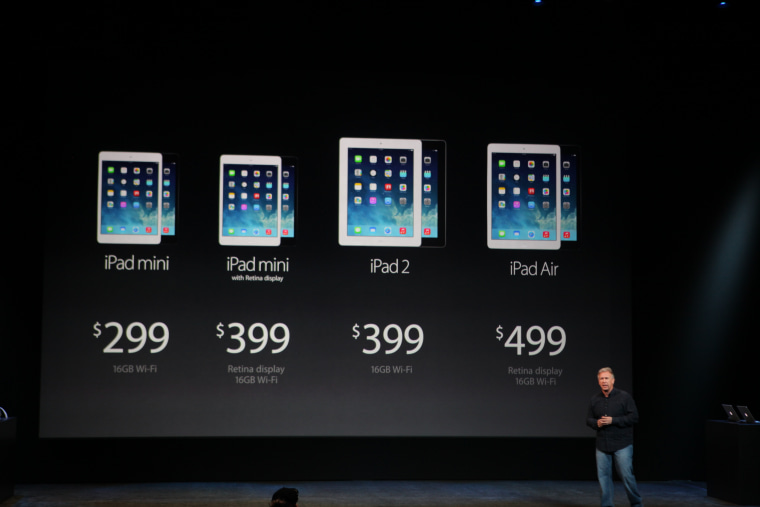 Mac OS X Mavericks
Early on, Craig Federighi, Apple's senior vice president of software, discussed the new OS X, dubbed "Mavericks," which is a free update for Mac owners available today, and will work as a one-step upgrade even if you're back on Snow Leopard. Compatible systems go back as far as the 2007 iMac and MacBook Pro, the 2008 MacBook Air, MacBook and Mac Pro and the 2009 Mini (and any more recent systems in those families).

He first talked about battery life savings, memory management and graphics improvements. In some cases, a new MacBook Air can get an extra hour of battery life, just by updating to the latest OS version. Other Mavericks perks included responding inside notifications, tabbed windows inside the Finder, and an added dock for a secondary display. Lots of stuff packed in there, though a lot of the detail is pretty wonky.
Apple is bringing iBooks and Maps to the Mac, too. While that's an understandable attempt to grow these ailing services, it's been hard for anyone to use them on iOS, given the better alternatives from Amazon and Google.
iCloud Keychain in Mavericks lets you securely pre-store your credit card info and other data, and add it to shopping sites, etc. without retyping it all.
Calendars is location aware, and synced to Maps, so if you say you're going to walk to a meeting, it adds travel time ahead of the meeting, and shows you the route to take. (Hopefully, the database on Maps is good enough now that you won't get lost.)
New Macs
During the event, Schiller introduced new MacBook Pro with Retina screen models, including a 15-inch MacBook Pro with 2GHz chip now reduced $200 to a starting price of $1999, and a 13-inch MacBook Pro that's a bit thinner and lighter than it had been, now reduced in price $100 to 1299.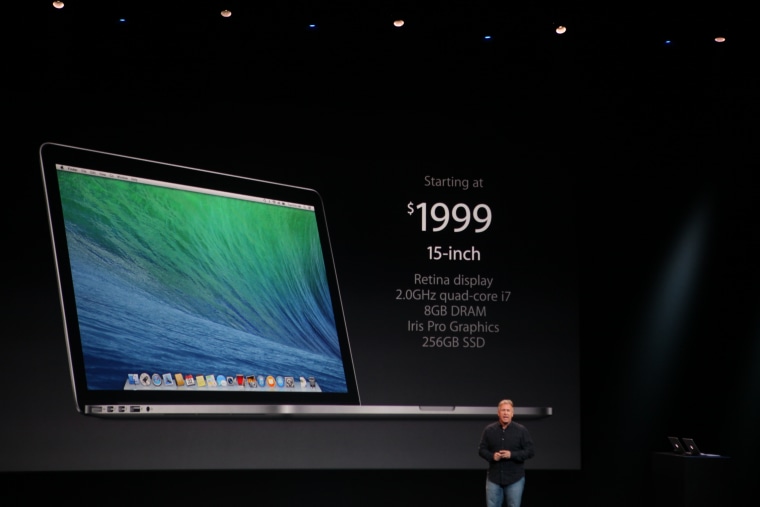 Then Schiller talked about the crazy new Mac Pro, a professional computer with every single crazy bell and whistle you can imagine (and many you can't). You're probably not in the market for this thing, but just look at it — it's over the top in every way. (OK, I'm sure PC gamer nerds have built better, but nothing this sleek looking.) Schiller reminded us that it's going to be assembled in the U.S.
The new model will cost $2999, and it's available in December.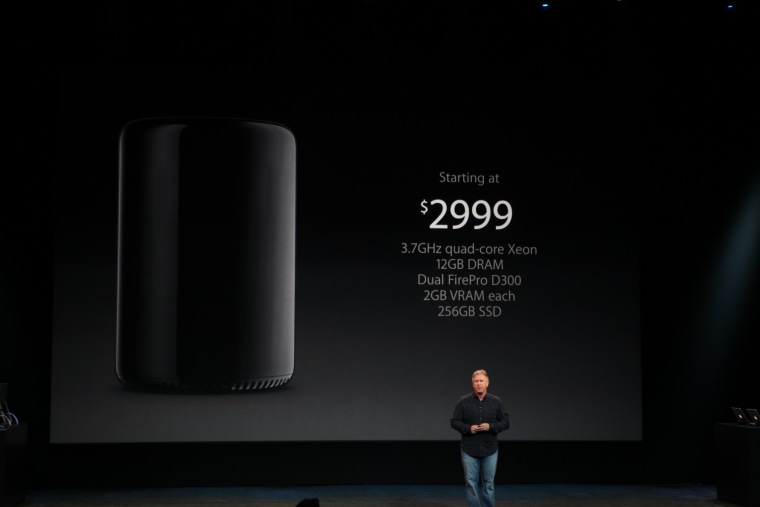 iOS and Mac apps
Internet services head Eddie Cue got on stage to talk about the refresh of iLife for both iOS 7 and OS X Mavericks. There's a whole new iPhoto, iMovie and Garageband for iOS 7, streamlined to look like the new interface, and with new, more share-friendly options. iMovie lets you send video without creating a laborious project; meanwhile iPhoto lets you create photo books you could previously only make on a Mac.
Cue also talked about iWork. New Pages is faster on the iPad, and is has content sensitive tools on the Mac. In both cases, the screen isn't cluttered with unnecessary controls. In Numbers, reports can be interactive, so that from quarter to quarter, the same report can reflect the new information. There are also new features in the new Keynote.
iWork is also getting more cloud friendly, with collaborative interaction now available via iCloud. "You can even collaborate with a friend who's stuck on a PC," says Cue.
The big news is that iWork is now free. iLife is already free with purchase of Mac or iOS device.
Earlier...
At the beginning of his keynote, Cook went through the obligatory discussion of how current Apple products are doing. The iPhone sold 9 million units in its opening weekend in September, and 64 percent of iOS devices are now upgraded to iOS 7, a speed record, Cook said. He is also proud of iTunes Radio, which Justin Timberlake debuted an album on, and the App Store, which has done 60 billion downloads and earned developers $13 billion.
Keep this article refreshed, and follow me on Twitter at @wjrothman for the rapid-fire news.