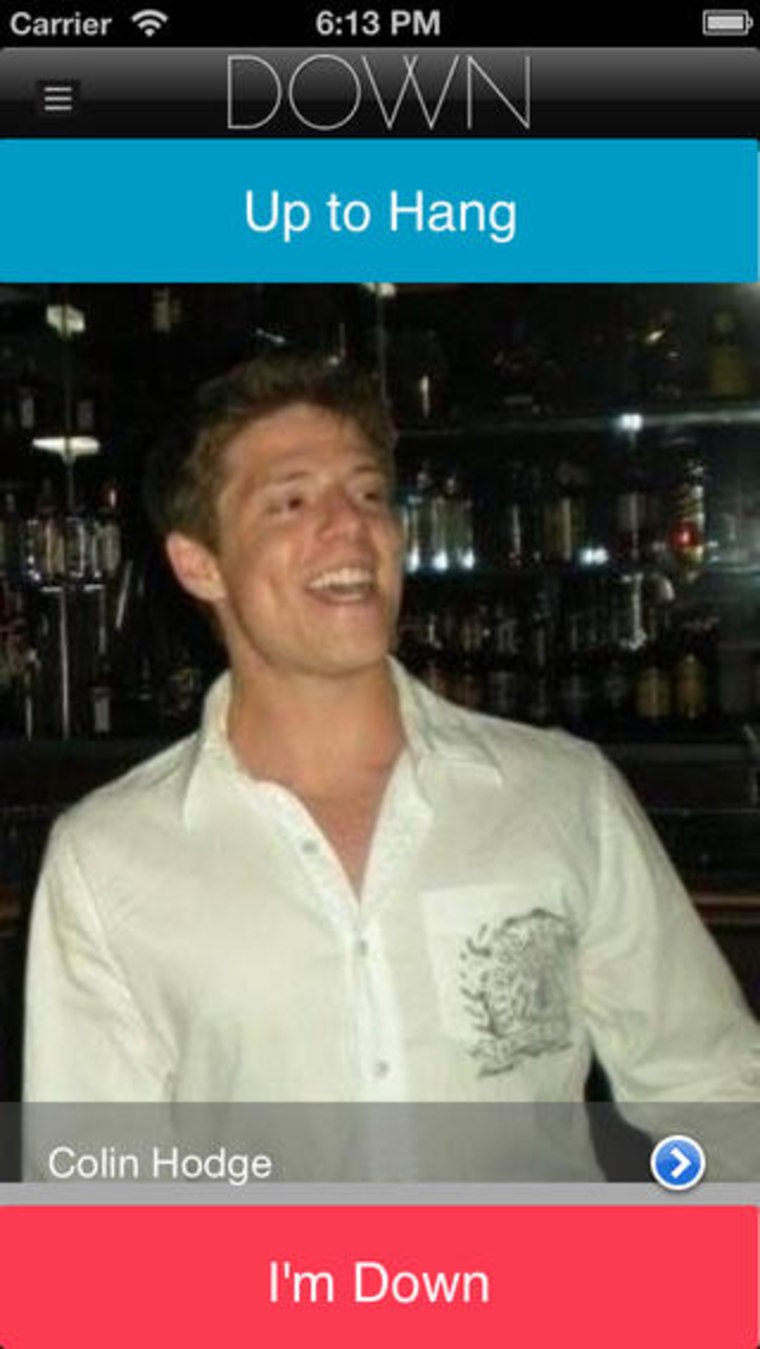 After three months of exile from Apple's notoriously stringent iOS app store, the app formerly known as "Bang With Friends" is once again available for iPhones and iPads.
The catch? Technically, it's not "Bang With Friends" — at least not for Apple. Instead, the latest headline-grabbing mobile hookup app has been renamed "Down" for its iOS users.
Besides the name change, Down still works pretty much the same way as the original Bang With Friends — the mobile app syncs with your Facebook account, showing you photos of friends from the social network and giving you the option to slide up or down on their profile picture to choose if you want to canoodle with them. The only difference is that the app has removed all references to "banging," instead choosing the more innocuous phrasing "I'm down" to indicate your affirmative choice.
The Bang With Friends Android app, which was never removed by from the Google Play store, still remains. It's unclear whether or not BWF will keep the two different properties or allow multi-platform users to share content and activity between the two different apps.
The new iOS app might give BWF an easy exit from another of its recent problems, however. Earlier this summer, the social game company Zynga sued BWF for trademark infringement, accusing the meetup app of "illegal free riding on recognized and valuable intellectual property rights" off its various "with friends" game properties like "Words With Friends" and "Scramble With Friends."
Bang With Friends declined to comment when asked about how the name change might influence its ongoing litigation with Zynga. Writing in an emailed statement to press, Colin Hodge, co-founder of Bang With Friends, described the name change as a last-ditch effort to get back on the iOS app store after repeatedly imploring Apple to reconsider its decision to no avail.
"We tried to continue the dialogue," Hodge wrote of the aftermath of the original app's removal, "explaining that: plenty of apps that connect users for hookups and dating already live on the App Store, we had the app rating set to 17+, we only allow signups from users 18+ via Facebook, and we source all images directly from your friends' Facebook profiles instead of racy user-submitted photos, but we made zero progress."
"As CEO, I even drove down to their headquarters twice to try to get a meeting with someone in their app policy department (note to others: this didn't work for us and only resulted in threats to call the police)," he added.
Apple hasn't commented on the decision to remove BWF for the app store. Hodge said in his statement that the company cited app store guideline 16.1 — "Apps that present excessively objectionable or crude content will be rejected" — as the reason for pull the original BWF app.
As with many cases of apps being pulled from Apple's app store, however, Apple's reasoning remains opaque. Hodge said in his statement Friday that the name "Down" refers to "'Down to Bang', the simple and honest action that unlocks your friends with benefits."
This story was updated at 4:41 pm E.T.
Yannick LeJacq is a contributing writer for NBC News who has also covered technology and games for Kill Screen, The Wall Street Journal and The Atlantic. You can follow him on Twitter at @YannickLeJacq and reach him by email at: Yannick.LeJacq@nbcuni.com.