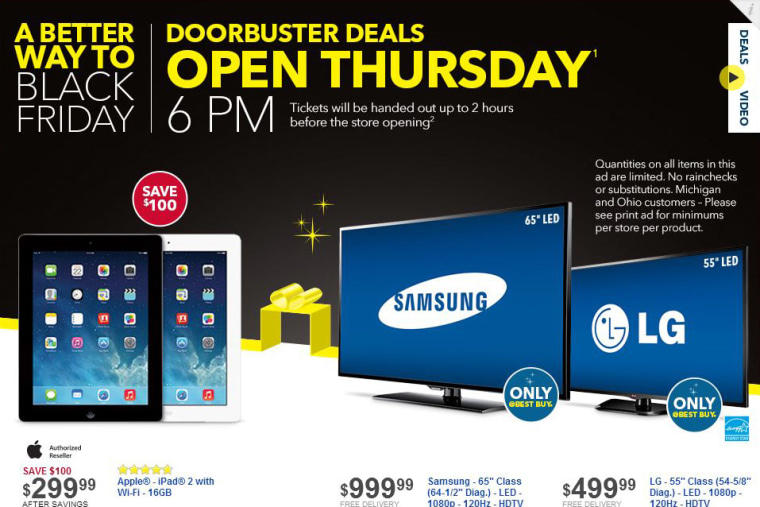 On Black Friday, Best Buy actually wants you to share footage of the holiday madness around you, asking customers to post six-second Vine videos on Twitter with the hashtag #VineInLine.
Normally, a company pushing a social media campaign wouldn't be a big deal. But this is Black Friday. In recent years, American consumers have rioted over $2 waffle irons, pepper-sprayed each other, and, most tragically, trampled a Wal-Mart employee to death in 2008.
The chaos has already become a meme on Vine, with users starting with the phrase, "Black Friday shopping be like," followed by apocalyptic clips from movies like the "World War Z," "300," "Jingle All the Way," and, of course, "The Hunger Games."
Best Buy, however, seems confident that the lines outside of its stores won't resemble a disaster movie, boasting that it has found, "A better way to Black Friday."

So, is Best Buy offering any deals worth throwing elbows for? A few of the big discounts: An Amazon Kindle Fire HD 7 with 16GB for $99, a Samsung Galaxy S4 for free with a two-year contract, and a 39-inch Insignia LED HDTV for $170.
The fact that Best Buy is starting its Black Friday promotion a day early could relieve some of the stress on Friday morning. Some of the deals will be available starting at 6 p.m. on Thanksgiving Day, with most Best Buy locations staying open until 10 p.m. the next night. 
All Best Buy locations also perform Black Friday dress rehearsals on the weekend before to prepare for the crush of customers, which include pep talks and detailed briefings on the pricing and location of heavily discounted items, according to the Denver Post. 
Related: Early Thanksgiving openings may limit Black Friday chaos at big box retailers
The stores have a ticketing program for the most highly desired deals known as "door busters," Best Buy's public relations manager Jeff Shelman told NBC News in an email, with employees asking people in line which "door buster" product they want and giving them a corresponding ticket. Customers can buy only one of each item, Shelman wrote, adding that these precautions "eliminate the need for customers to sprint upon entering the store and fight over products." 
Still, there are reports of people already lining up outside of Best Buy locations, meaning there are people out there willing to miss Thanksgiving dinner for a chance to buy a cheap HDTV. 
And some of the deals don't start until 10 a.m. on Friday morning, which could create a second rush of customers. Regardless of Best Buy's precautions, corporate media campaigns have a history of going sour. 
Most recently, JP Morgan Chase's #AskJPM Twitter campaign was quickly pulled after angry users started asking questions like, "Can I have my house back?" and "What's your favorite kind of whale?" The latter tweet was a reference to the London whale, a banker whose derivatives bets resulted in $6.2 billion in losses for the company. 
Best Buy seems unfazed by the idea that things might go wrong, promising to retweet the best Vines of people having a great time while waiting in line. If something bad does happen, however, Best Buy won't have to worry about spreading the word; the internet will do it for them. 
Keith Wagstaff writes about technology for NBC News. He previously covered the tech beat for TIME's Techland and wrote about politics as a staff writer at TheWeek.com. You can follow him on Twitter at @kwagstaff and reach him by email at: Keith.Wagstaff@nbcuni.com