Need recommendations on last-minute cooking gadgets, bar supplies, place settings or cleaning products before Thanksgiving? We've got your back. Our team of researchers, reporters and kitchen experts dedicated more than 300 hours of testing and research to create a roundup of over 70 items that will help you elevate your party hosting prowess. Below are a few of our kitchen favorites.
Best Immersion Blender
Because you need it for: whipping cream, cranberry sauce, pureeing real pumpkin for pies, and crushed ice for cocktails — if it's that kind of Thanksgiving

We like: the Breville Control Grip Immersion Blender ($100). Not only did it purée better than everything else we looked at, it was able to do tasks that none of the others were even capable of doing like crushing ice and making peanut butter. If $100 is too much to spend or you only plan on using this on rare occasions (say once a month or so) we recommend spending $35 on the Cuisinart Smart Stick Hand Blender CSB-75, which had similar performance to more expensive models from Cuisinart and KitchenAid at a fraction of the price.
To read more about the best immersion blender check The Sweethome's guide.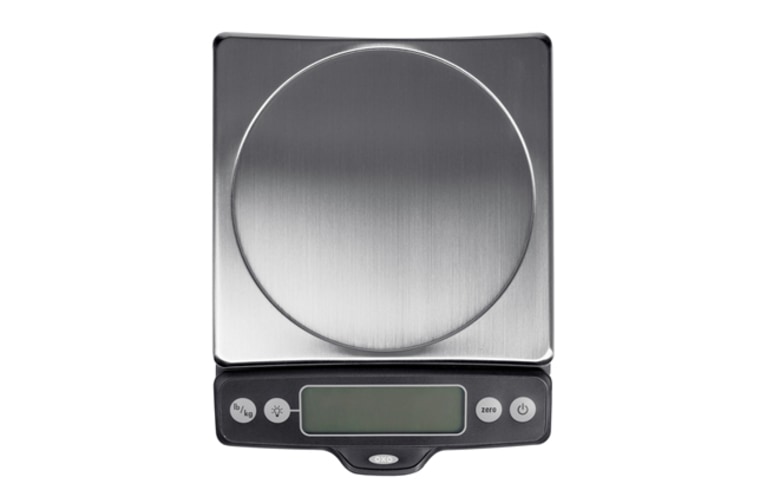 Best digital kitchen scale
Because you need it for: replacing inaccurate volume-based measurements

What we like: the OXO Good Grips Stainless Steel Food Scale with Pull-Out Display ($50). It felt sleeker yet more substantially built than other models (the My Weigh i5000 or the Soehnle 65055) and comes with a pull-out LCD screen, so you can set a sheet pan or big bowl on the weigh platform and still read the backlit screen. And it's super easy to clean the control buttons, since they're covered in a layer of plastic. Another huge selling point is the OXO's superior standby mode. If you have to take a break from weighing, the OXO will stay on for 6 minutes before switching to standby, which retains the memory of what you're weighing up to another 24 minutes.
To read more about the best digital kitchen scale check The Sweethome's guide.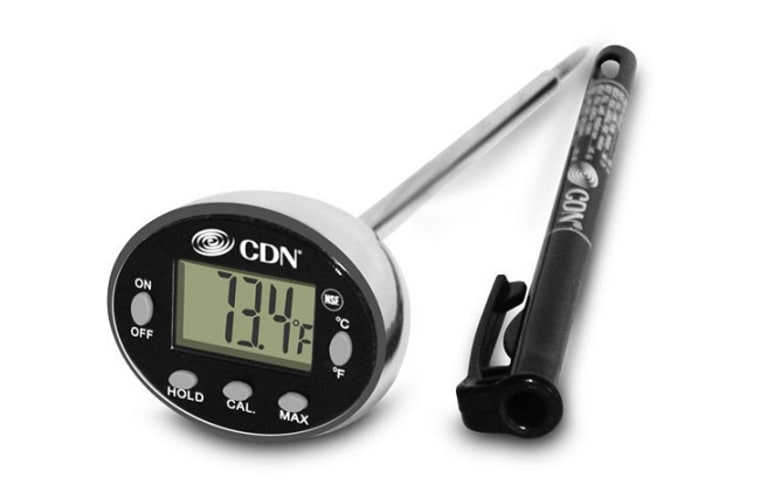 Best cooking thermometers
Because you need it for: roasting the perfect turkey

What we like: For the vast majority of home cooks, the CDN DTQ450X, or ProAccurate Quick-Read Thermometer ($20) is a sturdy, efficient and reliable tool that's capable of handling just about any job. If you're going to get crazy with sensitive meats or sauces, by all means grab a ThermaPen ($96). Or, if you'd rather have something that just beeps when everything's ready, we recommend the Thermoworks Original Cooking Thermometer/Timer in our party hosting guide. The great thing about a probe thermometer like this one is that it takes the guess work out and requires less poking. Just set it and forget it until it beeps.
To read more about the best cooking thermometers check The Sweethome's guide.
Best food processor
Because you need it for: chopping, slicing, mixing, grating — seriously, so much.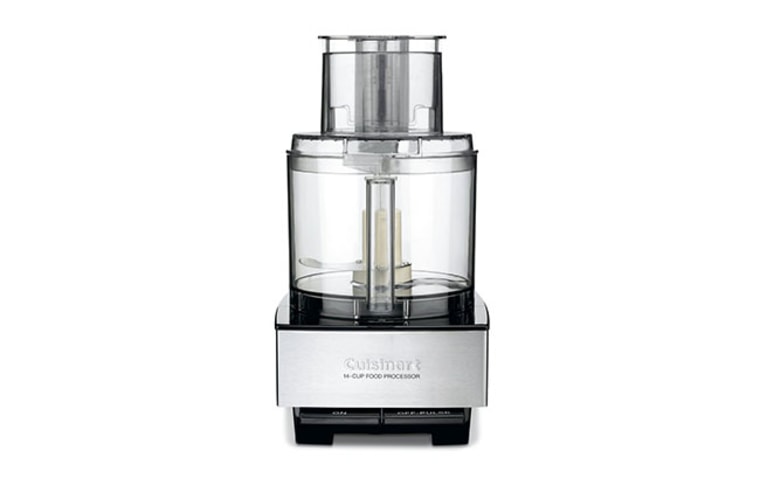 What we like: the Cuisinart Custom 14-Cup Food Processor ($179). It's a basic-but-efficient model that excels at most tasks. Nothing about the Custom dazzled, but like a good workhorse, it did everything we needed it to and was much easier to clean than so-called "fancier" models. Pizza dough was our most motor-intensive test and it kneaded it effortlessly — even without a specific "dough" speed. It chopped veggies, ground bread crumbs and shredded soft mozzarella just as well as the more expensive models, and it took up less counter space. However, if you will use your processor several times a week or place a premium on thoughtful design, spring for the much more powerful 16-cup Breville Sous Chef for $400. It performed the best out of all the models we tested. Even more importantly, it was the easiest to clean by a long shot.
To read more about the best cooking thermometers check The Sweethome's guide.
Best turkey fryer
Because you need it for: Fryin' that turkey! (But seriously be safe and follow the instructions carefully.)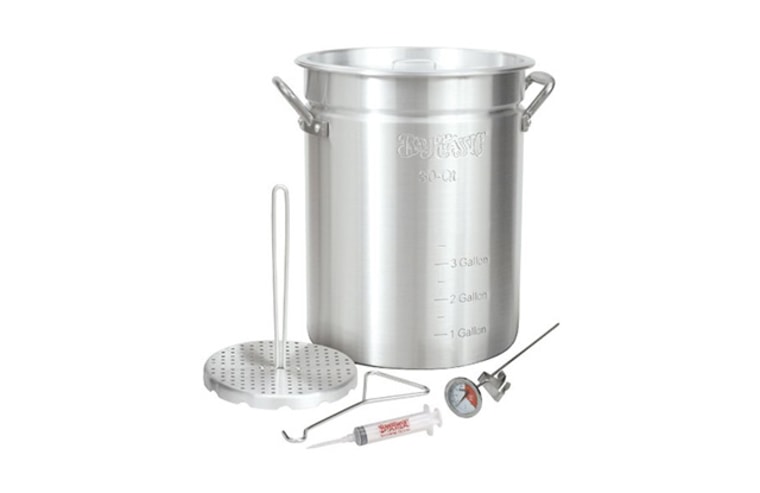 What we like: Bayou Classic Aluminum Turkey Fryer Stockpot ($40); Plus the Bayou Classic Single Burner Patio Stove ($50). Heat conduction in a fryer is important because, once the turkey goes in, the oil temperature drops; the faster it can heat back up, the better (crisper on the outside, juicer in the middle) the bird will be. Aluminum conducts heat better than steel, even if it's lighter and less durable. Likewise, propane provides more heat than electric, even though it's a bit more risky. Our panel of chefs all pointed to the Bayou Classic as a, well, classic. And the resulting turkey was gorgeous. We seasoned with just a little salt and pepper, the skin and meat were flavorful and fragrant, reminiscent of the best fried chicken, and outer pieces like the wings stayed crisp after a long rest. Post-Thanksgiving, we plan on using the Bayou Classic for more frying and, during the summer, for lobster boils and clambakes. Just be sure you get all the necessary safety equipment like a fire extinguisher and protective gloves.
To read more about the best turkey fryer check The Sweethome's guide.
Best rice cookers
Because you need it for: rice, and other steamed grains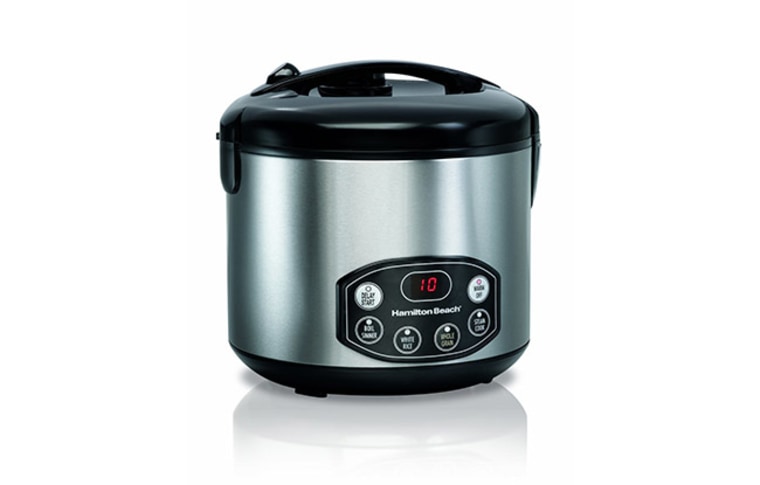 What we like: Hamilton Beach Digital Simplicity Deluxe Rice Cooker/Steamer ($40)
After testing multiple rice cookers with friends and a panel of Japanese chefs, we found the Hamilton Beach worked best for people who cook rice once in a while. But, if you enjoy brown rice, cook rice multiple times a week or like less-common rice-cooking methods like sticky rice or rice porridge, it's probably worth investing in a high-end rice cooker — namely the $150 Zojirushi NS-TSC10. But regardless of the rice cooker you buy, the most important step to all rice prep — whether using a machine or not — is to rinse the rice, clearing off any rice starch, dust, particulate matter. For white rice, it's crucial so that your rice doesn't end up a globby, clumpy mess due to excess starch.
To read more about the best rice cookers check The Sweethome's guide.
MORE: Great gear for hosting parties
The Sweethome is a leaderboard of supplies for your home where each pick is systematically chosen after a dozen hours of research, expert interviews and tests.