Every fall brings out new installments from all of the biggest franchises in the modern video game industry. And when it comes to video game blockbusters, few can compete with "Call of Duty," which will have legions of fans lining up outside stores Monday night for the midnight launch of "Ghosts," the latest in Activision's wildly popular series of militaristic first-person shooters.
But Activision faces a unique kind of pressure in spite of—or, perhaps, because of—the success of its shooter. Developed by "Call of Duty" creator Infinity Ward, "Ghosts" is the first title from the studio since it wrapped up the celebrated "Modern Warfare" trilogy in 2011 with "Modern Warfare 3," a game that set a new entertainment industry record when it logged $1 billion in sales in just under 16 days. 2012's "Call of Duty: Black Ops 2" technically beat this record when it crossed $1 billion in 15 days. But soon after Activision touted that number, industry commentators began to highlight a 14 percent decline in overall sales for its first month on the market compared to "Modern Warfare 3's" performance. 
Take-Two Interactive, meanwhile, blew past this competition this September with "Grand Theft Auto V," which hit $1 billion in sales in just three days. Taken together, all these numbers raise a compelling point: With "Ghosts" arriving amid the game industry's transition to a new generation of console hardware, are gamers still as hungry for more "Call of Duty" as they have been in the past?
"We need to have that same inertia that we had when we launched on the Xbox 360," Daniel Suarez, vice president of production at Activision, told NBC News of the studio's hopes in bringing "Ghosts" to six different platforms (PC, Wii U, PlayStation 3, Xbox 360, PlayStation 4 and Xbox One).  
Activision and Infinity Ward hope to stamp out any and all concerns with the "Call of Duty" franchise with a number of improvements and additions in "Ghosts." The game features a brand-new storyline penned by Academy Award-winning screenwriter Stephen Gaghan, of "Traffic" and "Syriana" fame. The single-player campaign also includes a playable German Shepard named Riley, who has already become an online meme.
In lieu of the beloved "zombies" gameplay mode that fellow "Call of Duty" developer Treyarch has put in many of its games, Infinity Ward is also introducing a new type of multiplayer called "Extinction," which lets up to four players join together to fight an alien infestation.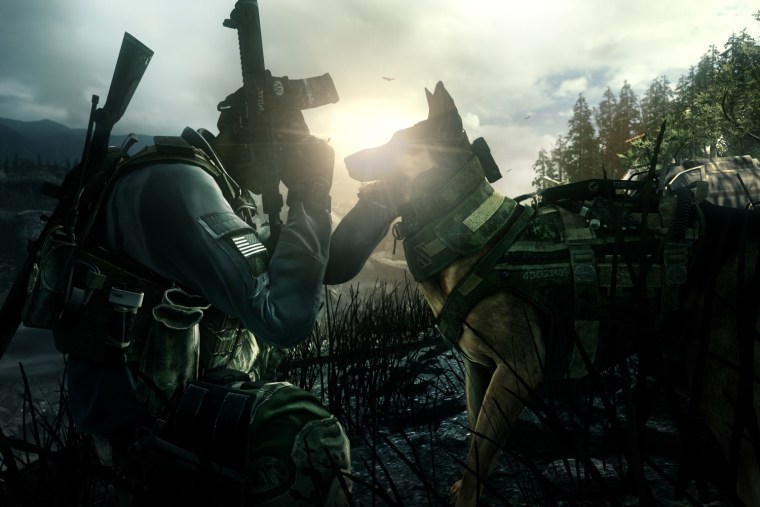 And then, of course, there's the core "Call of Duty" multiplayer, which offers seemingly endless amounts of customization for the soldiers players bring into battle. That includes, for the first time, the option to play as a female soldier.
For Lewis Ward, a game industry analyst at IDC, the multiplayer component of "Call of Duty" has always been what sets it apart from the rest of the pack. While other top-tier military shooters like "Battlefield 4" might have larger maps open to a great number of players, "Call of Duty" has always been better at creating what Ward calls a "kiddie pool" — less-intense multiplayer modes that help prospective players get into the game in the first place.
"They've done a masterful job on the back-end multiplayer balancing and matchmaking," Ward said, "just making it an enjoyable experience. They don't overlook that everyone wants to come in and have a good time."
Michael Pachter, an analyst at Wedbush Securities, wasn't exactly doubtful of Activision and Infinity Ward's commercial prospects for "Call of Duty: Ghosts," but he did say that transitioning to next-generation consoles might keep it from landing the kind of short-term records that its immediate predecessors did.
"I think the transition is going to suck a lot more dollars from gamers' wallets than in the past, so as a practical matter, there will be fewer dollars available for all software," Pachter wrote in an email to NBC News. "I don't think it is ['Call of Duty'] or 'Ghosts'-specific, but rather there will just not be enough money to support growth this year."
It can't be easy maintaining a franchise this large year after year at the breakneck speed of an annualized release schedule, after all. But when I asked Activision's Suarez if he had any concerns with "Call of Duty" losing any of its steam, he pointed out that Microsoft's rankings for the most popular Xbox Live games had four "Call of Duty" titles in the top 20.
"I fully expect that number to go up to five once 'Ghosts' comes out," Suarez said. 
Yannick LeJacq is a contributing writer for NBC News who has also covered technology and games for Kill Screen, The Wall Street Journal and The Atlantic. You can follow him on Twitter at @YannickLeJacq and reach him by email at: Yannick.LeJacq@nbcuni.com.