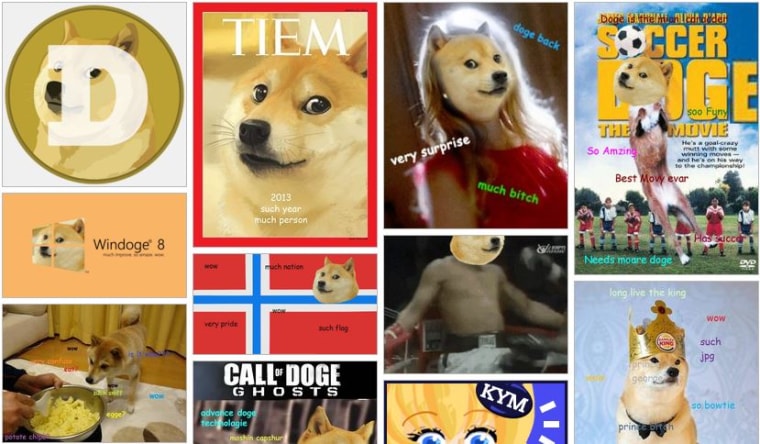 Sorry, Ridiculously Photogenic Guy and Bad Luck Brian. The Internet has found a new favorite meme and it is adorable. 

Yes, "Doge," the Shiba Inu sporting a quizzical look and bizarre internal dialogue, is officially KnowYourMeme's top meme for 2013.
Not even the Harlem Shake — the dance craze that gained 1 billion views on YouTube in 40 days — could match the appeal of a cute canine accompanied by Comic Sans captions. 

While several memes were culled from notable pop culture moments (like "Unflattering Beyonce" and takes on Miley Cyrus' risqué "Wrecking Ball" video), most of them emerged from the random, incomprehensible depths of the Internet, often after gestating in online communities like 4Chan or Reddit. 
That includes "Hadokening," where people took photos pretending to fly through the air after a "Hadoken" attack from the Street Fighter video games. 

Also a top staff pick for 2013: Starbucks Drake Hands, the meme that took off after model Piper Kennedy was texted a video selfie from Starbucks barista Brody "Odag" Ryan Curtis, who filmed himself in a tragic pose as Drake's "Hold On, We're Going Home" played in the background. 

MORE: Top FAILs of 2013: Kimye, Healthcare.gov and that weird photo of Beyonce
Kennedy's friend, DJ Ben Roc, posted a clip from the video on Instagram, and soon it exploded in the form of endless parody videos and a torrent of media attention.

What other memes took over the Internet in 2013? The top picks from KnowYourMeme's staff:

That last one was inspired, oddly enough, by a meteorite that fell over the small Russian town of Chelyabinsk in February. The rare event was captured by more than a dozen dashboard cameras — bringing attention to the fact that "dash cams" were everywhere in Russia, adopted by many drivers as a precaution against the country's not always reliable legal system. 
As you might imagine, they captured some pretty colorful moments, which YouTube users couldn't get enough of. (Warning: Video contains footage of harrowing accidents). 

Sadly, "60-year-old girl" didn't go viral until this month, which was apparently too late to be included in this year's rankings. As our favorite "doge" might say, "Why this happened?" 
Keith Wagstaff writes about technology for NBC News. He previously covered technology for TIME's Techland and wrote about politics as a staff writer at TheWeek.com. You can follow him on Twitter at @kwagstaff and reach him by email at: Keith.Wagstaff@nbcuni.com