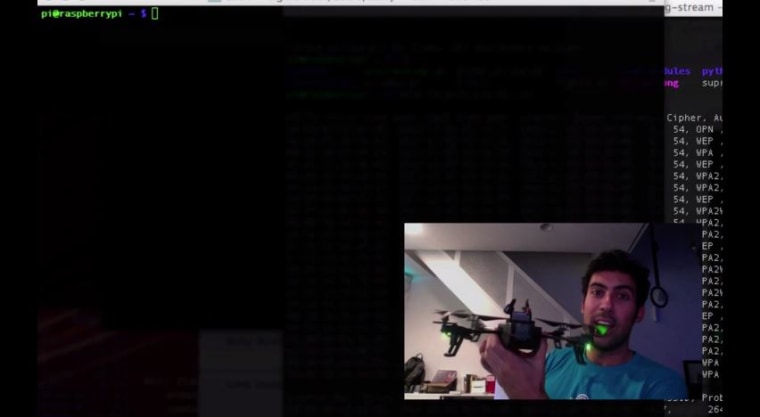 Imagine a hacker sitting in his living room, telling delivery drones to drop tablets, cameras and whatever else they might be carrying to his doorstep, and the threat to Amazon's Prime Air service is pretty clear.
Hacker and entrepreneur Samy Kamkar, perhaps best known for his arrest over creating the "Samy worm" that hit MySpace in 2005, claims that he has already figured out a way to do it. His creation? A drone called SkyJack that he says can autonomously seek out other drones, hack them, and turn them into what Kamkar calls "zombie drones."
That probably isn't welcome news to Jeff Bezos. On Sunday, the Amazon CEO gave an interview to a wide-eyed Charlie Rose on "60 Minutes," describing an online shopper's utopia filled with quadcopter drones delivering packages in 30 minutes by as early as 2015. 
There are plenty of reasons to doubt that Amazon's drone delivery service could work. Kamkar just added to them with SkyJack, which wasn't even that expensive to build. He claims that he used a Parrot AR.Drone 2 (a commercially available quadcopter that sells for $300), an inexpensive Raspberry Pi circuit board, a wireless transmitter and his own software to build it.
The drone, Kamkar wrote, "flies around, seeks the wireless signal of any other drone in the area, forcefully disconnects the wireless connection of the true owner of the target drone, then authenticates with the target drone pretending to be its owner, then feeds commands to it and all other possessed zombie drones at my will."
NBC News reached out to Amazon for comment but the company has not yet responded. 
Overall, small commercial drones are "quite vulnerable" to hacking, Todd Humphreys, an assistant professor at the University of Texas at Austin, told NBC News.
A drone can be hacked by either cutting off its link back to its operator, or by spoofing its GPS signal, like Humphreys and his team did last year when they took over a helicopter unmanned aerial vehicle (UAV) in front of officials from the U.S. Department of Homeland Security.
While drone-makers are certainly waking up to the threat of hacking, said Humphreys, right now there aren't that many security measures in place to stop people from taking over your average quadcopter.
So, will the threat of hackers prevent Bezos from unveiling Prime Air? Probably not, said Humphreys, claiming that the threat of lawsuits from potential drone accidents is probably a bigger concern. 
"Amazon is an enormous company with deep pockets," Humphreys said. "If somebody takes down one of their drones and keeps it in their garage as a trophy, or even takes down five drones, do you think Amazon is going to bat an eye? No. They'll just send out another one."
On a single day in 2012, Amazon announced last year, the company sold 26.5 million items — or 306 items every second.
With that kind of volume, Amazon might ignore a few hackers spread across the country filching a package or two if it means increased business or good publicity. 
Ultimately, a drone being hacked is a "low-probability event," said Humphreys. "If the consequences are only as bad as losing a drone or losing a package that they can replace on the next day with a truck delivery, then it's not a big deal."
Keith Wagstaff writes about technology for NBC News. He previously covered the tech beat for TIME's Techland and wrote about politics as a staff writer at TheWeek.com. You can follow him on Twitter at @kwagstaff and reach him by email at: Keith.Wagstaff@nbcuni.com