When it comes to consumer electronics, we've all heard of rocky product launches. But have you ever torn the wrapper of a brand new laptop any been hit with the unforgettable stench of cat urine?
For many owners of Dell's newish Latitude E6430u laptop, that was the unpleasant experience they were faced with after purchasing the machine. Since the laptop was released in June, Dell's customer support forums have been flooded with messages about how the computer smells like the detritus of our feline friends. One user said that the laptop smelled like it had been "assembled near a tomcat's litter box."
Dell's original response was to basically tell customers that if they didn't care for the computer's pungent odor, they should try cleaning it. The company offered replacement units for those affected by the bad smell, though it warned that it may not "have sufficient stock for everyone" and that there was no guarantee "that any parts we are sending out do not also have the same issue."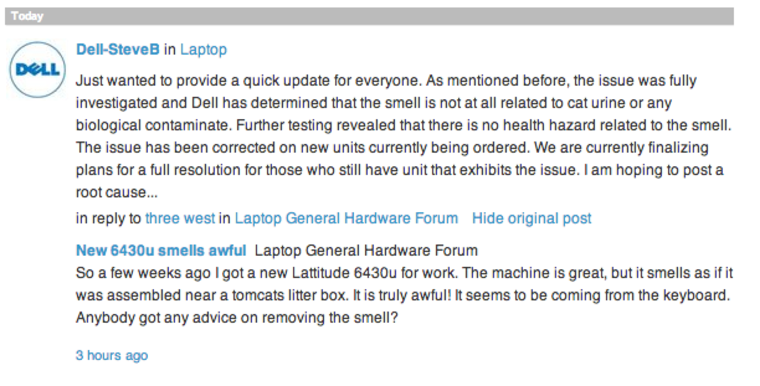 After several months, the company has come back with a definitive answer. According to support technician SteveB, Dell has ruled that "a manufacturing process that has now been changed" caused the urine-like odor.
The smell, SteveB wrote in the company's support forums, was "not in any way related to biological contamination."
"The parts have been tested and we have confirmed this 100 percent," SteveB added. "If you order an E6430u now, it will not have the issue."
As for customers who are still afflicted by a cat-scented model of the laptop, Dell is continuing to offer replacement units.
— via BBC News
Yannick LeJacq is a contributing writer for NBC News who has also covered technology and games for Kill Screen, The Wall Street Journal and The Atlantic. You can follow him on Twitter at @YannickLeJacq and reach him by email at: Yannick.LeJacq@nbcuni.com.