The tech industry usually treats Apple events as sacrosanct, shuffling other major product announcements around to suit the rare moments when Tim Cook takes the stage to announce a new tablet or iPhone. Not so for video game giant Electronic Arts, which chose to confirm the release dates for two of its most highly anticipated upcoming titles, "Titanfall" and "The Sims 4," on Tuesday.
EA and developer Maxis announced that "The Sims 4," the new installment in its beloved line of life-simulating "Sims" games, will come to PCs and Macs worldwide in Fall 2014. The companies did not give a specific date for the game. 
Unlike EA's other controversial Maxis title, "SimCity," "The Sims 4" will be a single-player game that is available to play offline. Gamers will still have to register the game through EA's online gaming service Origin, however.
Meanwhile, EA subsidiary Respawn Entertainment also announced Tuesday that its upcoming first-person shooter "Titanfall" will launch on the Xbox 360, Xbox One, and PC on March 11, 2014. The online-only multiplayer game, which pits players against one another as high-tech marines wearing things like jetpacks and giant mech suits into battle, was widely considered to be one of the most exciting games shown off at this year's Electronic Entertainment Expo (E3) in Los Angeles.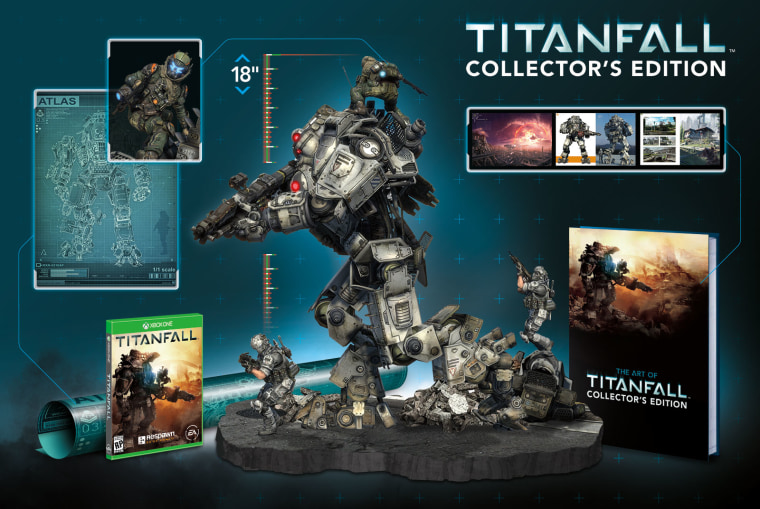 For gamers that are particularly hungry for some mech suit action and still have a few hundred dollars to spare, Respawn also announced a new "Titanfall Collector's Edition," which for $249.99 offers "an exclusive collectible 18-inch hand-crafted titan statue with diorama and battery-powered LED lighting, a full-size art book featuring more than 190 pages of rare concept art, and an exclusive full-size schematic poster of the Atlas titan."
Details are still a bit more scarce for "The Sims 4," but EA and Maxis have said that the sequel will have a new feature known as "SmartSim" that is supposed to streamline the house-building process compared to previous "Sims" games. The new "Create-A-Sim" mode The Sims 4 will contain a new feature, dubbed SmartSim, which promises to make it easier for players to build and modify houses. The game's "Create-A-Sim" character creation mode has also been upgraded for "The Sims 4," and EA said that the "all-new Sims" will have "enhanced emotion and intelligence" this time around. No word yet on whether these "enhanced" emotions will involve giant mech suits, but we'll be keeping our fingers crossed. 
Yannick LeJacq is a contributing writer for NBC News who has also covered technology and games for Kill Screen, The Wall Street Journal and The Atlantic. You can follow him on Twitter at @YannickLeJacq and reach him by email at: Yannick.LeJacq@nbcuni.com.