"Beyond: Two Souls" is a video game unlike other video games. Featuring the voices and likenesses of Ellen Page and Willem Dafoe, the latest exercise in "interactive drama" from French game Quantic Dream, the PS3 exclusive isn't so much a game as it is a movie which allows you to press buttons to interact. And for a medium that often appears stuck in its ways, that's a good thing.
"Beyond" tells the story of Jodie Holmes, a young woman played by Page who is "not like other girls," as her doctor and de facto ward Nathan Dawkins, played by expert mad scientist actor Dafoe, puts it early in the story. Jodie is connected by what looks like a spectral umbilical cord to an otherworldly spirit known as Aiden.
Gameplay oscillates between controlling Jodie and Aiden. Jodie presides over most of the interactive parts of the story. When playing as Holmes, you're often forced to choose which button to press to, say, respond coldly versus warmly to another character asking you a question. But with the press of another button, you can switch to her spirit friend, shifting the camera a few feet upwards to a blurry blue-tinted perspective that allows you to mess with the scenery. The mechanic feels like a clever nod to cheat codes of PC games of yore that allowed players to lift themselves out of the confines and their digital avatars and float through the game world unhinged. And it gives Jodie access to untold powers: with Aiden, players can hack into computers, choke or possess enemies, and generally cause a supernatural ruckus.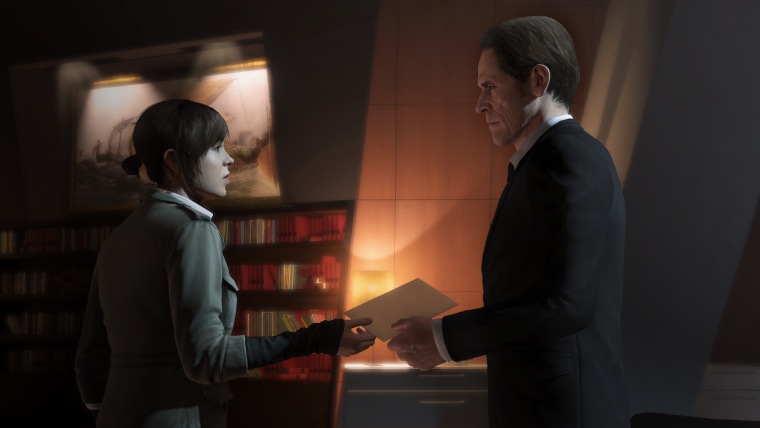 This helps Jodie get out of many scrapes, but Aiden's powers are also what gets her into trouble in the first place. Having a ghost joined to her at the hip is bound to attract attention, and Jodie quickly finds herself being propositioned by all manner of invasive scientists, military agencies, and all-around creepy dudes seeking to quash or otherwise manipulate her power.
The game takes Jodie and Aiden's relationship to the needlessly epic levels of a sci-fi blockbuster, but at its heart, "Beyond" is a coming of age story told with peculiar and inventive means. The story strikes the deepest emotional chords when it is at its most mundane, such as one tragic scene when Nathan drops Jodie off at a birthday party in an effort to help her meet more friends her own age outside of the research facility she calls home. There are a number of different ways to play through the events that unfold after she walks into the house, but none of them turn out well. Sooner or later, Jodie finds herself in tears, with only the spirit she's tethered to for company. Narrative storytelling and video games can make for strange bedfellows, but moments like these show the knack for scripting that Quantic Dream has: no matter what choices you make as a player to get to any of the game's 23 endings, there is a strange, tragic beauty to "Beyond."
The only thing is, I'm not sure what gamers are going to make of it. "Beyond's" creator David Cage described his work by saying he threw out a lot of the ingredients considered essential to modern video games — things like "game over" states, repetitive mechanics including e obsessive need to gather gold coins or experience points to "level up," and even a unified control scheme.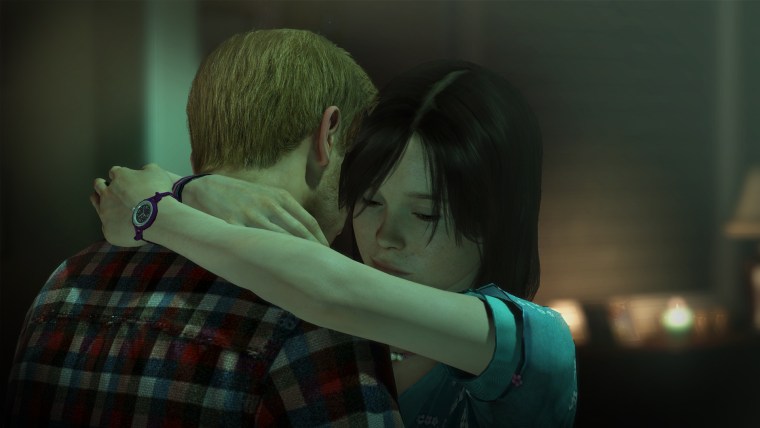 Many of these are welcome subtractions, but they can make for an odd experience. I occasionally found myself walking Jodie back and forth through a room trying to find the one thing I was supposed to trigger in order to move onto the next scene. And more than that, controlling Jodie can be a bit clumsy. "Beyond" may boast some of the best visuals and motion-capture acting work I've ever seen, but watching a digital recreation of Ellen Page walk into a wall repeatedly in search of the right button to press is more strange than groundbreaking.
Strange may not be such a bad thing for video games, however. There have been a number of stellar titles released over the past few months that show both the current technological prowess of games and the exciting future that next-generation will hold. But even the best of these — "The Last of Us" and "Grand Theft Auto V," to name two — retread familiar territory of shooting zombies and gangsters, albeit in a prettier veneer than ever before. "Beyond" might not be as perfectly executed as either of these, but it feels like something new. And, frankly, that's an achievement in its own right.
Yannick LeJacq is a contributing writer for NBC News who has also covered technology and games for Kill Screen, The Wall Street Journal and The Atlantic. You can follow him on Twitter at @YannickLeJacq and reach him by email at: Yannick.LeJacq@nbcuni.com.