Facebook has made a concession to critics of its privacy policies by setting teenagers' posts to share only with their friends by default. Previously, it would share with "friends of friends" — which could easily include strangers. At the same time, however, the social network is giving teens the option to post publicly and allow others to "follow" them, something that wasn't possible before (unless they just said they were 18 or older). 
Anyone age 13 to 17 who joins the site now will, if they don't change any privacy settings, find that their posts are only shared with friends. They can change that, of course, and make anything more or less private, but it's a logical move that prevents teens from automatically sharing with more people than they might expect. In this sense, teen Facebook profiles are more secure than they had been, as anyone who's ever thought through the concept of "friends of friends" can attest.
However, the new larger audience that these kids can reach will certainly have some negative implications henceforth. In light of this, Facebook will offer up a warning when teens choose to make a picture or status public: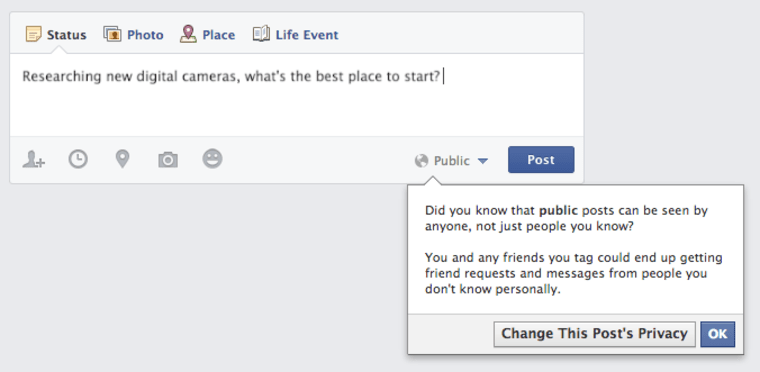 It's a double-edged move for Facebook, which was already under fire recently for announcing it was removing a privacy setting — even though that settings was not particularly effective, and for most people it had already disappeared a year earlier.
Are you 13 to 17 and already on Facebook? This won't change any of your settings, though you'll find "public" is now in the audience menu when you post something. A bit more information can be found at the Facebook blog post explaining the change.
Devin Coldewey is a contributing writer for NBC News Digital. His personal website is coldewey.cc.