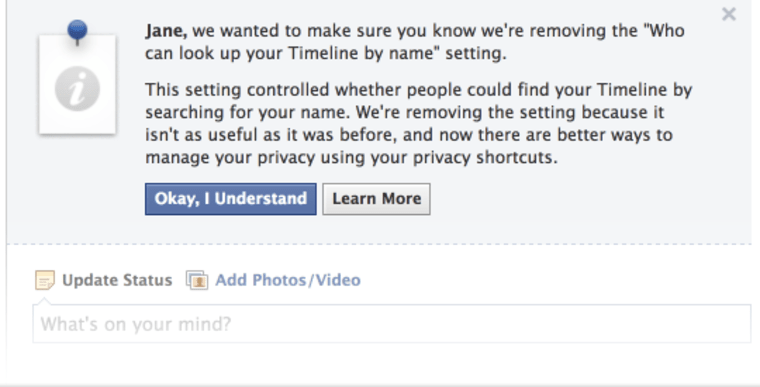 Facebook has removed a certain privacy setting from the accounts of "a small percentage of people" still using it: from now on, there is no way to prevent your Timeline from coming up when someone searches for you by name. But it's not as dire as it sounds.
The setting allowed a user to control whether their name would appear when other users typed it into the search box. For instance, if Bob Smith set it to "no one," (as opposed to "friends of friends" for instance) his profile wouldn't appear when others searched for "Bob Smith" (although other Bob Smiths might).
The problem was that even if searching didn't work, users could still click on any post or picture in which Bob Smith was named or tagged, or even just type facebook.com/BobSmith into the address bar, and there they were, at Bob Smith's Timeline. Of course, if Bob had set all his other who-can-view settings to "no one" as well, all a random visitor would see is a profile picture and nothing else.
Since the setting didn't really keep anyone's Timeline secret, and often just prevented friends from quickly searching for each other, Facebook actually removed it last year, at least for anyone who wasn't using it. In fact, the company's blog post explains, it was eliminated for all but a "small percentage" of users long ago, and Thursday's announcement marks only the removal for those last holdouts. They should soon see a warning like the one shown above, and the setting won't be removed until they click the "Okay, I understand" button.
Is your privacy at risk? No more than it was yesterday; if someone really wants to find you on Facebook, there have always been lots of ways to do so, including unconcerned friends posting pictures publicly in which you are tagged, for one thing, or just having their friend list available for all to see — on which you might be listed.
If you're worried, however, your best bet is to go straight to your privacy settings by clicking the lock in the top right corner of Facebook, as you see here. There are a dozen or so options (click "See more settings" to get at them all) — so take five minutes to double check they're all as you like.
Devin Coldewey is a contributing writer for NBC News Digital. His personal website is coldewey.cc.