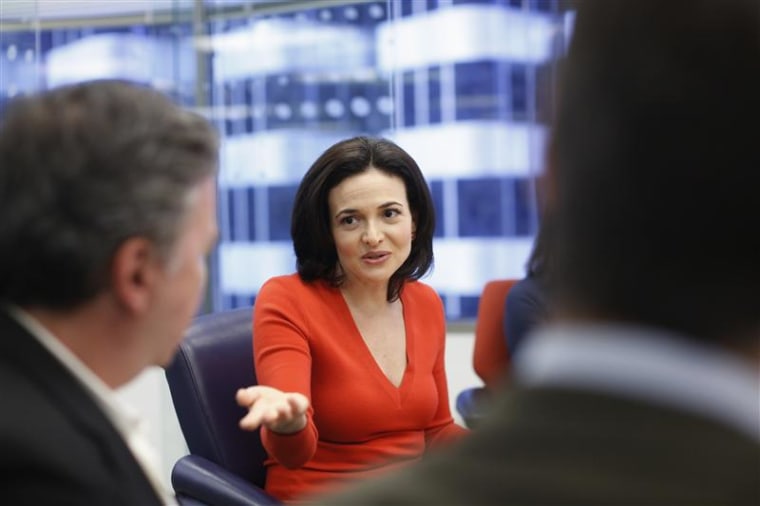 In the wake of Saturday's crash of an Asiana Airlines 777 jet at San Francisco's airport, the buzz on Facebook wasn't just about who was on the flight, but also about one tech-industry celebrity who wasn't: Sheryl Sandberg, Facebook's chief operating officer.
In a Facebook posting, Sandberg said that she, her family and some of her colleagues from the company had originally planned to take Asiana Flight 214 from Seoul, South Korea.
"We switched to United so we could use miles for my family's tickets," she wrote. "Our flight was scheduled to come in at the same time, but we were early and landed about 20 minutes before the crash."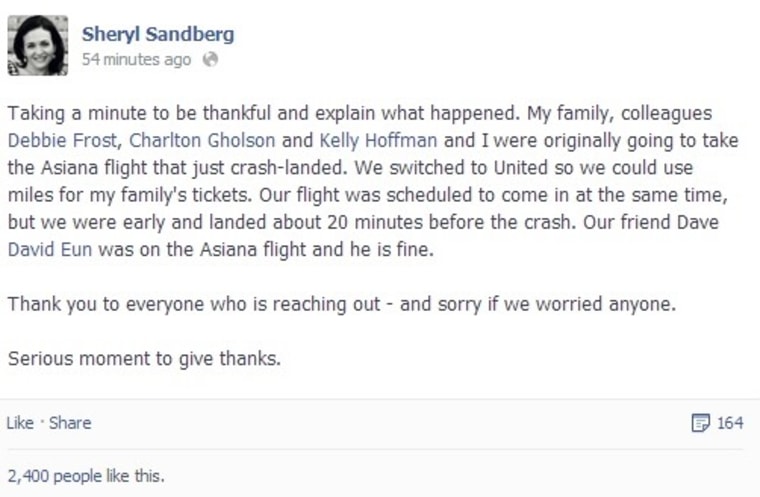 Sandberg, 43, ranks among the most prominent women in Silicon Valley. Before becoming Facebook's COO in 2008, she served as a vice president at Google and as the chief of staff for then-Treasury Secretary Lawrence Summers. She was named to the Time 100 list of influential Americans last year.
She came out with a book on leadership this year, titled "Lean In: Women, Work and the Will to Lead." Sandberg was touring Asia over the past week for a series of business meetings and "Lean In" events tied to the book.
Sandberg is married with two children. In repeated posts on her Facebook page, she reassured her fans that everyone in her traveling party was OK. She also noted that one of her friends at Samsung Electronics, David Eun, was on the Asiana flight and reported that he was safe.
"Serious moment to give thanks," Sandberg wrote.
Within an hour, the Facebook posting had more than 3,000 likes.
Alan Boyle is NBCNews.com's science editor. Get connected by "liking" the NBC News Science Facebook page, following @b0yle on Twitter and adding +Alan Boyle to your Google+ presence.