If there's one really cool thing about the HP Chromebook 11, unveiled by Google in New York Tuesday, it's that it's powered by a miniUSB cellphone charger. The pitch, says Caesar Sengupta, vice president of product management for Chrome, is that you can have one single charger for all of your devices. (Unless of course you use Apple devices — but Google didn't go there.)
The laptop itself joins the ranks of sub-$300 Chromebooks that are defying the PC downturn and actually growing in popularity. At $279, it's on the higher end of the Chromebook market, but it beats its predecessors with a brighter, easier-on-the-eyes LCD and speakers placed directly under the keyboard for better sound projection.
The body of the laptop, which weighs just over 2 lbs., is a shiny plastic with a reinforced magnesium frame for extra rigidity. It feels pretty plasticky, but solid nonetheless. It's got a front-facing camera and two USB 2.0 ports, along with a headphone jack and that microUSB charging port, which also doubles as a SlimPort video out. It's missing an SD card slot, something found on Google's far pricier Chromebook Pixel. 
Internal storage is a mere 16GB, which is probably why Google also throws in 100GB of Google Drive cloud storage for two years. (That $279 also gets you 12 free sessions of Gogo in-flight Wi-Fi.)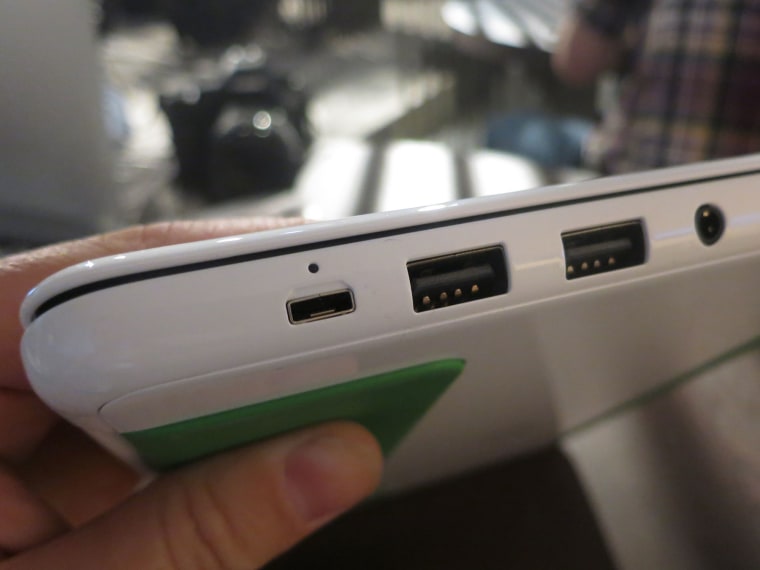 The battery will carry you for up to 6 hours — it's nothing to write home about, for sure, but perhaps OK given the price and the fact that you can borrow a charger if you forget yours at home. 
For those of you new to the Chromebook phenomenon, these laptops don't run Windows or the Mac OS. Instead, they run an operating system based entirely on the Chrome Web browser, so you use Google Docs for all your officey stuff, and download plug-ins or access websites to manage photos, video and other multimedia.
Wilson Rothman is the Technology & Science editor at NBC News Digital. Catch up with him on Twitter at @wjrothman, and join our conversation on Facebook.