A Kickstarter-backed project has succeeded in flying a human-powered helicopter for a full minute, setting records and taking home the $250,000 prize from a decades-old challenge.
Aerovolo, the team behind the "Atlas" helicopter device, raised over $34,000 last May with the intent of pursuing the Sikorsky prize, established in 1980. The $250,000 prize (named after pioneering aviator Igor Sikorsky) was to be awarded to any team that could hover at or above 3 meters high, by human power alone, for a full minute, and without straying more than a few meters in any direction.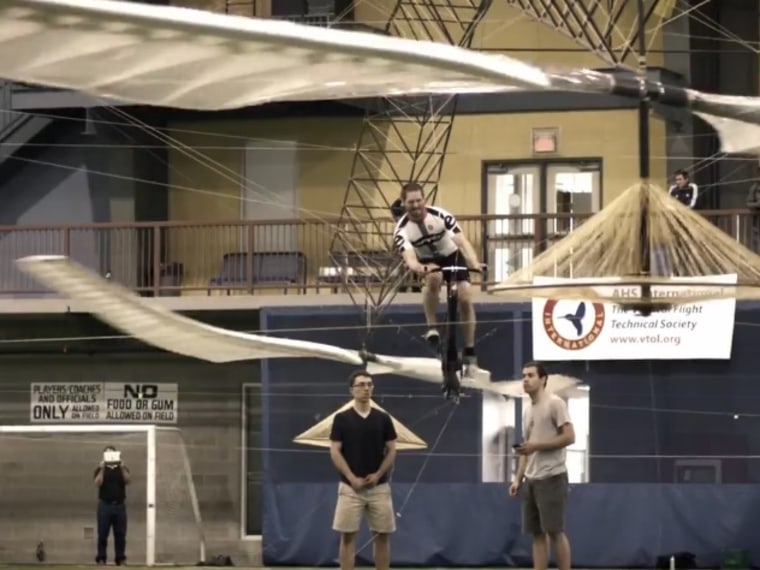 Other teams have tried it over the years: A Japanese team stayed up for 14 seconds in 1994, and students at the University of Maryland did 50 seconds last year. But the terms of the prize are very specific, and Aerovolo finally met them, setting a world record of 64.11 seconds aloft.
The Atlas is 162 feet across at its widest yet weighs only about 121 pounds. It's powered by a professional cyclist, whose output is captured by a flywheel and distributed equally to four 33-foot rotors. Only a trained athlete can maintain the levels of power needed for sustained flight, and even then it is clearly exhausting, as it can barely be kept up for a minute.
The news was shared by Aerovolo Thursday, which said the flight took place June 13 in Vaughan, Ontario in Canada.
While an Atlas-style craft isn't exactly practical for day-to-day human flight, many areas of research, from ultra-light construction to aerodynamic design, have been stimulated by the prize and competitive aspect.
Devin Coldewey is a contributing writer for NBC News Digital. His personal website is coldewey.cc.