Apple's latest tablet, the light and compact iPad Air, not only offers improvements on the previous generation but also a chance for Apple to collect a bit of extra cash. According to a teardown by IHS iSuppli, the materials inside the new device are actually cheaper, in total, than the ones in the older model. That means better margins for Apple — not a lower price for you.
By the experts' reckoning, the final cost to manufacture the lowest-end iPad Air is $274, and the cheapest cellular version costs $310. The 3rd-generation iPad introduced in early 2012, for comparison, started at $316, and went up to $325 with cellular data.
Apart from a more expensive touchscreen and display, the new iPad Air saves a bit on nearly every component: The flash memory, processor, camera and sensor modules are cheaper to make now even though they're more sophisticated.
It isn't all upgrades: the battery is 23 percent smaller, 32.9 watt-hours versus 42.5 in the old iPad. That may sound alarming, but a more power-conservative new processor and a vastly reduced number of LEDs for the display backlight (36 versus 84) could easily make up for that, explained the IHS analysts.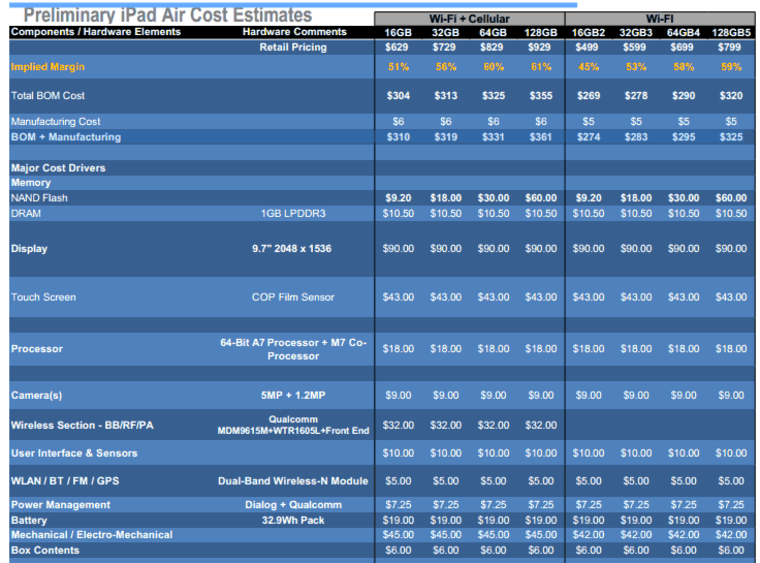 But perhaps most interesting is the cellular hardware: "The iPad Air supports the 4G Long Term Evolution bands for all U.S. carriers with a single-model iPad (there are not different wireless versions for each U.S. carrier)," the report reads.
In other words, as IHS analysts confirmed to NBC News in an email, there isn't actually a Verizon or AT&T (or, for that matter, Orange or Vodafone) version of the iPad — they're the exact same device, just with different service. So don't worry about whether your device will be compatible with other carriers if you decide to switch — something you'd have to do with the iPhone 5S and other smartphones. (That further reinforces the recommendation we made last week that signing up for multiple carriers might be the most cost-effective way to get mobile data on your iPad Air.)
The lower build cost ends up padding Apple's wallet rather than relieving yours, but that's par for the course when it comes to consumer electronics. More details will be available from IHS when the full teardown details are posted to its website.
Devin Coldewey is a contributing writer for NBC News Digital. His personal website is coldewey.cc.