Pick up an older iPad after handling the iPad Air and you're like, "Ow my arm!" OK, maybe it's not that drastic (for you), but I promise that the 6-ounce difference is easy to feel. And to see: The iPad Air is so thin, it's now just a fingernail thicker than the iPad Mini.
When you're using it, you feel how much more lithe it is in the processing department, too. You may not have noticed any lag before, but now it feels like icons are springing into action almost before you touch them, and every page swipe has a briskness it seemed to lack in the past. This is in part the 64-bit A7 chip that made its debut in the iPhone 5S, but it's also iOS 7, which is optimized for peak performance with that processor.
To test the power of the iPad Air, I streamed Netflix and Amazon video wirelessly to the Apple TV, mirrored the whole screen and even played a bit of "Infinity Blade III" on the big screen. There's always some delay when gaming wirelessly from iPad to HDTV, but overall, I was impressed with how unawkwardly these typically awkward tasks seemed to go.
I am also impressed with the battery, which barely drained as I streamed videos through the evening. In fact, with near constant fiddling since I got it out of the box a day ago, it's only dropped to 43 percent — and I didn't even charge it to start with. I admire Apple not only for providing good battery life while you're using an iDevice, but for preserving that product's battery life when you're not. It's hard to beat iOS for power management.
The iPad Air doesn't want for much. Sure, like my colleagues, I'd prefer if the screen was more visible outdoors, but I don't feel like this is missing a fingerprint scanner or a USB port or any hardware frill like that. Its capabilities already exceed my creative drive, especially now that there's a bucket full of previously spendy software included with the Air's $499 purchase price — iMovie, iPhoto, Garageband, Pages, Numbers and Keynote.
In fact, I've already done two things I never felt inspired to do on a previous iPad: Shoot and edit a series of photos, and record myself playing a song.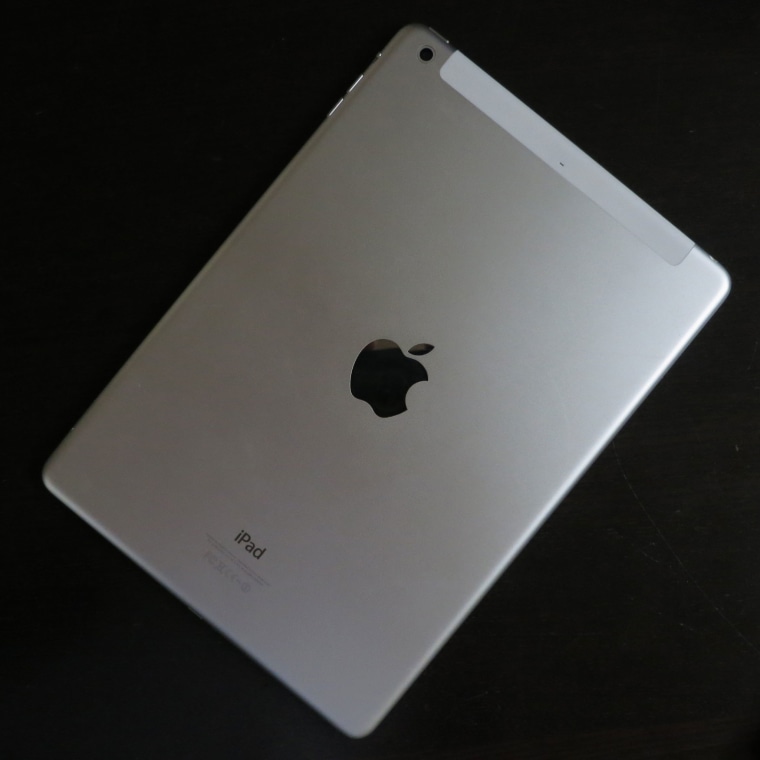 The 5-megapixel camera takes competent pictures, if you don't mind waving a tablet around, and the latest version of iPhoto for iPad makes short work of most basic photo tweaks. 
As for recording music, the dual microphones and surprisingly rich speakers make for a fun studio experience, if not exactly a professional one. (That said, hook up a good mic and some high-grade monitor speakers, and you have a better recording system than anything my cronies and I messed around with a decade ago — 32 tracks of audio is nothing to sniff at.)
In my brief review period, I've been able to confirm what has been said already: This is the best full-size iPad ever made, and a physically impressive improvement over the last one. But that's always the case — there's rarely an Apple product that isn't "the best yet." That's where the name change comes in.
Remember, this isn't just a new iPad, says Apple. It's an iPad Air.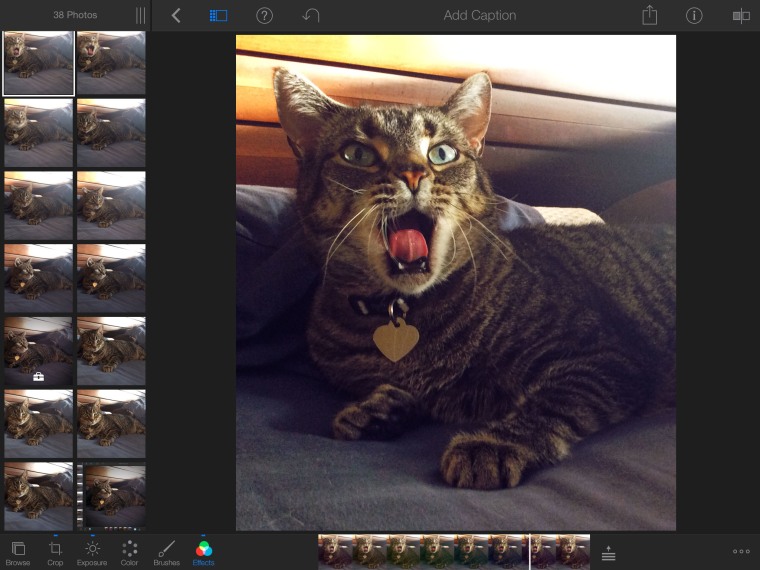 The trouble with iPads — with tablets in general — is that nobody needs them. You need a phone. And you need a computer. Gravity pulls us towards them, so it's usually a "Which one should I buy?" decision. But the wizards in the marketing department are needed to build the same kind of sales momentum for tablets. For three long years, the iPad has had a popular image, but it sorta peaked. Cheaper competition running Android have made inroads, and the iPad no longer holds the majority of market share.
To avoid sinking in a rising tide of cheap, nondescript tablets, the iPad needed not just a design refresh, but a brand refresh — a reminder why Steve Jobs called it "magical" in the first place. So instead of sending people puttering into the store to ask for the latest iPad, Apple gave them a mission, to score an iPad Air.
Did it work? Yes, and no. It's a lovely product, and anyone who wants a tablet for work and play should consider it over all competitors.
But this "Air" is actually just a bigger, heavier version of the all-new $399 iPad Mini that's soon to be flying off store shelves in a potentially massive shortage. Seriously, the iPad Mini with Retina screen matches or beats the Air in every hardware spec that matters. The only advantage the Air is left with is a less-cramped screen for working on spreadsheets, song mixes and video edits. People with more leisurely tablet pursuits in mind won't care as much about that.
Something as nice (and as catchily marketed) as an "iPad Air" should make you the envy of the block for more than a week or two, but it looks like it'll soon be upstaged by its own kin.
Also read: 
Wilson Rothman is the Technology & Science editor at NBC News Digital. Catch up with him on Twitter at @wjrothman, and join our conversation on Facebook.