Maybe you're pining for an iPad Mini with a Retina display, or perhaps you're due for a fifth-generation, full-size iPad. That makes sense: It's high time Apple showed us its 2013 lineup. Though the company doesn't comment on upcoming products, the rumor mill has done a good job prepping us for the tablets that will no doubt be unveiled in the coming weeks.
When?
It was Tuesday, Oct. 23, 2012 when Apple unveiled its first iPad Mini, with a 7.9-inch display, and a fourth-generation iPad (nearly identical to the third-gen, except that the old 30-pin port was replaced by a new Lightning jack). 
Calendar-keepers say look for a similar date to be set this month by Apple, possibly for as soon as Tuesday, Oct. 15 or maybe Tuesday, Oct. 22.
The new iPads went on sale Friday, Nov. 2, 2012, so expect a similar 10-day wait this year after they're announced for them to be in stores.
Will the new iPad Mini have a Retina display?
The Retina display — an Apple-coined term means the pixel density is "so high the human eye cannot distinguish individual pixels from a normal viewing distance, so text and graphics look incredibly sharp," the company says. The Retina display is on most newer iPhones (326 pixels per inch) and on recent Apple laptops (around 220 ppi) and of course, the larger iPad (264 ppi).
The iPad Mini, on the other hand, has a low pixel density: a paltry 163 ppi. Mini holdouts are hoping Apple will close this gap, as it has become a huge competitive disadvantage. While the slightly smaller, sub-$250 Nexus 7 and Kindle Fire HDX tablets have 1920 x 1200 screens — that's a whopping 323 pixels per inch! — the $329 Mini has a resolution of just 1024 x 768. That's a deficit of 1.5 million pixels that Apple needs to make up.
But availability of iPad Mini-sized Retina display screens may be an issue. According to Reuters, which cited "people who work in the company's supply chain," Apple will be "unable to widely roll out" an iPad Mini with a Retina display. 

"Apple's supply chain is only now gearing up to make Retina displays for the iPad Mini, which means the gadgets could be available in only limited quantities this year, if at all, and the company may miss the chance to cash in on the year-end holiday shopping season, the sources said," the news agency reported.
"If they don't put in Retina ... there will be howls," Frank Gillett, an analyst with Forrester, told Reuters. Still, it is possible that quantities initially may be limited until early in 2014.
What will be different about the full-size iPad?
It might not be as full-size as existing models, meaning it may be lighter and skinnier yet still keep its 9.7-inch display.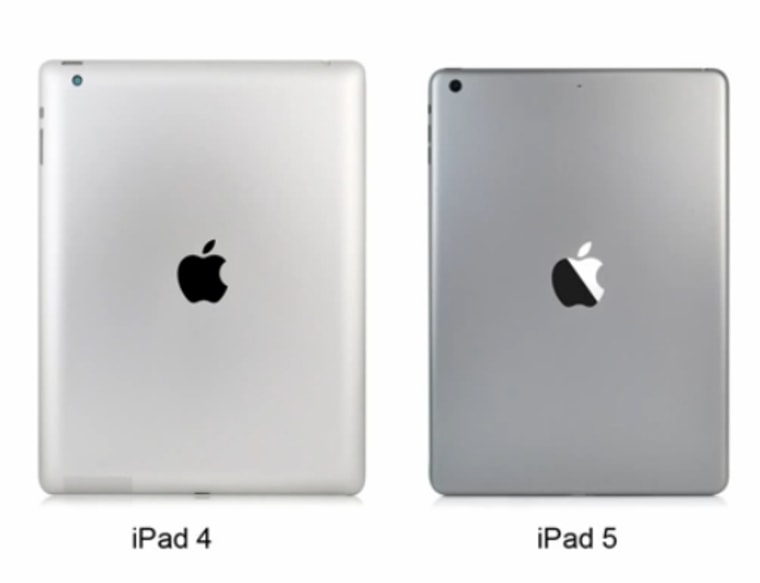 "The iPad 5 is simply a larger version of the iPad Mini, if a detailed video demonstration by a Hong Kong parts retailer is accurate," CNET said recently of the video shared on YouTube by Sw-box.com. "The iPad 5 is shorter, narrower (by 15mm), and thinner (by 2mm) than the iPad 4, according to the video. In effect, it's a large iPad Mini. And, of course, weighs less."

Website 9to5mac.com says it, too, has "been seeing more and more leaks allegedly showing the slimmer, iPad Mini-like design of the next-generation iPad 5."
What other features could both iPads have?
A better camera and perhaps the addition of iPhone 5S-like colors in gold, silver or gray (right now, iPads come in either black or white).
9to5mac.com cites a note from "often reliable" KGI analyst Ming-Chi Kuo who says there likely will be a rear camera upgrade, from 5 MP to 8 MP, and a larger aperture, on both iPads.
Another surprise might be the addition of Apple's fingerprint sensor for security, known as Touch ID for the fifth-generation iPad, similar to what Apple did with the iPhone 5S (despite a hacker group saying it cracked the sensor's security.)
MacRumors.com recently shared a video that "explores the possibility of a Touch ID fingerprint sensor on the fifth-generation iPad."
No matter what
Apple's tablets may be the ones to beat — especially in terms of battery life and diversity and breadth of the app ecosystem — but they are losing ground to cheaper Android tablets, which include those made by Samsung, as well as Google and even Amazon's Kindles (which run Amazon's own variation on Android).
Recent numbers from ABI Research say that worldwide, in the second quarter of this year, Android-based tablets overtook iPads in both unit sales and revenue. It's true that no one manufacturer of tablets comes close to touching Apple's iPad sales, but if the tablets don't keep evolving — and maybe even come down a bit in price — that could change.
Check out Technology and TODAY Tech on Facebook, and on Twitter, follow Suzanne Choney.