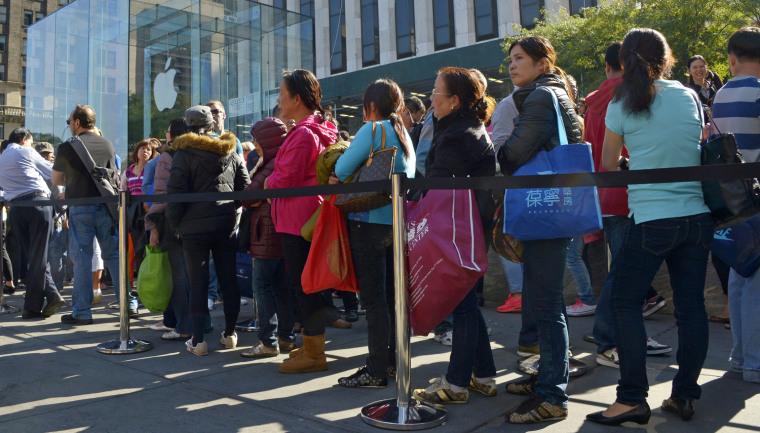 Want a silver or "space gray" iPhone 5S? What about the coveted gold model? Order any of them now and you'll get it sometime in October, says Apple. The new $199 flagship wasn't available for pre-order, so a week of pent-up demand has unleashed itself on Apple and its wireless carrier and retail partners.
If you're still hoping to score a new iPhone, you had best start by visiting an Apple store. That's where the concentrations of the new models would have been highest, and where supplies would last longest. Expect lines and delays, but if they make you wait in line, they probably still have a phone for you. They usually just send you home when they're out of stock.
More: iPhone fans line up around the world again, this time with a golden eye
Wireless carriers would be the second stop, but that avenue is closing up fast too. While it's likely that the larger stores received more quantity, we've noticed in the past that smaller shops with a smaller load of phones may not have as many shoppers, so don't discount the little ones, as long as they're official carrier stores. (Those other "authorized" wireless shops would be low on the list for getting iPhones, especially on launch day.) Be tenacious, but at the same time, don't hold your breath.
"At this time, the majority of Sprint-branded retail stores are seriously constrained or sold out of iPhone 5S inventory provided to us by Apple," reads a statement that Sprint released Friday afternoon. "Our stores will be resupplied as soon as additional devices are received from Apple. Customers can add their name to a wait list for iPhone 5S at many Sprint-branded retail stores with the purchase of a $50 Sprint gift card."
Here's a more cheerful, but no less portentous, statement from a T-Mobile spokesperson: "Right now I can tell you that demand is great! In T-Mobile stores, we're working with customers to get them the exact model they want. If their choice isn't available at that location, our customer service representatives in stores will either find it nearby or order it for them."
More: Who should — and shouldn't — buy a new iPhone?
Online ordering from a wireless carrier doesn't sound any better at this point. If you want a silver or a gray model, AT&T now says 7 to 14 business days; Verizon for the most part says Oct. 7, though some gray models won't ship until later in October; and Sprint says "up to three weeks." For the gold one, AT&T says 21 to 28 days, Verizon says Nov. 4, and Sprint says 4 to 6 weeks. AT&T either got more phones — or it just has more confidence.
T-Mobile doesn't tell you the shipdate online, but instead issues a blanket warning: "Due to high demand, your Apple product may not be available for immediate shipping. Once we are able to complete your order, you will receive a notification when your product has shipped." The statement adds, "Your credit card won't be charged until your Apple product ships."
The only surefire way to guarantee a gold iPhone 5S at this point is to pay through the nose for it. If you're really desperate, or really impatient, try eBay. All it'll cost you is ... $1,000.
If you're in the market for the $99 iPhone 5C, the story is different. Apple's website says it's available in any color in 24 hours, but again, if you want to buy right away, start with the Apple store.
Other retailers, such as Best Buy, Walmart and Target, are also selling the new lineup (in-store, only), but call first to avoid a pointless trip.
Friday morning, when we called a huge Walmart in Fort Wayne, Ind., the woman we spoke to said they hadn't received any of the new iPhones yet, and that one store in town had a dwindling handful of iPhone 5Cs. "They have a pink and two white ones," she said. "They had a gray one but it got sold." No mention of yellow or blue.
A Best Buy mobile store in New York City had a similar story: No iPhone 5S, but 5Cs were in stock.
Expect conversations like that when you call, but when a store does say they have something for you, get there quick, because if you don't buy it, somebody else will.
This story was updated at 12 noon Saturday to reflect changing conditions in online iPhone 5S availability.
Wilson Rothman is the Technology & Science editor at NBC News Digital. Catch up with him on Twitter at @wjrothman, and join our conversation on Facebook.
Bonus: Please enjoy these Vine videos of people waiting in line for an iPhone (hat-tip to Mark S. Luckie):