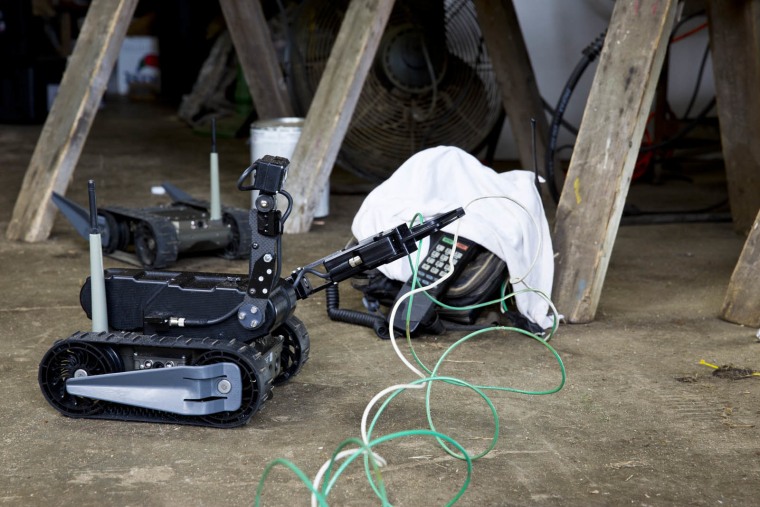 iRobot's 110 FirstLook robot, a helper in the military since 2012, is known for its ability to bounce into action after being flung through a window of an unexplored building. But for its first tours of duty, all it could do was transmit photos and video. Now, the little bot has been tricked out with a suite of tools so that it can contribute more to the team.
The new version of the 110 FirstLook can still drop 16 feet onto solid concrete and keep running, but now it can carry a thermal camera or chemical sensor, to collect and send back information to the team controlling it. The other addition to the robot is a manipulator arm, which can be put to use assisting bomb detection teams that need to inspect or make contact with explosive ordnance, iRobot claims. 
"If they need to investigate wires, cut wires or remove them, that's something they need a manipulator for," Mark Belanger, iRobot's director of DoD Robotics Products told NBC News. iRobot claims the the robot can lift 3 pounds and extend by 12 inches. "In its size class, it's the most capable multi-mission robot," Belanger said.  
The upgraded FirstLook is joining a legion of customizable, hardy, multi-purpose ground robots. 

For example, the Throwbot, built by Recon Robotics, can survive a launch up to 118 feet high. It is primarily a stealth surveillance system, which moves very quietly through a building, beaming back an audio and video feed.
Military teams more often send out larger PackBot and Talon-3B robots to help detonate improvised explosive devises, and often the bots take the hit instead of the humans. Systems like QinetiQ's MAARS robot can carry cameras, speakers, or even a weapons system. But a gun is something the FirstLook is too small to carry, Belanger said.
Nidhi Subbaraman writes about technology and science. You can find her on Facebook, Twitter and Google+.