Tech-savvy parents looking for a powerful way to keep track of and communicate with their kids will be happy to hear that the Filip smartwatch, which also lets children phone parents and vice versa, is coming to AT&T. The device puts young ones on a digital leash without over-complicating things.
We saw the Filip demoed at CES in Vegas at the beginning of the year. You put it on your child's wrist, and it keeps track of location via GPS and other means. An iPhone or Android app lets the parent check their child's current location, set safe areas in which they can roam, or send a message. 
It's also a full-on phone, capable of making and receiving calls. Not only can the parent call the child if they're not answering messages or if they stray too far, but the child can call pre-programmed numbers with the press of a single big red button. No need to select a contact; the Filip tries each of five pre-set phone numbers in succession until someone answers. (Originally this article stated that the watch would then call emergency services, but this feature has been delayed due to parental concerns. Other options are being considered.)
It will also text those numbers with location data and record ambient noise so anyone picking up can hear where they are (near a freeway? the mall?) or whether, perhaps, someone is trying to help.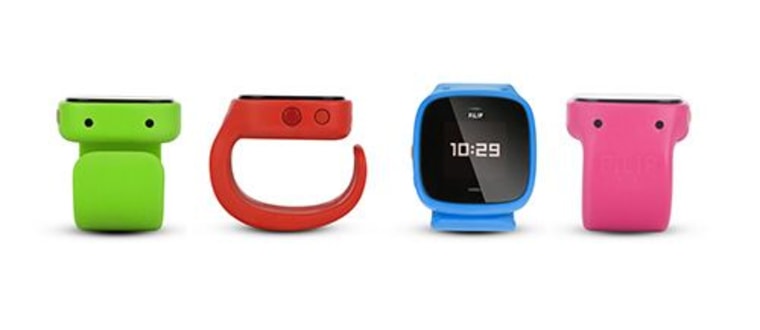 The Filip sounds great (being rugged and water resistant is definitely a good thing), but it hadn't been clear when it would be released — until Monday's announcement from AT&T. You'll see the Filip available online by the time the holidays roll around, although how much it will cost is still up in the air.
"You will need an AT&T plan and Filip Technologies will announce price and details shortly," wrote a representative for the companies in an email to NBC News. Whether that's a full-on plan or a special low-cost one for this device isn't clear.
You can read more about the device on Filip's Web page. We'll be sure to follow up with a more detailed review once the product is actually shipping.
Devin Coldewey is a contributing writer for NBC News Digital. His personal website is coldewey.cc.