On Thursday, Amazon began shipping the 8.9-inch Kindle Fire HDX. On paper, and in person, the thing is impressive. It's as thin as an iPad Air, and unlike its predecessors (and its 7-inch sibling), it comes with two cameras, one on the front and one on the back. Anytime you save money on electronics, there's a chance you're losing features, but even at $379 — $120 less than Apple's newest flagship tablet — the big HDX has a lot going for it.

The screen is key: Though diagonally it measures nearly an inch smaller than the iPad Air's, its "widescreen" aspect ratio means that it's longer and thinner, which is good for movies. In fact, movies on the 8.9-inch Kindle Fire HDX are the same exact size as movies on the $499 9.7-inch iPad Air, so if you mainly watch movies, there's no size advantage for the bigger, costlier iPad. Movies look terrific on both, with smooth action and uniform brightness and color at any reasonable viewing angle.
Another screen benefit is the pixel density. Both the Kindle Fire HDX and the iPad Air are what Apple calls "Retina" screens — the pixels are so small you can't really see them. But the Kindle's pixels are significantly smaller than the iPad Air's — 339 pixels per inch versus 264 ppi. The result may not matter when viewing video, but it is noticeable when looking at black-and-white text. Reading is where the HDX beats the iPad Air, and not just because of the pixel density: There's a slight weight advantage — 13.2 ounces vs. 16 ounces — and the battery on the HDX will run a long time when reading is the primary function.
That's not to say that the HDX has better battery life. In fact, in the most brutal testing, watching high-definition action movies streamed over Wi-Fi, neither Kindle Fire HDX could outlast its Apple-made competitor, which tended to best it by at least an hour. If you consume a lot of media on tablets, you won't hate the battery life on either HDX, but you won't brag about it either.
The main feature that's unique to the larger Kindle Fire HDX is the back-facing camera. (The $229 7-inch just has a front-facing cam for video chat.) Since it's an 8-megapixel camera, you might think it takes better pictures than the iPad Air's 5-megapixel camera. In truth, it's a trade-off: I see better sharpness and lower noise on the HDX camera, but see better color reproduction from the iPad, not to mention hints of sly software magic that cover up the fact that the iPad image is lower in resolution. Which photos do I like better? The iPad's — but hey, what are you doing taking pictures with a big old tablet anyway?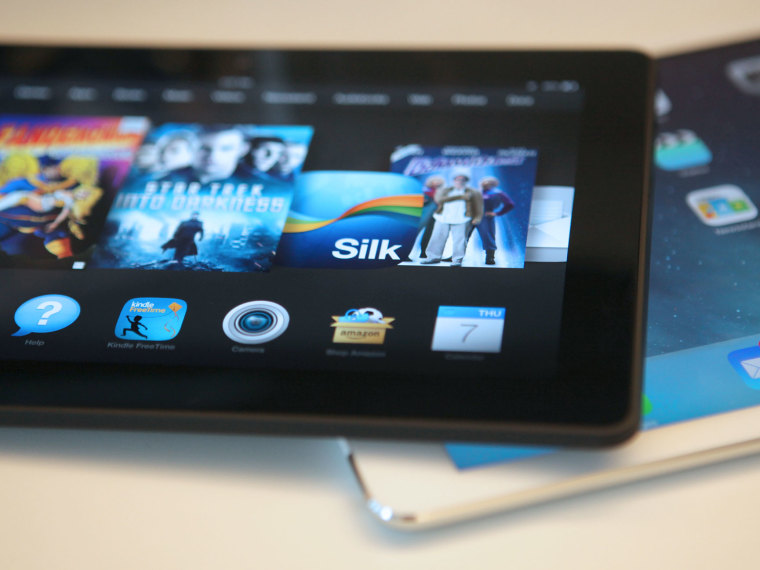 The strangest Kindle Fire HDX disappointment for me is the Origami case (sold separately for $50 to $65). Amazon made a big deal out of this at launch, and it is neat how it folds into a sturdy stand. But using it doubles the thickness of the tablet, and makes it a lot heavier, too. And while the case has a fun gimmick — push the tablet up with your thumbs to expose the camera, and photo app launches — it's just makes the whole package even more awkward. Besides, when you slide the tablet back down, the screen doesn't return to your previous app.
Another issue I had was ergonomics. The power and volume buttons are on the back on both the 7-inch and 8.9-inch HDX, and that makes for some real awkwardness, especially when I'm in vertical mode — basically anytime I'm reading. Maybe I need to train myself to close the cover instead of pushing a power button, but I'm the kind of guy who pushes "Door Close" in elevators, so until I mellow out, Amazon should make its buttons more intuitively accessible.
(Note: I have not been able to test a key Kindle Fire HDX feature, the second-screen experience, which lets you control movies playing on your TV. As yet, it is not available on any devices, but Amazon says it will soon be ready on the PlayStation 3 and some Samsung Smart TVs, with support for the Xbox and other devices following.)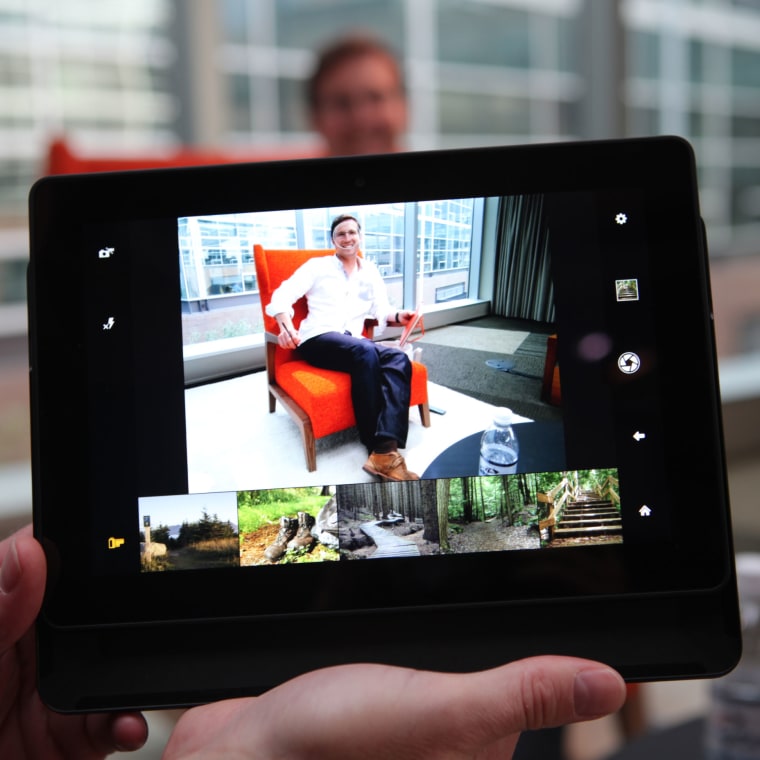 As I've said in the past, the decision to buy a Kindle tablet is a decision to center your experience around books and movies, with the occasional game and a bit of email and Web browsing. Amazon, which runs on a modified Android operating system, did build in new Exchange support, and I was able to test out corporate emails — but you'd never choose this over other devices for managing your life. Not when an iPad does a much better job. 
For that matter, there's still no touching the iPad's app catalog when it comes to both diversity and performance — many apps that exist on both operating systems run better on iOS, and only very recent changes to Android will help close that gap. And that doesn't even count the core apps that Apple's now including with every iOS device: iPhoto, iMovie, Garageband, Pages, Numbers and Keynote.
While the HDX — either the 7-incher or the 8.9-incher — may be no match for the similarly sized iPad, its lower cost and much-improved user experience does make it an irresistible second tablet.
If you love Amazon, that is.
The retailer hasn't released the user numbers on its $79-per-year Prime service, but Prime is really a prerequisite for owning a Kindle tablet because of its high-quality stream of unlimited video. It's feasible to conceive of someone spending $229 or even $379 on a Kindle-branded tablet without the intention of using it with Kindle books and Amazon video-on-demand, but I doubt there are very many people like that. Even the HDX's delightful Mayday button — which brings up a live customer support staffer who can troubleshoot issues quickly, and even guide you through the tablet interface — isn't so much spreading the gospel of Amazon but preaching to the already-converted.
Wilson Rothman is the Technology & Science editor at NBC News Digital. Catch up with him on Twitter at @wjrothman, and join our conversation on Facebook.